Oktoberfest in Tokyo: A festival for the whole family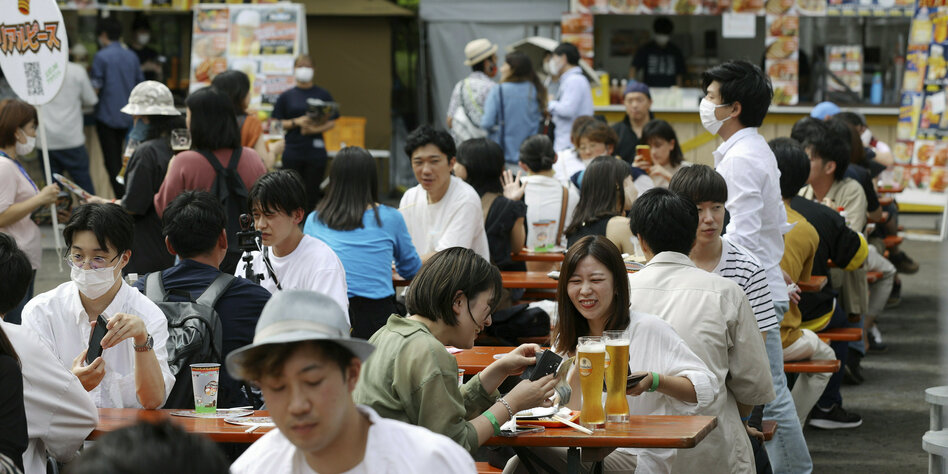 The Wies'n has a drunkard image in Germany. In Japan, however, the Oktoberfest is very cozy, even for small children and dogs.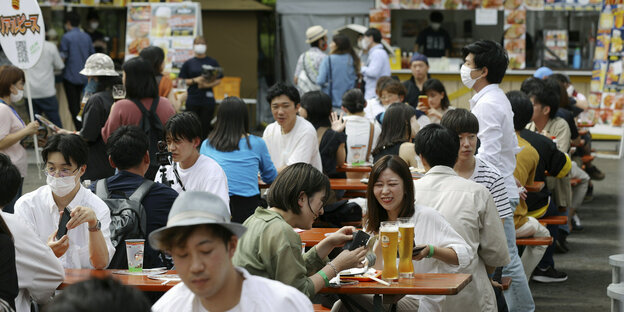 "Hey! She was only wearing a mask, oh, a face mask," the speaker said. It's a hit by Mickie Krause, a rewritten version of his hit "Only shoes on!". As a matter of fact almost all visitors to the Oktoberfest wear a mask, while walking around the stalls. The festival takes place outside, at 28 degrees and blazing sun.
The Oktoberfest, known exclusively under the name Oktoberfest in Japan, also attracts numerous visitors here. Throughout Japan, stalls are set up between September and October offering beer, sausage and other foods. The Oktoberfest in Toyosu, a district in Tokyo, takes place from September 16 to October 2 and takes place in an outdoor area of ​​a large mall.
On a weekday afternoon, about a hundred guests gather here, spread all over the square. Six wooden huts face each other in two rows, in the middle of which are large pavilions. Rows of wooden benches and tables line a stage. It is closed off during the day, but there are changing shows in the evenings. Garlands with German flags hang everywhere. There is a port nearby.
Most visitors to the festival are young women sitting at tables, eating and chatting. There are also many couples, young parents with children or older people. A young family with a toddler sits down at one of the tables, but the mother stops to get food and drinks. She walks past two stalls and then returns to her husband and son: "There's mango beer here!" she exclaims enthusiastically. Meanwhile, her husband is busy unpacking a toy for his son. He prefers to drink lemon beer. The mother runs back to the hut, orders two types of fruit beer and returns to the table with it.
German cuisine with Japanese taste
The selection of drinks and food this Oktoberfest are just as strange as many menus from would-be Japanese restaurants in Germany. In addition to pilsner, wheat and light beer, pineapple milk beer, strawberry cocktail beer and beer with ice cubes containing peach flavor are offered. You can even buy mulled wine with pears. The food selection is similarly innovative: there are pretzels with sweetened chestnut cream, mussels steamed with white wine, and bagels with salmon and salmon caviar.
There is also a typical accompaniment to beer in Japan, edamame beans. In line with the German image, however, most of the options consist of meat: almost all stands offer a plate with numerous types of sausage, and many sprinkle Parmesan on the sausages.
One stall combines meat loaf with fries, while the other fried chicken into small balls and sold the dish as "chicken breast popcorn."
Beer prices are also too high in Japan
A young woman sits at a table by the water and taps on her cell phone. When asked if she had time for a conversation, she replies: "Only if it's quick!" She says she's here for a concert. The Korean idol group Purple Kiss should appear soon. She doesn't really have an opinion on the Oktoberfest itself. She just came for a quick bite to eat before the concert begins. She drank a fruit cocktail, there is still a bowl of fries on the table, which she eats with a plastic knife and fork. An occasional snack, so to speak.
Two young men are sitting a few tables away with empty beer glasses. They are students in Tokyo and open to a conversation, their good humor is contagious. The two explain that they are here for two reasons: one for the Oktoberfest, and one for a fish market that is in the area.
The names of the two men are not known because it is unusual in this country to ask strangers for private information – even as a journalist. Especially not if you write for foreign newspapers. Both students are wearing black T-shirts and are sitting across from each other.
"There's not really fresh fish where I live," says one of the students. They really wanted to eat raw, fresh fish. After the meal they came here. The beer is delicious, but the prices are a bit too high. "We're students, so it's pretty expensive for us," he explains.
The (in)authentic Germany
In fact, the prices are pretty steep by Japanese standards. While a 0.3 beer costs about 490 yen, the equivalent of about 3.50 euros, in an ordinary restaurant, visitors to the Oktoberfest pay more than twice as much. Half a liter of wheat beer costs 1,500 yen, or 10.80 euros. Guests pay 3.60 euros for a pretzel and 8.60 euros for a whole Camembert glazed with honey.
When asked if he still keep drinking want, laughs the student. "Yes, of course!" he calls. His friend then asks, "Will you have a drink?" Both students look at a menu flyer and think about what to get next. The student explains that his first glass was a pilsner. The reason why they come to the Oktoberfest despite the expensive prices is because of the authenticity. "When will there be the opportunity to drink authentic beer from Germany?" he asks with his back to the water.
Neither the fruit beers nor most of the food are truly authentic. But being able to dine outside is quite typically German. In Japan it is rather unusual for restaurants to have an outdoor area – even in summer many Japanese prefer to spend their time indoors. At the Oktoberfest in Toyosu, on the other hand, visitors can even bring their dogs. Some of the women push one Baby or dog stroller ahead.
The only ones wearing a dirndl and lederhosen are two photo wall figures
Most of the guests are not here to get drunk, but to spend their afternoon relaxing with their children or friends. The only ones wearing a dirndl and lederhosen are two photo wall figures. The hit is audible, but by no means so loud that you have to yell at each other across the table. It runs more as background music and ensures that the place gets a bit of a German vibe.