Occupation of the Ministry of Defence: War is becoming a man's business again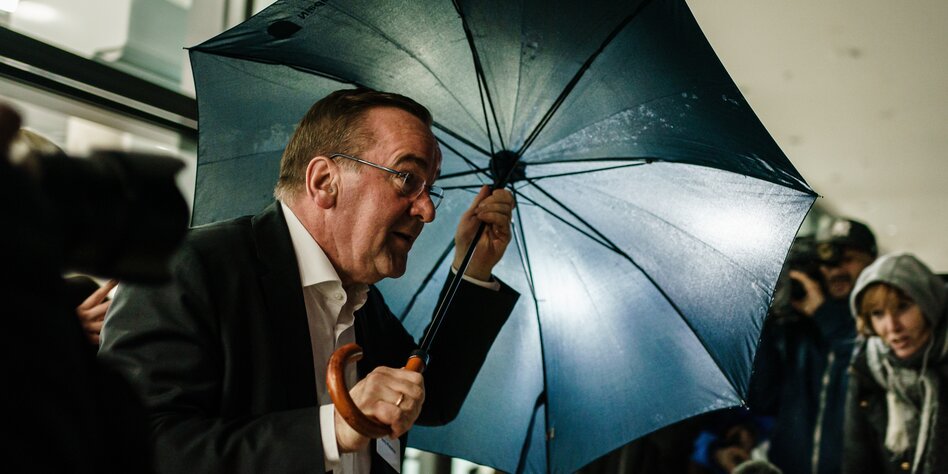 It is a surprise that Boris Pistorius (SPD) will become the new defense minister. It was clear in Lower Saxony that he was striving for something higher.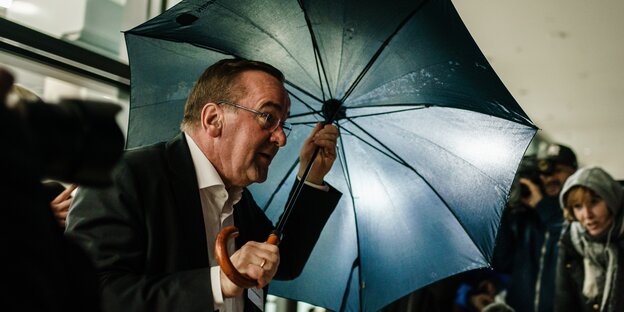 HANNOVER/ BERLIN taz | There are, so malicious tongues say, two reasons that speak in favor of Lower Saxony's interior minister, Boris Pistorius (SPD), as the new defense minister: he has served and he can work with uniformed men. Whether this is enough remains to be seen.
Of course, his predecessors in office were also considered experienced domestic politicians, but the military in Lower Saxony with its numerous Bundeswehr locations does play a special role. He also always had a certain proximity to this topic, says Pistorius about himself. In fact, he hung out in barracks, military training areas and naval bases more often than his responsibility for disaster control – the most important domestic link to the troops – would have made it immediately necessary.
Last September, together with Prime Minister Stephan Weil, he proudly announced that they had succeeded in bringing the third homeland security regiment to Nienburg in Lower Saxony, and in October he opened the annual reception for military commissioner Eva Högl at the Lower Saxony state representation in Berlin. In November he traveled with the German delegation from the Bundesrat to the NATO Parliamentary Assembly in Madrid.
After all, there were also discussions with President Volodymyr Zelensky, who was connected from Ukraine, and a topic that Pistorius threw himself on early on in Lower Saxony: Cyber ​​security and securing critical infrastructure, another interface between internal and external security.
A somewhat unfortunate start
So you could have guessed something, even if the personnel is now treated as a big surprise and the speculation about who canceled everything beforehand does not stop. However, the start seemed a bit stumbled: A press conference was scheduled for the announcement and then canceled again, after all the statements of the Chancellor and his newest cabinet member overlapped, who appeared separately in front of the camera. Then Pistorius slipped out a not entirely happy formulation: He spoke of "times when Germany is indirectly involved in a war".
Above all, he is a pragmatist, with a sure instinct for topics that can be well marketed in the media
The fact that 62-year-old Boris Pistorius is striving for higher things and can definitely imagine another big step in his career, In Lower Saxony, however, it has long been an open secret. Most recently, he was traded as a possible successor to Federal Interior Minister Nancy Faeser. Without a doubt, this office would have fitted his previous profile better.
But it is also clear that he never says no to any challenge. Especially not to a position as important as the Department of Defense in a historically significant situation. He didn't have to think long when the chancellor called him on Monday, Pistorius said in his first statement after the surprising personal details were announced on Tuesday in Hanover.
In Lower Saxony, Pistorius is seen as a man who speaks clearly, even down-to-earth, directly – and as someone who keeps his nerve even when things get dicey. Before he took over the Ministry of the Interior in Weil's first red-green cabinet in 2013, he was mayor of Osnabrück – the "peace city", as the city marketing strategists baptized it, of all things. This is the classic path in Lower Saxony: from local politics to state politics, experiences on the international stage are not intended.
One should not count him among the left-wing Social Democrats
Because Pistorius took over the interior minister post from CDU hardliner Uwe Schünemann, he seemed milder at first. He expressed himself in a more differentiated way on migration issues than his predecessor, announced a turnaround in the often cruel, family-torn deportation policy, took a clear position against the right, where Schünemann had preferably worked on actual or imagined left-wing extremists.
That's why he shouldn't be counted among the left-wing Social Democrats, and he quickly proved that he can also be a sheriff. He is above all a pragmatist, with a sure instinct for the Topics that can be marketed well in the media. ATM blasts, clan crime, Z icon ban – no matter which topic is currently virulent, Boris Pistorius is already ready with pithy announcements. When the SPD leader Saskia Esken spoke of a "police problem", he put his chest in front of his troops.
However, during his ten-year tenure as Minister of the Interior, there were also a few scandals, which the Lower Saxony left in particular fondly and smugly recalled when he was nominated. These were missing police weapons whose whereabouts could never be clarified. And the Lower Saxony Office for the Protection of the Constitution, which is notoriously prone to missteps, which drew attention to itself sometimes by observing innocent citizens, sometimes by accidentally unmasking one of its own informants. But even in such cases, Pistorius' political instincts seemed to always be reliable: he always knew exactly when he could sit out a scandal and when he had to be cleared away with courageous personnel chasing.
The reactions of the traffic light partners, who, like the general public, only found out about the personnel decision on Tuesday, are friendly – although not free from critical overtones. Pistorius is "the right man at the right time," says FDP parliamentary group leader Christian Dürr. In the case of the Greens, MPs from Lower Saxony in particular, who know Pistorius from Hanover, emphasize the qualities of the new: a good manager, pragmatic, and affable despite all differences in content.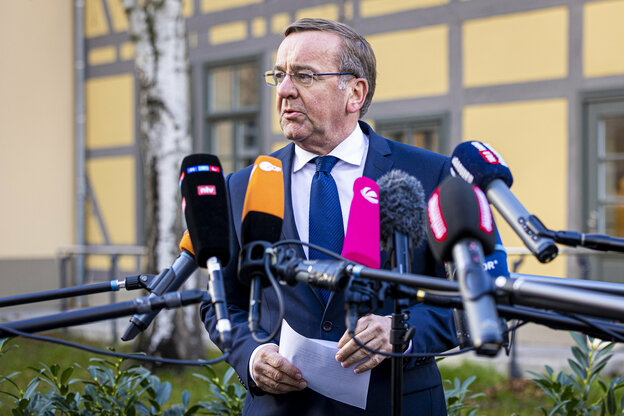 Parity versus specific personnel issue
The words of praise are usually followed by a but: From the Greens' point of view, "equal representation in the cabinet is extremely important," says parliamentary group leader Katharina Dröge. Your party adheres to this principle and there were enough women who would have been suitable for the office.
The anger at the chancellor cannot be ignored: during the election campaign Olaf Scholz had promised to fill the cabinet with at least as many men as women. Because the FDP didn't play along, he didn't keep to this announcement when the government was formed. Even before Lambrecht's resignation, the cabinet could only be described as equal if one excluded the chancellor himself or included Minister of State for Culture Claudia Roth.
Arithmetic tricks don't help anymore and the Social Democrats don't even try to explain the breach of word conclusively in their statements on Tuesday. The question of parity is still important to the Chancellor and the party leadership, said only SPD leader Lars Klingbeil when asked. But now it was about a specific personnel issue.
In addition to the question of parity, Pistorius' attitude towards Russia is also causing frowns among the coalition partners. The new defense minister must want to support Ukraine "in such a way that it wins this war," says Green Party leader Dröge. It is possible that there will be further friction here within the traffic light in the future: After the Russian attack on Ukraine, Pistorius as interior minister was tough and quickly had the "Z" symbol of Russian war propaganda banned in Lower Saxony.
Lots to do from day one
In the past, however, he has also supported the pro-Russia course that is widespread in the SPD in Lower Saxony. In 2018 he questioned Russia's sanctions over the first attack on Ukraine. In the Bundesrat he belonged to the German-Russian friendship group.
So it's quite possible that Pistorius will first have to eliminate mistrust during his first international meetings as defense minister. There is already an appointment on Friday where he will get to know counterparts from various partner states: At the Ramstein Air Base in Rhineland-Palatinate, the states supporting Ukraine are discussing further arms deliveries. Once again, there will also be a demand for Germany to deliver battle tanks. The fundamental decision on this lies with the Chancellery. However, the Secretary of Defense is responsible for communication, fine-tuning with partners and managing possible further deliveries.
Pistorius will also have more than enough to do from day one: He has to spend the Bundeswehr's 100 billion special fund and get the procurement system under control. He could soon have problems with the dangerous and fragile Bundeswehr mission in Mali. Right-wing extremism within the Bundeswehr is always a latent issue. And a reform of the local staff procedure, which was actually targeted after the Afghanistan withdrawal a year and a half ago, is still being called for by many at the traffic light.