Obituary for China's ex-president Jiang: The underestimated reformer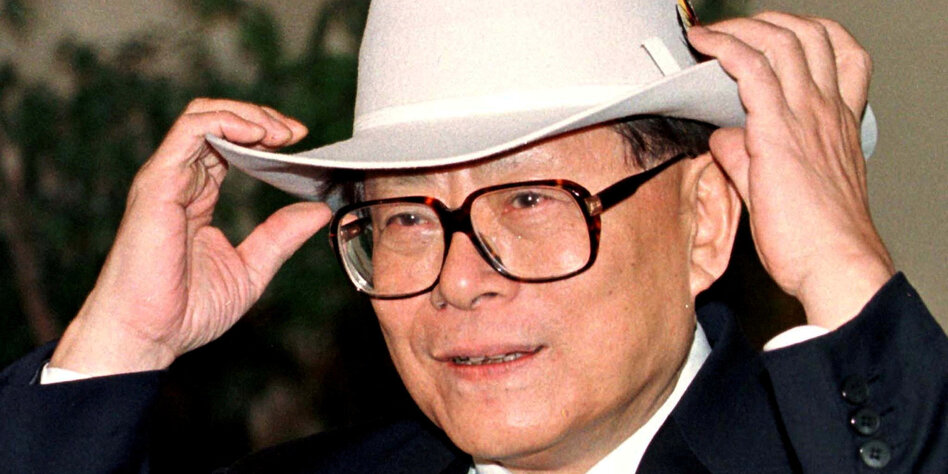 China's former President Jiang Zemin has died at the age of 96. His death comes at the worst possible time for the party leadership.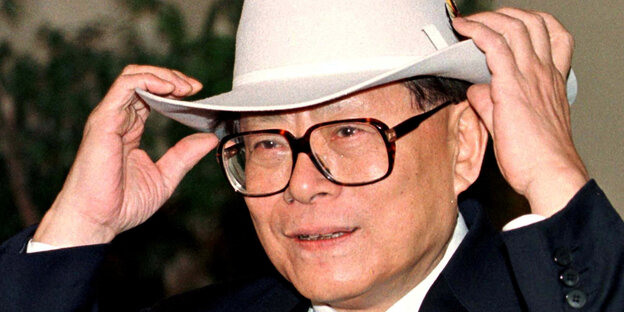 BEIJING taz | During his lifetime, the small man with the huge horn-rimmed glasses and the mischievous smile was often ridiculed. But posthumously he will undoubtedly go down in the history books as a clever economic reformer: Jiang Zemin, China's President from 1993 to 2003, died in Shanghai on Wednesday at the age of 96 as a result of his leukemia disease. He was praised as "the outstanding leader of socialism with Chinese characteristics" in an obituary by the Xinhua News Agency.
Many Chinese newspapers have recently turned their online presences into mournful grey, and the people have shared millions of condolences on social media. "For me, he represented the carefree days of my childhood," writes a Chinese woman on Wechat. Another user comments laconically: "The senior left us. We will miss him".
But the grief of the people is likely to cause nervousness within the Chinese state apparatus. Because in 1989, Beijing students mourned the death of the liberal Secretary General Hu Yaobang, in the Tiananmen Square protest movement. Now, more than three decades later, incumbent President Xi Jinping is once again confronted with historic protests, which he used intimidation campaigns and police presence to put down. Against the corona lockdowns and for more political freedoms numerous people have been protesting since the weekend.
Could Jiang's death now bring the youth back onto the streets? "There is no doubt that this is of great concern to the State and the Party," commented William Hurst, a professor at Cambridge. on his Twitter account. However, the academic does not believe that the events of 1989 will repeat themselves: "Many young Chinese don't know much about their own history".
Reforms but little anti-corruption
Just four years after the bloody crackdown on the Tiananmen movement, Jiang was promoted to the presidency. At that time, the party cadre, who came from a humble background and had a reputation as a bureaucrat, was seen primarily as a compromise solution.
Jiang Zemin left a highly ambivalent legacy during his ten-year tenure. So he cracked down on the Falun Gong sect with extreme brutality. He also did little to counter rampant corruption within the party leadership.
At the same time, however, he ensured with his economic reforms that China was able to connect to the world economy – and as a result set a course for rapid growth. The basis for this was that the People's Republic of the World Trade Organization joined.
For many young Chinese, Jiang, who was born in Jiangsu in eastern China, will be remembered above all for a legendary press conference that the then President gave in Hong Kong in 2000. When a young reporter asked an extremely critical question, the 1.74 meter tall Jiang erratically jumped out of his red armchair – and unexpectedly switched to his broken English: "You media have to learn more! The questions you ask are too simple, sometimes naive!"
He openly answered journalistic questions
What was mocked at the time as the arrogant lecture of a Chinese party leader, arouses great admiration within the millennial generation two decades later: A president who openly answers journalists' questions, shows his authentic feelings unfiltered and appears approachable and fallible: All that not only seems unthinkable in the face of Xi Jinping, but downright as if from another planet.
And indeed, Jiang has never gotten along well with the current head of state. Their personalities were too different: Jiang has danced a cha-cha-cha with the Philippine President, intoned songs by Elvis Presley in front of reporters, or allowed himself to be interviewed by the legendary US television journalist Mike Wallace. In that 60-minute TV show, Jiang Zemin admiringly quoted Abraham Lincoln's Gettysburgh speech: "All men are created equal." That too would be beyond the realm of imagination today.
So if many Chinese now feel that an era is coming to an end, it explains the melancholy nostalgia for a former president who wasn't particularly popular himself during his tenure – but in retrospect he doesn't seem like a bad choice after all.
Above all, he did what Xi Jinping this fall refused: At the height of his power, Jiang Zemin resigned after ten years as presidency.