Numbers of attacks on New Year's Eve: It didn't just happen in Neukölln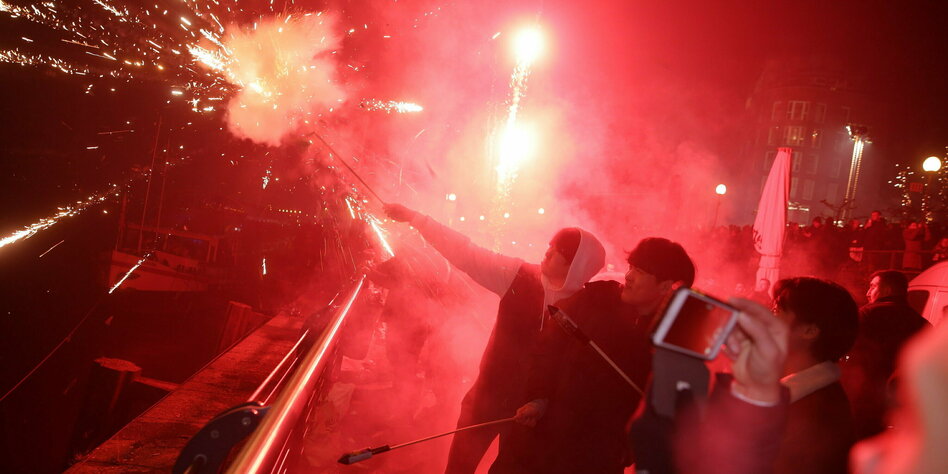 The Bundestag discusses New Year's Eve. Nationwide, however, figures are still missing. And in Berlin there were fewer attacks on emergency services than expected.
BERLIN taz | The attacks on police and rescue workers on New Year's Eve continue to occupy politicians. On Wednesday, it was the Bundestag that dealt with the issue. Federal Minister of the Interior Nancy Faeser (SPD) and the Union are calling for an increase in penalties if emergency services are lured into "ambush" during attacks. The problem: So far there are only valid numbers for the riots on New Year's Eve for Berlin.
The Berlin police presented these figures on Wednesday. At first she had of 145 temporarily arrested on New Year's Eve reported – but this because of various crimes. Now, for the first time, there are official numbers of how many of those arrested are accused of attacking emergency services. There are only 44 suspects left, including one woman. 19 of those arrested are minors, 16 have German citizenship and 10 have dual citizenship. 37 of the 44 arrested are said to have attacked police officers, the other 7 are said to have attacked firefighters.
A total of 126 criminal charges were filed during the night for attacks on emergency services. Here, too, it was mostly about attacks on police officers, namely in 77 cases. In 81 cases it is about attacks with firecrackers or rockets, in 15 about alarm guns. In addition, 30 emergency vehicles or properties were damaged.
The focus of the attacks was in the district Neukoelln – but not only. According to the police, 37 of the ads relate to Neukölln. 35 would also come from Berlin Mitte, 19 from Friedrichshain-Kreuzberg, 15 from Tempelhof-Schöneberg and 10 from Pankow. A police spokesman told the taz that the numbers could change further.
Union etches against the SPD – and supports their initiative
Interior Minister Faeser also has announced a nationwide situation report for New Year's Eve. But that is not the case to this day. According to taz information, a ministry representative referred to the lack of deliveries from Bavaria, Hesse, North Rhine-Westphalia, Baden-Württemberg or Lower Saxony behind closed doors on Wednesday in the Bundestag's interior committee. Incidents on New Year's Eve had also been reported there. The security authorities are said to have had no evidence of an organized approach to the attacks on emergency services.
the daily mirror had one of their own country survey performed on New Year's Eve. According to this, there were at least 282 attacks on emergency services nationwide. Here, too, not all countries reported figures.
Despite the shaky data base, Faeser was already making political advances. For one, she took Aggravations for blank guns in their draft law on weapons law: a small gun license should now also be required for the acquisition and possession of such weapons, not just for "carrying". On the other hand, Faeser calls for an increase in penalties if emergency services are lured into an "ambush" during attacks, as described by firefighters in Neukölln. There should be at least one year imprisonment for this.
However, both projects are slowed down. When it comes to weapons law, the FDP sees no need for tightening – the existing laws should rather be exhausted. Also in the "ambush" warned the party against "symbolic politics" and the Greens also reported concerns. The penalty range for attacks on emergency services has recently been increased, and ambushes can also be punished accordingly.
The Union, on the other hand, is helping Faeser. CDU right-wing politician Günter Krings told the taz that the last government had already called for increased penalties for attacks on police and rescue workers. Only this was slowed down by the SPD. Faeser's current initiative is therefore "no more than an unsuitable attempt to help the Berlin SPD campaign". However, this cannot be used to distract attention from the failures of Berlin's domestic and legal policy, said Krings.