Notes from the War: Red flowers everywhere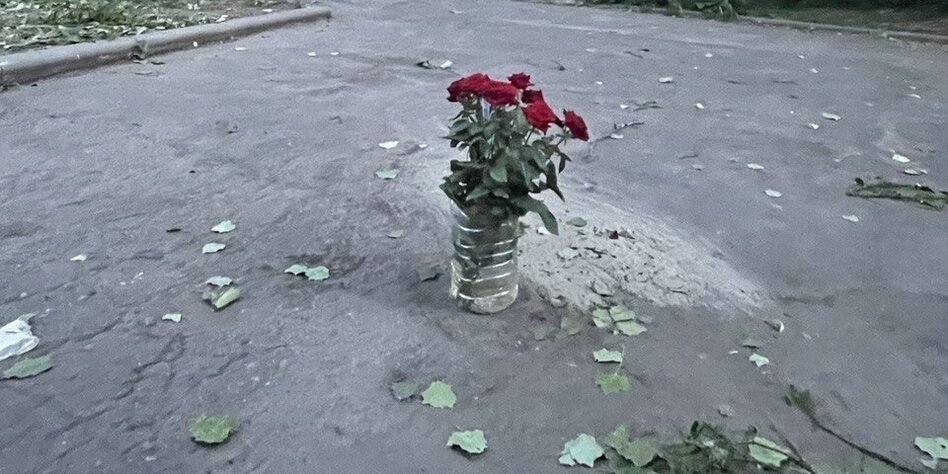 In the Donetsk region of Ukraine, red flowers commemorate killed civilians. War crimes have long been a Russian strategy.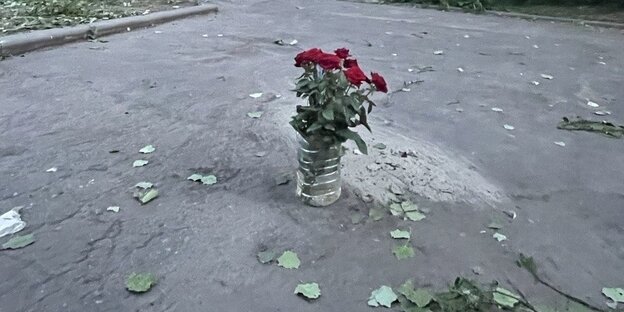 35-year-old Georgy Zeykov has been involved in planning and executing evacuations in and around Kharkiv, his hometown, since the beginning of the war. He works as a volunteer for the humanitarian organization Rescue Now UA. Before the war, Georgy was an entrepreneur, designed fashion and accessories – he describes himself as a "fashion freak" for whom his appearance was very important until recently.
The bed I'm lying on is so short that I can't stretch my legs. I smell like sweat, especially where my body, shirt and vest are on top of each other. At least I managed to wash my face and wipe myself with wet wipes before going to bed. I still smell myself.
I am in Kramatorsk, thirty kilometers from the front line and five meters underground. There I look at the parallel lines of the bunker ceiling. They don't overlap. It is a perfect adaptation of Euclid's axiom of war. With that, war children could learn a few basics of geometry at school.
Just this term: war children. What a terrible meaning. The war in Ukraine resulted in one of the largest human displacements since World War II. 1,800,000 children left the country alone. Many of them brought luggage that cannot be seen immediately – the horrors of war, events that cannot be erased from memory. This will have immense consequences for and impact on future generations.
No safe places
According to official figures, 350,000 people still live in Donbass today – in reality there are 492,000, including 52,000 children. It is technically almost impossible to get the Donbass through the heating season. I found out today. All the critical damage to infrastructure makes it unthinkable to create comfortable living conditions for people during the winter period and before the end of the war.
"Russia is ultimately an authoritarian dictatorship whose wars of aggression have always been designed to kill as many civilians as possible"
The government is doing its best to cushion this in other areas and create bearable conditions for all the refugees while my foundation and I evacuate people to safe places. Maybe I should correct myself: relatively safe places. There is no place in Ukraine that is completely safe. No matter where you are. You can be killed by a rocket even if your house is in the middle of a field with absolutely nothing around.
At first I didn't understand why all the civilian objects were being destroyed so brutally. It seemed illogical and pointless to me. And why so many civilian casualties? Only when I arrived in Donbass did I find the answer.
what i in Kharkiv have seen, I have seen everywhere in the Donetsk region. Destroyed schools, civilian houses, rocket craters in courtyards where there is not a single military installation. And flowers. Red flowers – there are different varieties but all are red.
They stand in the places where people died: near the entrance of a multi-storey building, a man was smoking a cigarette when a grenade hit. He had no time to act. Red carnations are now lying on a bench nearby.
In another courtyard, a similar scenario: red roses, edged with a black bow, stand directly on the sidewalk in a half-cut five-liter plastic bottle. The driver didn't even have time to get out of the car, let alone get out. The roses are now where she parked the car. Then the rocket hit – not far from her, on the playground. The young woman died in the driver's seat from her shrapnel wounds.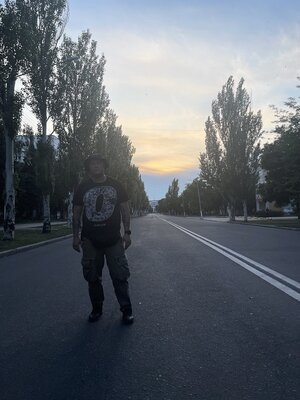 For Russia, this is a typical war. This becomes clear when you look at the past wars of this state. You could say that it is a style of warfare. Some kind of tactic or concept. Ultimately, Russia is an authoritarian dictatorship whose wars of aggression have always been designed to kill as many civilians as possible. Only for the military and political leadership, under pressure from the surviving civilian population, to agree to a surrender on disadvantageous terms.
All the violence I see in Kharkiv and Donbass, all the violence I have seen on the news across Ukraine is due to the criminal use of large caliber ammunition and rockets. Ammunition and rockets aimed at destroying civilian housing. This is intended to spread panic, shock and hysteria.

Flight shame, corona and inflation spoil the summer vacation for many. For our author, however, traveling has never been carefree. Because you have to be able to afford that too – a story of summer slacks in the heart in the taz on the weekend of 20./21. August. Also: Why Magnum photographer Nanna Heitmann doesn't want to leave Moscow just yet. And: Why we urgently need to learn to love our rivers. From Saturday at the kiosk, im eKioskin practical terms weekend subscription and around the clock Twitter.
A situation should be created in which the population's will to resist shrinks to a minimum. This is strategy and tactics – terror and violence against the unarmed citizens of Ukraine if you cannot defeat their army. Look at the war in Chechnya, in Syria and now look at Ukraine. At the heart of Russian war tactics are war crimes.
Translated from the English by Frederike Grund
The humanitarian organization Rescue Now UA has been active in and around Kharkiv since the beginning of the war. She depends on donations.
At this point we regularly publish reports from everyday life in Ukraine. The texts reflect the subjective view of the authors on the events unfiltered.