Night bus in India: That's why I love everything that's green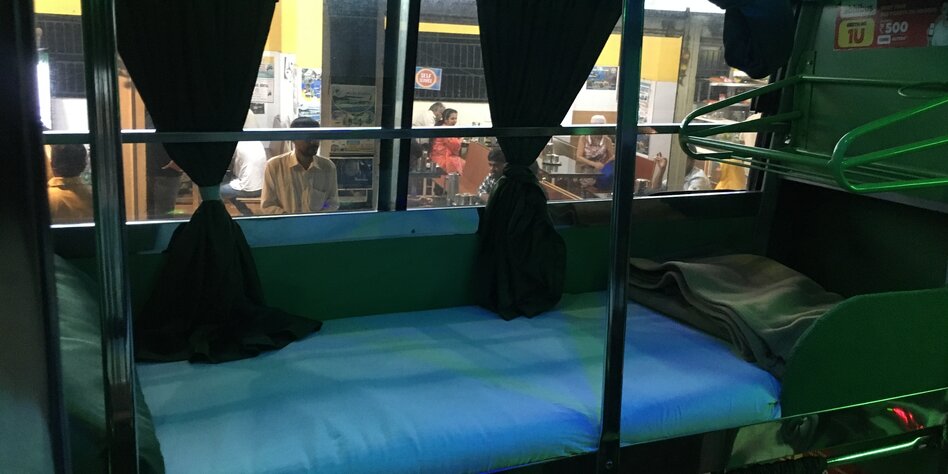 Our author travels inland by night bus from the Indian coast – and would like to see such a means of transport in Europe as well.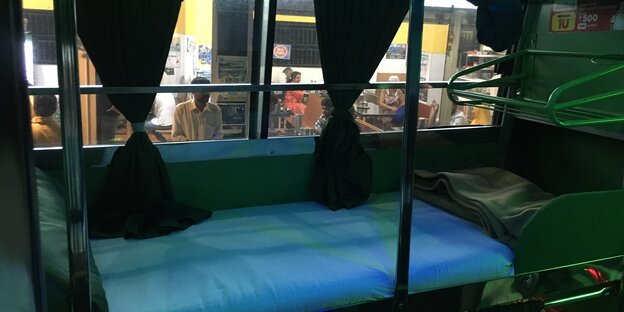 My hair is still wet from the day at the sea and beach, individual strands stick to my forehead. I look over at my girlfriend's blonde, long dried hair. How unfair, I think and hope I don't catch a cold. The outside temperature in southern India is still well over 20 degrees even after sunset.
We are sitting on the steps of a restaurant in Gokarna when the Greenliner arrives a few minutes late at just after ten. The bus is supposed to take my girlfriend and I overnight from the seaside town to Bangalore, 500 kilometers away bring where we are invited to a friend's wedding. The bus lives up to its name: white on the outside with green lettering and glowing neon green on the inside.
As I get in, I briefly think of eerily lit schools in Japanese horror films. Here, however, the green neon light is much friendlier and immediately puts you in a party mood – even when there is no music playing. On the left of the aisle in the middle are the double beds, on the right single beds. I discover our bed numbers U2 and U3 directly above on the left behind the bus driver. The white sheets are freshly made, the light brown blankets lie neatly folded at the foot of the bed.
My girlfriend parks her suitcase at the bottom of the luggage rack, I take my backpack to the bed, place it on the spacious shelf at the foot end and look around me triumphantly. The beds are equipped with brown curtains, I can create privacy even between the double beds. A few passengers are lying in the back with their curtains drawn. Otherwise the bus is rather empty.

This text is from the weekly. Our weekly newspaper from the left! Every week in the Wochentaz, the world is about how it is – and how it could be. A left-wing weekly newspaper with a voice, attitude and the special taz view of the world. Every Saturday new at the kiosk and of course by subscription.
Reis tickles his feet
My girlfriend climbs over me and lies down by the window, she puts the wrapped biryani, fried rice, which we couldn't eat at dinner, at the end of the window. She was skeptical for half the day because this night bus has no toilet. If it is urgent, you have to let the bus driver know so that you can pee somewhere freely. But she hates that. Added to this is the concern that the bus would continue without them.
It's either my enthusiasm that infects her, or it's the bus itself: in any case, my girlfriend seems to be gradually enjoying the ride too. The curtains we haven't drawn yet flutter at every turn. Also the biryani slides back and forth, every time it slides to my side it tickles my feet. It's pitch dark outside. Inside the green party light.
We lie next to each other and consider how we could also introduce this great night bus in Europe. While I am pleading for a Germany model, she immediately thinks internationally. "Routes from Berlin to Paris should be offered," she says. The point of it all is tourism and domestic routes are not long enough for overnight routes.
What if someone has sex?!
While in the girlfriend's brain a business model thriving, mine is slowly going into sleep mode. I close my eyes and pull the covers over me. "Are you going to sleep already?" she asks indignantly. As if that were an absurdity, at night, in a bed. I draw the curtains and snuggle up. It feels like when you were a kid building a cave out of blankets and sheets.
I'm disturbed a second time when I'm falling asleep when my girlfriend suddenly voices her thoughts out loud: "How do you stop couples from having sex on a bus like this?" Above all, she is concerned about not getting more bodily fluids on the bed sheets than absolutely necessary to have.
We consider that passenger control by bus staff would be difficult because of the drawn curtains. My friend suggests putting pictures of smiling old people on the ceiling, reminding you of your grandparents. In the end, she decides to use information flyers about sexually transmitted diseases: "It also provides information."
Page-long concept for Europe
Ultimately, however, educational flyers are useless if vomit, sweat or people with bladder weakness – and all the other bodily fluids that could be poured out on a night bus – cannot be prevented. So the solution for the night bus business model is: A lot and good investment in hygiene and cleaning staff. I nod and leave the rest of the business model to their brain cells. I dream of being thin tampons to shove into a revolver for ammunition when an alarm clock wakes me up.
Anyway, I think an alarm clock will wake me up. Instead, it's the girlfriend who nudges my arm. "We're here," she says. It's getting dark outside, it's slowly getting light. I look at my cell phone, it's 6 a.m., we're even there an hour early. The bus shakes violently. I am surprised that the driving style never woke me up during the night.
"How did you sleep?" I ask my friend casually, she looks gloomy and answers: "Not at all." Her oppressive bladder prevented her from sleeping, so to distract herself she developed an entire concept for this bus ride. She shows me her notes on her cell phone, they are pages long. I nod, impressed: "Oh, yeah. Not bad."
The air is humid, the sun is hiding
If we had had internet in the bus, she would have been able to read that in Germany a paragraph of the Road Traffic Licensing Regulations (StVZO) makes couchette buses impossible, namely "§ 35i aisles, arrangement of passenger seats and transport of passengers in buses". But also that the Swiss company "Twiliner" wants to set up a night bus network in Europe, including German cities, by 2026, with luxury armchairs that can be folded horizontally. However, they are currently still looking for investors.
In Bangalore, the bus driver's assistant calls out the names of the stations, we get off at random somewhere in the middle of the city. The air is damp, fog is hanging over the city, or maybe it's smog after all. The sun is still hiding behind it. I stretch and put my backpack on.