+++ News in the Ukraine war +++: Musk gets involved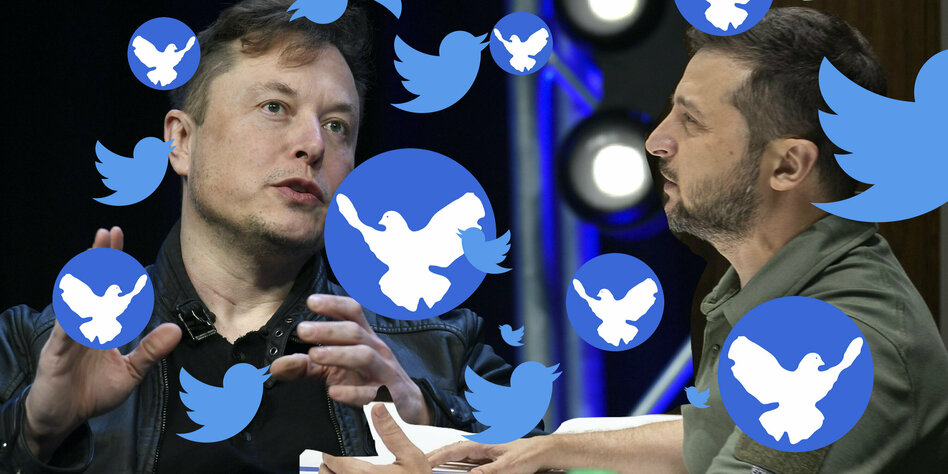 On Twitter, Selenski got into a fight with Tesla boss Elon Musk. Russian upper house ratifies annexation. Theaters are closed in Hungary.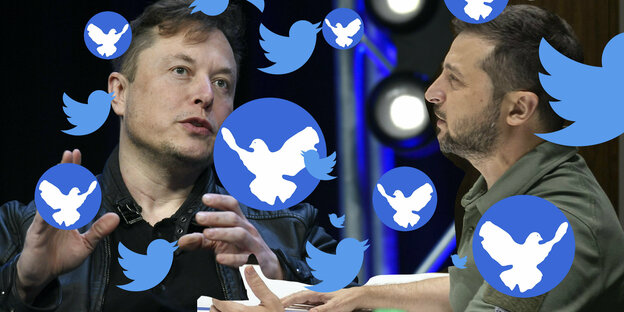 Russian House of Lords ratifies annexation
As expected, the Russian upper house has ratified the annexation of four Ukrainian regions. It on Tuesday approved treaties for the Kherson, Zaporizhia, Donetsk and Luhansk oblasts to make them part of Russia.
The Duma approved the annexation on Monday. The bill is now going back to President Vladimir Putin, after his signature it will come into force. However, the provinces are not completely under the control of the Russian armed forces, which is why the demarcations intended by the government in Moscow are completely unclear. (ap/rtr/taz)
Selenski courts trust in liberated areas
Against the background of the Ukrainian offensive, President Volodymyr Zelenskiy has solicited the confidence of the population in the Russian-occupied territories. "Russian propagandists intimidate people in the territories still controlled by the occupiers, claiming that Ukraine will consider almost anyone who stays in the occupied territories a collaborator. Absolutely crazy stuff, "said Zelenski in his daily video address on Monday. Anyone who hasn't offered their services to the Russians has nothing to fear, he said.
The 44-year-old emphasized that there was only isolated support for the Russian occupiers, although "hundreds of thousands" were temporarily under the occupying power. In doing so, he contradicted the Russian narrative that the majority of people in the four occupied Ukrainian regions of Kherson, Donetsk, Luhansk and Zaporizhia aspired to Russia. With this justification, Kremlin boss Vladimir Putin annexed the regions after holding sham referendums.
Zelensky reported on further recaptures by the Ukrainian army and announced the payment of pensions and social benefits in the regained territories. (dpa)
Musk and Zelenski fought each other on Twitter
Tesla boss Elon Musk said on Monday urged Twitter users to vote on a plan to end Russia's war in Ukraine. He proposed elections supervised by the United Nations (UN) in the four occupied regions that the government in Moscow wants to annex after so-called referenda last week. "Russia goes if it is the will of the people," Musk wrote on the short message service on Monday. According to Musk, Crimea, which was conquered by Russia in 2014, should formally belong to Russia, the water supply there should be secured and Ukraine should remain neutral. He asked Twitter users to vote "yes" or "no" on his proposal.
President of Ukraine Volodymyr Zelenskyy immediately responded with his own poll on the social media platform. "Which Elon Musk do you like more?" he tweeted, offering two answers: "One supporting Ukraine" or "One supporting Russia". Lithuania's President Gitanas Nauseda also spoke out in the Twitter dispute. "Dear Elon Musk, if someone tries to steal the wheels of your Tesla, that doesn't make them the rightful owner of the car or the wheels. Even if they claim they voted for the plan. Just saying," he wrote on his official profile.
Musk dropped his first tweet another poll to follow. "Let's try it this way: the will of the people living in Donbass and Crimea should decide whether they are part of Russia or Ukraine." He doesn't care if his proposal is unpopular. But he does care that "millions of people could die needlessly for an essentially identical outcome." Russia has more than three times the population of Ukraine, making Ukraine's victory in an all-out war unlikely. "If you care about the people of Ukraine, you should seek peace."
The outgoing Ukrainian ambassador to Germany, Andriy Melnyk, responded bluntly to Musk's peace plan. His "diplomatic answer" to him was "Fuck off", which could be translated politely as "he should go to hell". (dpa/taz)
North Korea defends Russian annexation
North Korea has defended Russia's annexation of four occupied regions in Ukraine in a statement. Foreign Minister Jo Chol Su described the "referendums" on accession as legitimate and "in line with the UN Charter," state news agency KCNA reported on Tuesday. An overwhelming majority of voters voted in favor of joining Russia," Jo said. North Korea is an ally of Russia. The West had previously sharply condemned Russia's actions and declared that it would not recognize the annexations. (afp)
IMF considers billions in aid for Ukraine
The Executive Board of the International Monetary Fund (IMF) will consider Ukraine's request for $1.3 billion in emergency funds on Thursday, insiders said. Ukraine has received sufficient financial assurances from its global partners to meet IMF debt sustainability requirements and qualify for emergency financing, two people familiar with the matter told Reuters. The necessary documents for the provision of funds have already been prepared. (rtr)
USA before further arms delivery
The United States plans to send four more Himars multiple rocket launchers to Ukraine in the near future. The delivery is part of a new aid package worth 624 million dollars (around 635 million euros), which is expected to be announced on Tuesday, US officials said on Monday (local time). That would bring the number of long-range, precision multiple rocket launchers Washington has provided to the leadership in Kyiv to 20. (ap)
Hungary closes theaters over energy costs
The 111-year-old Erkel Theater in Budapest, one of three stages of the renowned Hungarian State Opera, will remain dark from November. According to the artistic director, the rapidly increasing energy costs make it impossible to continue to heat the auditorium with 1,800 seats. Many other theaters and opera houses are no better off.
The Budapest Trafo House for Contemporary Art was also forced to make painful cuts, as director Beata Barda explains. The performances there are to be reduced by about a third in the coming winter. "We definitely want to avoid closing down completely or having to restrict our repertoire. So we just had to see how we could make ends meet with fewer performances," says Barda. The electricity costs of the transformer house have tripled since June.
The cultural institutions outside of Budapest are suffering no less than those in the capital. Local authorities across the country have announced the closure of theatres, cinemas, museums and other cultural sites. Even then, the public sector can only get through the winter with a bang, they say. However, many cultural workers are wondering whether such closures are really only temporary for the coldest months of the year or whether many theaters and similar institutions are threatened with permanent closure. (ap)