News in the corona crisis: Incidence continues to fall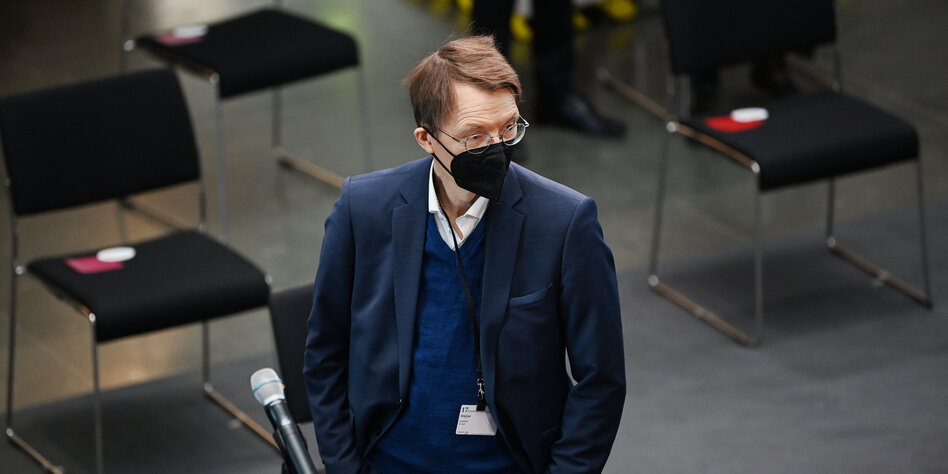 The RKI reports fewer new infections. Moderna expects an Omicron booster in August. Lauterbach does not find the expression "Freedom Day" appropriate.
Significantly fewer positive tests
The Robert Koch Institute (RKI) reports 235,626 positive tests within 24 hours. That's 12,236 fewer cases than Thursday a week ago, when 247,862 new infections were reported. The nationwide seven-day incidence drops to 1385.1 from 1401.0 the previous day. 261 people died in connection with the virus. This increases the number of reported deaths to 120,728. So far, more than 13 million corona tests have been positive in Germany. (rtr)
Omicron booster in August
The US vaccine manufacturer Moderna is assuming an Omicron-specific booster in August. "We believe a booster shot will be needed. I don't know yet if this will be the existing vaccine or just Omicron or a bivalent one: Omicron plus existing vaccine, two mRNA in one dose," says Moderna CEO Stephane Bancel. The company is still collecting clinical data to determine whether the Omicron-adapted vaccine offers better protection than an additional dose of the existing vaccine. (rtr)
We would like to show you some external content here. They decide whether they also want to see this element.
I consent to external content being displayed to me. This allows personal data to be transmitted to third-party platforms. Read more about our privacy policy.
Lauterbach: "Freedom Day" not appropriate
Federal Minister of Health Karl Lauterbach (SPD) rejects the expression "Freedom Day" for the Federal-state round decided far-reaching corona easing until March 20th. "I don't use this term at all and I don't think it's appropriate either," said the minister on Wednesday evening on the ARD program "maischberger. the week".
Even after March 20, there are still people who are at risk from the corona virus – such as older people for whom the vaccinations do not work so well. "There will never be full freedom for these people," emphasized Lauterbach. "So I don't think it's right to pretend that there is complete normality for everyone."
The Health Minister warned that Covid-19 will remain as an additional disease and that the world will not be the same after mid-March as it was before the pandemic. "I think we're going to be dealing with Covid for 10 years, but with decreasing intensity."
On Wednesday, the federal and state governments had agreed on a plan for gradual openings up to a possible end of all drastic corona requirements on March 20th. After that, however, "basic protection" should remain possible with certain measures. (dpa)
Greens expert for "flexible catalog of measures" for spring
The Greens health expert Janosch Dahmen urges further necessary protective measures planned gradual elimination of corona restrictions. "The current situation allows relaxation, but no carelessness. A trend reversal is possible at any time, "said the member of the Bundestag of the German Press Agency. "The virus doesn't care about our calendar." The countries need a flexible catalog of measures for spring to prevent the situation from deteriorating. The legal basis for this would have to be created in the Bundestag by March 20th.
Dahmen explained that regional corona outbreaks require a wide range of instruments. "The mask requirement alone is not enough for this." Access restrictions would then also have to be able to be reactivated quickly. Overall, it is right to ensure planning and perspective with a step-by-step plan. Parameters such as the hospitalization rate or the number of beds that can be operated remained decisive for the implementation of the planned opening steps.
"With caution and prudence, a spring with more freedom can succeed," said the Green politician. For a permanent return to freedom, however, a general obligation to vaccinate is needed. "Without compulsory vaccination, we could experience an unpleasant déjà vu in the coming winter. We should all prevent that together."
The federal and state governments had agreed on a plan for gradual openings up to a possible end of all drastic conditions on March 20th. After that, however, "basic protection" should remain possible with certain measures. A nationwide legal basis is being sought for this when the existing one expires on March 19. (dpa)