New pasta shape: Wrapped around your finger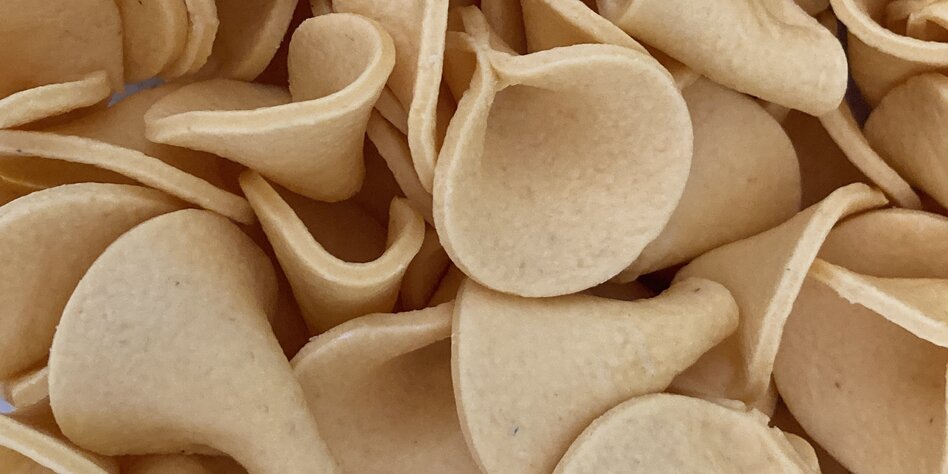 Flavia Valentini has invented a new pasta. A machine has now been developed that can form their "Imbutini" in series. She has big plans.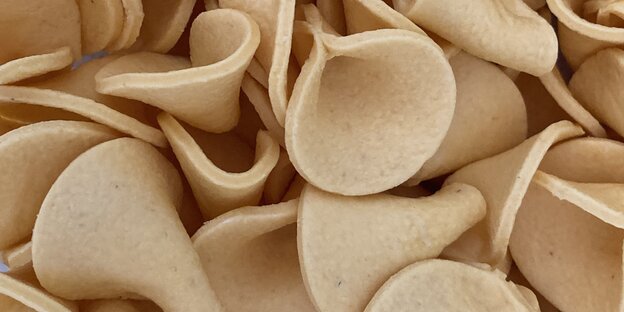 The first prototype of the pasta machine was in the garage. "Like Steve Jobs' first Apple computer," says Flavia Valentini. Otherwise, their story is very different.
She started at a flea market near Ozzano dell'Emilia, a town of 14,000 in the Emilia-Romagna region of northern Italy. Valentini loves browsing the market since she left her job as a nurse to go home to care for her husband. One day she discovers an unusual kitchen appliance, a kind of dough cutter. A metal roller is attached to the long wooden handle and cuts small circles out of the dough. It is said to be used to make orecchiette, a southern Italian pasta.
Yet Valentini knows exactly how to make orecchiette and that the old-fashioned dough cutter has nothing to do with it. She buys it anyway. When she tries out the device at home, she doesn't know at first what to do with the circles of dough. Then she wraps one around the tip of her index finger, which she knows from making tortellini. She pinches the ends of the circle together, a small pasta hat now sitting on her finger. "And so the Imbutini were born." A pasta that looks like a little hat, with a brim at the bottom and an opening at the top.
When Valentini demonstrates this gesture in the kitchen while talking about her mom, it seems very simple. In a summer floral dress, she places a small hat next to the others on the wooden board and checks their shape. "My mother was a partisan in World War II, a strong woman. After that she wrote books and painted," says Valentini. This is important in order to understand her story. She also needed tenacity and creativity to bring her Imbutini, literally "little filters", onto the market.
"You need for that sbuzzo", says Luca Tommasi, her business partner. "It's Bolognese dialect. a person has sbuzzowhen she is inventive and open-minded, rolls up her sleeves and finds the solution to a problem."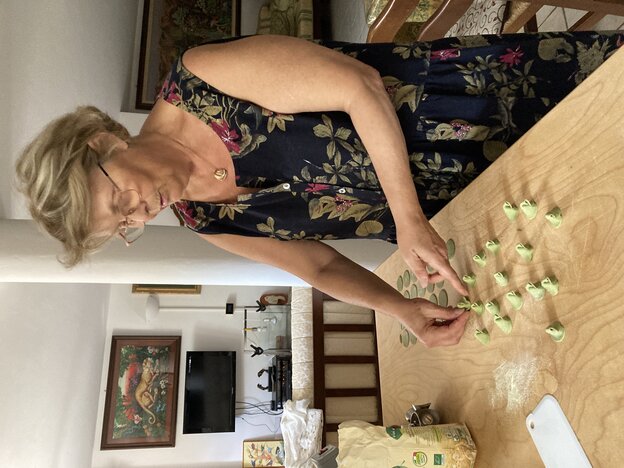 "I thought I was going to be filthy rich in no time"
In any case, Valentini told her neighbor who works at the patent office about the new pasta shape. She didn't react particularly optimistically. Barilla has filed thousands of patents, she said. But it turned out: no Imbutini. "I thought, benissimo, I'll be filthy rich in no time." It wasn't that easy after all. Everyone loves the new pasta, but she hears the same phrase over and over again: "You can't go to the restaurants with a tin of Imbutini. You either find someone who can industrialize them or it's useless."
Valentini doesn't need to be told twice. "I've knocked on everyone's door, from pasta machine manufacturers to the workshop around the corner." Even a team of engineers at the University of Bologna spent months studying the gesture of their hands.
After nine months they said signora, we can not help. For this they wrote her a report in which they scientifically analyzed the properties of the Imbutini. "Every time I read it, I have tears in my eyes," says Valentini, so positive he was.
The funnel shape fills with the sauce
The report says: the pasta cooks through perfectly in every corner, the funnel shape fills with the tasty sauce ingredients, but the hole at the top allows the cooking water to drain easily when pouring, so you don't burn your tongue.
Luca Tommasi found out about the Imbutini by accident. Actually, his company builds packaging machines and customized assembly line machines. When he makes an appointment with Valentini, he thinks he is talking to the owner of a company. Then he gets in the car and realizes that he is being escorted to a residential area. "We don't actually work with private individuals," he says almost apologetically. "I said to myself what the heck, I've already made the appointment, we'll chat a bit, have an espresso and then I'll leave." However, given their enthusiasm and zest for action, the engineer cannot say no. Also, Tommasi likes the challenge.
It turned out to be quite big: Tommasi has never worked with dough, and unlike stable metal, pasta dough changes when the weather changes. The engineer explains what drove him crazy about pasta dough: it's moist, sticky, and elastic. Luckily, Tommasi has too sbuzzo. Two years after the first prototype in the garage, he developed a fully functional pasta machine in two sizes that can produce 45 and 70 kilos of pasta per hour. He got into the Imbutini business.
When the pasta machines were ready for series production in 2019, Valentini's Imbutini was already five years old and she herself is now 60. Now she is speaking to restaurant operators and specialty shops in Bologna. The city in Emilia-Romagna has a centuries-old tradition of Pasta fresca, fresh pasta made from flour and egg. Tortellini and lasagne were born here, as were those Tagliatelle al ragu, which began its triumphal march as "Spaghetti Bolognese". They rule the menus.

In Ukraine, men can be drafted into the military at any time. Mikhail Nazarenko - young, queer, well educated - does not want to go to the front. That's why he's hiding in his own country - in the taz at the weekend from 24./25. September. Also: Italy before the election. Why is the country in danger of slipping to the right? And: Saving energy can also be fun. From Saturday at the kiosk, im eKioskin practical terms weekend subscription and around the clock Facebook and Twitter.
Valentini says laziness has spread among the city's chefs. "When I show them the imbutini, they ask: how do you prepare it? Which sauce fits?" It was desperate. She even opened an Instagram profile, where she shares photos of the imbutini with different sauces. "I became a blogger when I was 60," she says.
At the beginning of 2020, she and Tommasi were in the starting blocks. And then came the pandemic and with it the lockdown. "The entire gastronomy sector has frozen." Only now are they starting to go to trade fairs and present themselves in restaurants again. Give up? That would not suit Valentini. "The breakthrough will come. How and when, I don't know."
Soon the Ceccarelli delicatessen in the historic center of Bologna will have the Imbutini in the counter.