New German Defense Minister: Pistorius already under pressure
The Bundeswehr Association welcomes Boris Pistorius as the new Defense Minister. Politicians are asking him to deliver tanks to Ukraine.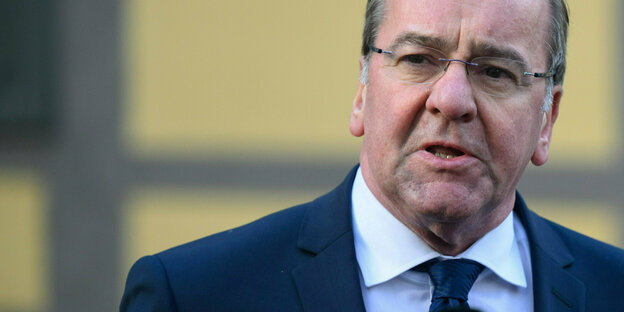 BERLIN dpa/afp | The Bundeswehrverband welcomes the nomination of Boris Pistorius (SPD) to the new Secretary of Defense. Chancellor Olaf Scholz (SPD) is with me this personnel decision underlined "the importance he attaches to the office of defense minister," said association chief André Wüstner World (Wednesday edition). "Regardless of quota and proportional representation, he selected what he felt was the most suitable personality."
Pistorius is "highly respected" and, as Lower Saxony's interior minister for many years, has mastered the mechanisms of government action as well as the rules of parliamentary operation, said Wüstner. The new defense minister is "one of the political heavyweights in the SPD".
Pistorius is already under great pressure to implement the battle tank deliveries demanded by Ukraine. Green Group Vice President Agnieszka Brugger told the media company Table.Media: "Anyone who can agree to the delivery of martens can do so too Leopard tank deliver." Clear demands came directly to Pistorius from the Ukraine.
Germany plays a key role
The former Interior Minister of Lower Saxony is to be sworn in in the Bundestag on Thursday and the following day to attend a meeting of the US-led "Contact Group for the Defense of Ukraine" at the US Ramstein Air Force base in Rhineland-Palatinate.
There, the western allies want to discuss further military support for the country attacked by Russia. This also raises the thorny question of whether Leopard 2 battle tanks should be delivered. Germany plays a key role in this, because the tanks are produced here and the federal government therefore has to approve every export from other countries.
Loud calls for battle tanks also came from the Ukraine. Deputy Foreign Minister Andriy Melnyk told the news portal t-online, he expects Pistorius to act "much more decisively and quickly" than his predecessor Christine Lambrecht (SPD). Germany must deliver "battle tanks, fighter jets, warships, multiple rocket launchers, artillery, anti-aircraft defense and of course sufficient ammunition".