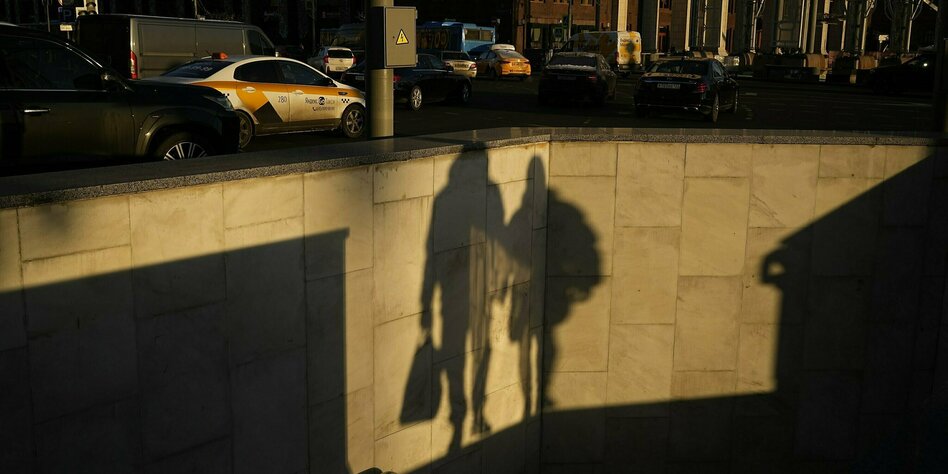 Threats, arbitrariness and humiliation, but also poetry, philosophy and joy – Moscow has it all. Many struggle with the situation. A glimpse.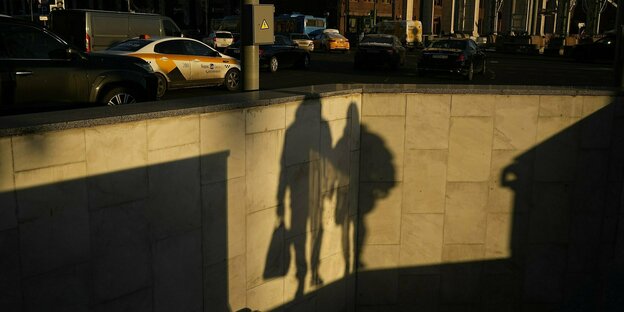 I've seen our city in the most varied of moods: happy, sad, intimidated, angry, protesting, resigned. At the moment it seems viscous and sticky to me: apparently everything is possible here – and at the same time nothing.
On the evening of November 24, 2022 I was at Otkrytoye Prostranstwo (Open Space) at a poetry evening. The Otkrytoje is a civil society facility, a mixture of co-working space, discussion room, a place for exhibitions, film screenings, self-help groups and similar activities. The event was held to collect legal fees for the September 2022 "Tyumen criminal case," which is said to be "the second network case." Both times it was about the torture of prisoners from the anarchist-anti-fascist spectrum.
In addition to poems, there was a book table and vegan food. At a little before seven-thirty, more than twenty balaclava-masked men, armed with batons, in black uniforms without insignia, burst into the room. First, they randomly knocked over all the tables. Women and girls had to stand facing the wall, boys and men lay on the floor, face down: "Hands behind your head, don't turn around, don't speak!"
It's hard to say how many hours we lay there like that, but the uniformed harassed us verbally, physically, and kicked us with boots, for about four hours I'd estimate. Then came the attitude check: people in civilian clothes who were sent to the employees of the center E (Center for Combating Extremism; special police unit specializing in the surveillance and prosecution of members of the opposition; ed.) recalled, interrogated all without protocol.
Then all mobile phone device numbers (IMEI) were noted, everyone present was photographed and then taken to the infirmary. There, too, there were no minutes; those arrested made written statements and were released between three and four in the morning. It was freezing cold in Moscow. I shuddered just thinking about walking to the night bus station. But the girls called a cab. "So, do you feel like you just survived a terrorist attack?" one asked.
At the time I just shrugged my shoulders, but now I think it really was something like this: an unidentified armed group of people, hiding their faces and their identities, raided a perfectly peaceful gathering where young Poets read poems. They abused and threatened us, for hours we didn't know when we would be released again – today, tomorrow, in ten days or in ten years.
The residents of Moscow have been deliberately intimidated and terrorized for a long time: through new laws, decrees signed by the President, through the brutal dissolution of demonstrations and vigils, demonstrative arrests using recordings from public surveillance cameras and raids in the course of the so-called partial mobilization, the end of which is not foreseeable
When the range of motion shrinks
What is it that keeps us here? Why didn't we rebel? Why didn't we at least just leave?
I remember the film "They kissed and they hit him" by François Truffaut: It's about 13-14 year old boys whose parents – alcoholics or just idiots – have no interest in them. They learn almost nothing from their sadistic teachers, skip school and roam the city, steal and finally find themselves behind barbed wire in a facility for difficult young people. Those who run away are forcibly brought back. At the end of the film, the young protagonist manages to escape to the sea.
All of us here in Moscow are now like those "difficult youngsters" from the movies: we have to endure the scorn and ridicule of the stupid and cruel "system", the indifference and open hostility of parents and close relatives, and none of us understand how it could happen that our lives developed in the way we just wanted to roam through a city full of temptations – and maybe sometimes take a trip to the sea.
But the choice of sea is now limited to Murmansk, Kaliningrad or Sochi. I don't even want to talk about Vladivostok: who among us has the money to get there? Even for Sochi or Kaliningrad we don't have enough. And that's why we spend the "skipped lessons" only in the area between Altufevo in the north and Domodjedovo in the south (End stations of the Moscow Metro; ed.). Well, and sometimes we go to poetry nights with vegan food too.
Why are we still here?
We didn't flee abroad in the spring, because we had no passport, no visa and no money. And we still hadn't understood why we of all people should leave the city that we were born here. Or have come here, perhaps only recently, but voluntarily, in search of poetry, philosophy, meaning, joy and freedom, and yes, perhaps also for one or the other easily earned ruble. So why should we of all people walk away and not those who are so proud of their uniforms, with or without dog tags, that they taunt those around them?
In the summer it seemed to us that everything that some of our acquaintances had left in the spring would soon come to an end. So told us those who had settled far away and had important sources of information.
We believed old acquaintances, heard admonishing speeches from other countries about the need for "passive resistance" and waited for "Day X" when we would all rise up or everything would take care of itself.
We know from clever YouTube videos that revolutions and disasters in Russia have always been unpredictable, benefiting those who are first to engage. So we stayed and secretly hoped that this time maybe God would come first or that Fortuna would help us.
than in autumn the unlimited partial mobilization was announced, many of our acquaintances eventually left the country, but many stayed because of friends. And there was also poetry, philosophy, meaning, joy and one or two rubles. Yes, you had to watch social media and messenger services where subpoenas were being sent out, you had to change places of residence, break the bad habit of eating out or riding the metro, where surveillance cameras soon outnumbered passengers.
On the other hand, the deferral of compulsory military service for students and trainees continued, and the mother's friend offered shelter somewhere in the country. And her own girlfriend even had a sophisticated hiding place ready, right on the territory of the golden-headed white city, the port of the five seas (historical name for Moscow; editor's note)
Wintering in Russia
And again we stayed. But this love of poetry and philosophy, of the history of our homeland, draws us to meetings, readings, discussions – all of that still exists in our city. My little story begins with one of these events. After all, it cannot be said that these people in black uniforms, which bear great resemblance to terrorists, are everywhere.
Let's assume we just had bad luck in November. Also, let's assume I won't tell you everything I know, what I do, what we all do, we Muscovites of the year 2022. Let's assume it's our "non-military secret". That one of us is perfecting an experimental perpetual motion machine of optimism.
Let's assume that we can't put all our cards on the table, otherwise our poetry, our philosophy and our perpetuum mobile will be taken from us and then sold for our ruble, which is by no means easy to earn. Our parents say it was like that in the 1980s and 1990s. And we know from our own memories that something like this has happened more than once in the past five to ten years.
It is much more important to change our city and our homeland in the right direction. That's what we work for, that's what we live for
I didn't take stock of all those arrested on November 24 (perhaps I should have) so I can't say for sure that we're all still in Moscow. I couldn't even generalize about this "we" because I didn't get to know everyone that night. I only know about a few.
But somehow it doesn't flow out of my pen. I actually wanted to write something like an "Activist's Diary" (but what the hell activists are we since February 24, 2022?). But now it turns out that only the explanations of an observer of the Russian temperament came out.
Vague hope for change
So I leave you and I here hoping for a change. Zoy for example (Allusion to the song "Peremen", "Change", by singer Viktor Zoj from the 1980s; i.e. editorial) is still played and sung in the aisles of the metro. Don't doubt that, you departed ones. Only now it is more and more often women who sing.
I, too, sometimes think, "I wish I was born a girl!" But I wasn't, and I can't help it. It is much more important to change our city and our homeland in the right direction. That's what we work for, that's what we live for, you can believe that. Don't be sad there, without us (it's us without you, what else?). Write in your free media as often as possible, we will read it. But we also make our own here.
The walls will fall.
The author writes under a pseudonym. "Perechod" means "transition";
From Russian Gaby Coldewey