Ministerial meeting on the energy crisis: EU countries want price brakes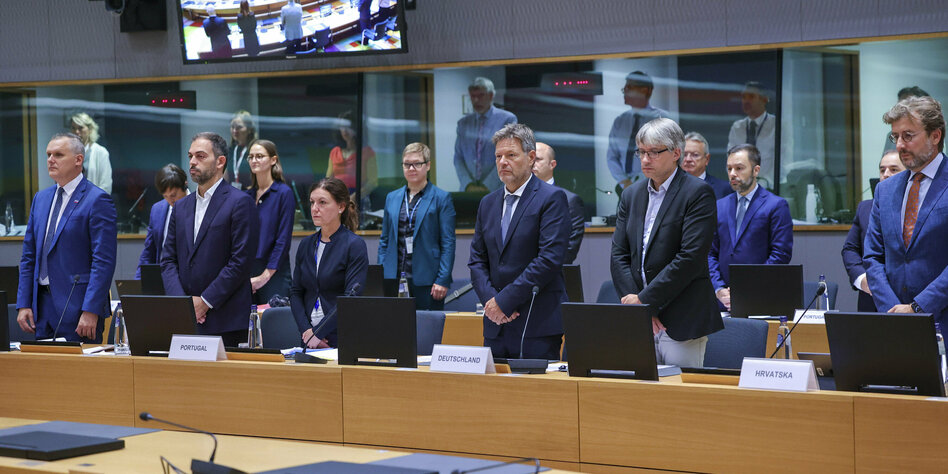 The constantly rising prices for gas and electricity should be stopped quickly. In addition, the governments want to skim off excess profits from the crisis.
BRUSSELS taz | The EU wants to introduce a price brake for gas and electricity in September. This was stated by Federal Minister of Economics Robert Habeck (Greens) after a crisis meeting of the 27 EU energy ministers on Friday in Brussels. According to Habeck, the EU Commission will make concrete proposals by mid-September. A decision will then be made on that basis.
"There will be a common European approach," said Habeck optimistically. "We have to bring the prices down," emphasized the Green politician. To do this, the design of the electricity market must be changed so that high gas prices do not affect electricity. In addition, it is no longer possible to pay every price for gas imports.
However, even after the crisis meeting, it remained unclear how these goals were to be achieved. A "non-paper" with initial ideas presented by the EU Commission on Wednesday was torn apart during the hour-long debate. The main cause of controversy was the proposal to use pipeline gas from Russia to be provided with a price cap.
Hungary rejected this move, and many other EU countries expressed concerns. Kremlin boss Vladimir Putin has already threatened to end gas supplies once and for all if there is a price cap. This could exacerbate the energy crisis in the EU and push gas prices up again, which have been falling recently.
EU countries want to skim off excess profits
According to Habeck, that wouldn't be a problem for Germany, because it had managed to become independent of Russian gas supplies. However, other countries are not that far along, so you have to take that into account. "How presumptuous would it be to say: Germany always asks for leniency, but the other countries don't get any?" he asked.
Belgium called for a price cap not only to be introduced for gas from Russia, but for all gas supplies. However, this is considered to be even more difficult. EU Energy Commissioner Kadri Simson said she would also look at that option. However, no decisions have been made yet.
There was broad agreement that Skimming off extra profits from energy producers and redistribute to needy citizens and businesses. But here, too, the devil is in the detail. It would first have to be defined what "excessive" profits are and which electricity producers are involved. The Commission now wants to work on this as well.
In the draft by the Brussels authorities, the main focus was on eco-electricity generators, with users of fossil fuels only appearing marginally. However, this does not fit well with the credo of the EU Commission, which sees itself as a pioneer in climate protection. The proposal to push down emissions trading prices is also controversial.
In view of the many unanswered questions, the timetable seems extremely ambitious. Several ministers emphasized that an agreement would not be easy given the different conditions in the 27 EU countries. The energy mix, supply and demand differed too much from country to country.
To make matters worse, countries like Spain or France have pushed ahead with national price caps and other measures, while others like Germany have been stepping on the brakes. Before the summer break, Habeck claimed that there was no problem on the electricity market. Now he demanded to decouple the electricity price from the gas price.
The EU Commission has also learned something new. Until recently, it strictly rejected any intervention in the energy market. Simson has now admitted that the reference price for gas on the Dutch trading platform TTF no longer reflects reality. In addition, trading in gas futures (long-term contracts) no longer works properly.
However, a reform of the market design is not yet planned. According to Simson, the focus is on temporary emergency measures. "We will not leave citizens and companies alone," promised the Energy Commissioner. What that means exactly, however, should only become apparent next Wednesday: Then Simsons boss Ursula von der Leyen wants to present her solution proposals in Strasbourg.