Military exercises by South Korea and the USA: major maneuvers are underway
The largest US-South Korean military exercise in five years has begun. Shortly before that, North Korea is testing two strategic cruise missiles.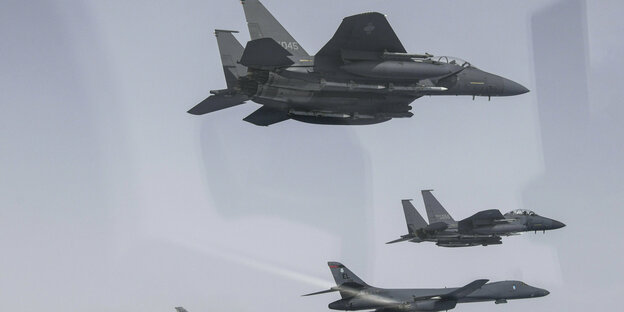 SEOUL AFP | South Korea and the US started their largest joint military exercises in five years on Monday. With the "Freedom Shield" maneuver, which will last at least ten days, Seoul and Washington say they are reacting to the "changed security environment" in the region due to the increased aggression by North Korea.
A few hours before the start of the maneuver, North Korea had announced that it had tested two strategic cruise missiles. According to the state news agency KCNA, the test was successful and the projectiles had reached their intended targets. The missile test is an expression of North Korea's determination in a situation in which "the US imperialists and South Korean puppet forces are becoming increasingly blatant in their anti-North Korean manoeuvres."
Pyongyang had warned in advance that Seoul and Washington's maneuvers could be construed as a "declaration of war." North Korea regards such military exercises as a test run for an invasion. had at the end of last year North Korean ruler Kim Jong Un declared his country a nuclear power. On Friday, KCNA reported that Kim had ordered military maneuvers for a "real war."
The military tensions on the Korean peninsula have recently increased drastically. The communist leadership in Pyongyang has repeatedly threatened a military escalation in the region. Given North Korea's ongoing provocations South Korea and the USA increased their defense cooperation.