Migrants in the US: People as leverage
Conservative US governors are moving migrants to Democratic states. They lie to people about their plans and goals.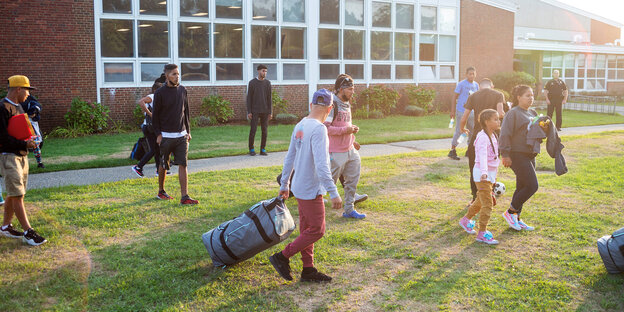 NEW YORK taz | With false promises and surprises, the Republican governors of the southern states of Texas, Arizona and Florida are moving thousands of migrants and refugees to liberal cities and states further north in the USA. They do it with buses and with charter planes. And they brag about the actions to their base and their funders.
"We're not a sanctuary state," said Florida Governor Ron deSantis, explaining why he recently flew 38 Venezuelans to the vacation island of Martha's Vineyard off the coast of Massachusetts: "We're taking them to greener pastures." To finance his action, he used funds from the Covid relief fund that the federal government had made available to him.
Both the migrants and the authorities in the democratically governed cities and states are presented with a fait accompli by the three Republican governors in the south. "Call the churches," a certain "Perla" advised Venezuelans over the phone when they were shocked to find they had been flown to a place where no one expected them to be.
"Perla", who speaks fluent English and Spanish, had picked up the refugees in San Antonio, Texas – probably on behalf of the governor of Florida – and promised them jobs for 90 days, room and board. Venezuelans were exhausted from their weeks and months of perilous journeys to the US border.
Florida's governor boasts about his coup
They had already had to leave the shelters for their first few days in Texas. And they didn't have the money to continue traveling on their own. They had never heard of Martha's Vineyard. "Perla" had given them a document to sign, of which they only understood the Spanish-language parts.
And she'd arranged for them temporary room and board in San Antonio before they left. Only during the landing approach and after a stopover in Florida did they see that they were being taken to an island off Massachusetts.
In another action, prompted by Texas Gov. Greg Abbott, a Texas bus dumped 50 migrants in the Naval Observatory neighborhood near Vice President Kamala Harris's residence in the US capital. There, too, no one was prepared for the arrival of the newcomers, including numerous children, who were exhausted from the journey of more than 2,500 kilometers.
"Brilliant" is what deSantis called the bus action in Florida, with which his Texan colleague shifted the problem to democratic Washington. At a press conference in Florida the day after the 48 Venezuelans were moved, he proudly acknowledged his coup.
In the footsteps of Donald Trump
DeSantis is currently using tones that sound like a rehash of Donald Trump's campaign beginnings in 2015: He talks about "illegal" migrants, even if – as in the case of the Venezuelans – they have applied for asylum and are legally in the US. He talks about deadly drugs and other dangers that the migrants supposedly bring with them. And he claims he protects US borders from invaders.
Florida's governor is not yet an official candidate for the Republican presidential nomination of 2024. But his tours of the country, his search for financial and political backers, and his choice of topics and words make him the most promising potential successor in Trump's footsteps.
More migrants have been arrested after crossing the US southern border this year than ever before. But migration reform, which has been overdue for decades, or at least a national conference on how the costs and migrants are distributed across all 50 states, is not on the agenda.
While Republican governors aim for political gain, the deportations of migrants to Democratic states aren't just additional hardships. In New York City, where thousands of migrants have arrived in buses from Texas in recent weeks, churches and neighborhood groups have organized humanitarian aid. In Martha's Vineyard, donations of clothes, toys and food arrived overnight for the Venezuelans, who initially found shelter in a church.
Writer Nancy Aronie was preparing to make her studio available to a refugee family. But it did not get to that. Two days after their arrival, all 48 Venezuelans were taken by ferry to accommodation on the mainland. Three of them have since sued the governor of Florida.
They get help from Sheriff Javier Salazar in Bexar County, Texas. He has opened an investigation into "a premeditated, fraudulent and illegal scheme" against the governor of Florida.