#MeToo affair in the Left Party: A cultural change is necessary
With the MeToo affair in its own ranks, the Left Party could sink into insignificance.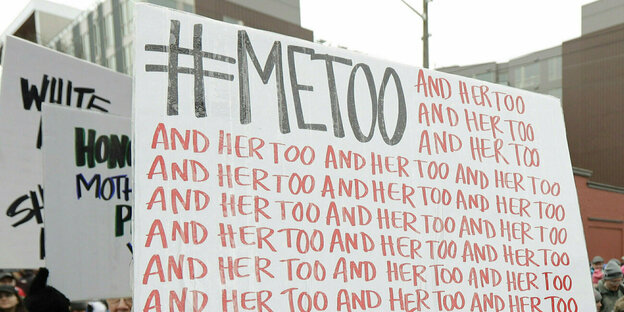 "Don't say anything, it's crazy." And "You stallion! You sugar daddy! You Roman Polanski!" With sentences like this, you don't have to think long about what the conversation is about. Definitely about sex. In the worst case, sexual violence. In this case, the Left Party. The sentences come from a chat history of two men, one of whom, the boaster, the "Hengst", the "Sugardaddy", is a well-known figure in the Hessian left and the other is his acquaintance. With the revelation of these disgusting details, the party now has its very own #MeToo affair. Why this party, which is feminist in terms of self- and external representation?
Why not? The Left Party is an organization like any other organization. With classic hierarchies and relationships of dependency, with people who take themselves seriously (and more importantly), who destroy competitors. Use your own radiance for political or – as in this case – private purposes. With people who are beaten up and have a hard time defending themselves. Apparently the feminist profile of the party doesn't change that either.
But is it really that simple? At first glance, the matter seems clear: an older man uses his fame, his life experiences, his position of power to get close to a subordinate who is also a minor at the time. That's not possible, that much is clear. In addition, victims of physical, psychological and sexual abuse should first be listened to and believed in impartially. However, many other questions play a role in allegations of this kind, to which there has not yet been a clear answer in this case. What exactly happened? Who knew about this? Who intervened? And who watched? Who has which political interests within the party? And what means does it use?
In order to clarify this, the federal party refers to a so-called trust group in the party executive. And recently also on an independent expert council, which is to be used. That is also necessary. In order to analyze and dissolve power structures that allow abuse of any kind, professional and, above all, independent help from outside is required. This is not a process that just takes care of itself overnight. A code of conduct is not enough, a cultural change is necessary. However, what should already be certain: With this one The Left Party slides into a massive crisis after the #MeToo affair. And eventually into insignificance.