Merz assumes "social tourism": The fire accelerator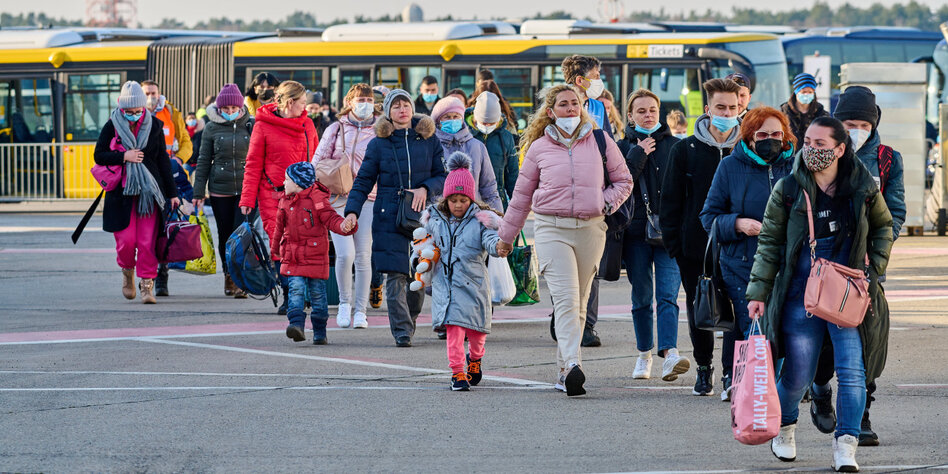 CDU leader Friedrich Merz has accused refugees from Ukraine of "social tourism". Such slogans are perfidious – and anything but harmless.
Friedrich Merz can't help it. The CDU leader is trying to create a new image in public – more empathetic, more social. Only to fall back into the role of conservative Union politician fishing on the far right. He does this on the backs of people fleeing the Russian war and its war crimes in Ukraine. That's perfidious. And it's dangerous.
"We are now experiencing social tourism from these refugees," said Merz on Monday evening on "Bild Live"; "to Germany, back to the Ukraine, to Germany, back to the Ukraine." Among the refugees, "a larger number now make use of this system".
Merz is adopting a term that is otherwise primarily used by the AfD. And he jumps on a rumor that has been circulating on WhatsApp and Facebook for weeks, which is aimed at creating a mood against refugees and accusing them of social fraud: Since refugees from the Ukraine have been receiving Hartz IV instead of asylum seeker benefits, people have been coming from the Ukraine for a short time, just for one submitting an application and unlawfully receiving benefits.
But there is no evidence for this. That Research Center Correctiv asked the bus company Flixbus at the beginning of September whether there was any conspicuous commuter traffic and asked the Federal Employment Agency and the Federal Ministry of Labor about suspicious Hartz IV applications. There is no evidence of such incidents anywhere.
"Shabby" called Federal Interior Minister Nancy Faeser (SPD) the "smear campaign on the backs of Ukrainian women and children fleeing Putin's bombs and tanks". The minister reminded us that the word "social tourism" was the word of the year in 2013, and it was "unworthy of every democrat" in 2022 as well. The Greens, FDP and Left Party also heavily criticized Merz, as did organizations that know the reality of life of the refugees from practice, including, for example, Caritas.
Even Merz's own people are not pleased. It should not give the impression that refugees from Ukraine are social tourists, said on Tuesday Thorsten Frei, parliamentary manager of the Union faction. And in the end, the party leader himself rowed back. He "regrets" the use of the word "social tourism" tweeted Merz. It is an "inaccurate description" and instead of a "large number" he is suddenly only interested in "individual cases".
It was just Rostock-Lichtenhagen's anniversary
Despite this awkward backtracking: Merz's statement is out in the world and breaks with the solidarity that Germany has shown towards Ukraine and the people who have fled from there across the democratic spectrum in recent months.
Thanks to the comprehensive contradiction, it is only a small scratch at first. But that can easily become a deep rift. When Merz uses rhetoric like this to catch votes on the right, it's not just undignified and impeccable. It is dangerous – not least for the lives of those on whose backs he tries to distinguish himself.
In 2015, too, solidarity with the refugees from Syria was initially great. Angela Merkel said "We can do it", even they picture appeared with "Refugees Welcome" slogan. Then right-wingers set fire to refugee shelters, hunted people down, the AfD moved into more and more state parliaments and Interior Minister Horst Seehofer tightened the right to asylum.
The thirtieth anniversary of the Rostock-Lichtenhagen pogrom. Back then, in 1992, it was omnipresent, the slogan about the boat being full. Then more than a thousand people attacked the Sunflower House, a dormitory for Vietnamese contract workers. Luckily no one died. The government and parliament then changed the Basic Law and drastically curtailed the right to asylum. A little later, right-wing extremists murdered three people in Mölln and five in Solingen in racist arson attacks.
That's how quickly verbal arson can turn into real flames. Once again the Union shows that the "fire wall" to the right is not far away, as she likes to see herself. With such statements she is rather petrol.