Memorial rooms on the web: farewell on the laptop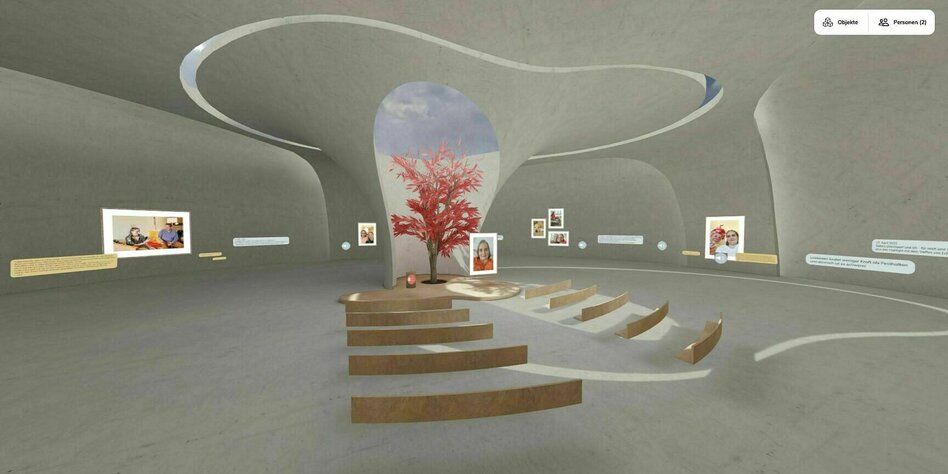 Will we only mourn online in the future? no However, online memorial rooms can be an offer for society.
There is a maple tree in the middle of the room. Next to it, under the reddish shimmering leaves, a smiling woman looks into the bare interior of the bright hall. Light falls through the opening of the dome onto stone benches lined up one behind the other. Walls, ceiling and floor are light grey, almost industrial. Apart from the tree, only the pictures distributed in the room set color accents.
Like that of the smiling woman. If you look to the left, you will also discover a celebrity like Eckart von Hirschhausen next to her. He sits on the edge of the bed next to the woman, who writes: "Fulfillment of the great wish on my spoon list", just to get to know Hirschhausen before it's too late.
The space is a cathedral of memory, filled with life and color through the many images and words. Light penetrates through the dome, outside clouds seem to pass by. Seem: Because this isn't real. The memories are in a digital space that can be found on the internet with just a few clicks.
Last but not least, the corona pandemic has shown that almost everything can shift to digital. School lessons, meetings, and even visits to the doctor take place via video conference. The advantages: location and time independence. Lilli Berger would also like to use this for a topic that is relevant to all of us sooner or later in life: grief.
More than virtual candles and guest book entries
Berger is a undertaker and founder of Farvel, a platform for virtual mourning rooms. At the age of 14, the now 31-year-old did her first internship at a funeral home. "I've always wondered, what is this death that nobody talks about and that everyone is afraid of?" she says.
After training as an undertaker, Berger went to university. And the topic of grief also takes up a lot of space in her leadership and communication studies. She quickly realizes that digitization has not yet arrived in the industry, that mourning is mainly dealt with analogously.
A fact that probably neither surprises nor bothers many: after all, death is a topic that is often suppressed. At least until you are confronted with it. Mourning is then often traditional: farewell with a funeral speech and burial. Berger doesn't go far enough. Her vision: Make grieving contemporary, for a generation that is at home on the internet and is becoming more and more international.
At least that's what the founder advertises on her website. There is a basic idea behind the marketing slogans: coming together in the digital world. Because family, friends and place of study – all of this is no longer a matter of course in close proximity. In order to stay in touch, digital offers are needed.
What has existed so far are old-fashioned Internet forums in which virtual GIF candles are lit and guest book entries can be made. "What falls short here is the feeling of closeness and the exchange through personal conversations". Berger wants to change exactly that. Together with her co-founders Jennifer Beitel and Markus Traber, she will build a so-called deathtech start-up from 2020. To do this, she creates virtual, barrier-free memorial spaces that visitors can enter like a computer game. Via smartphone, laptop or VR glasses. When you enter the room, you can move around it with VR glasses or a keyboard and look at the memorabilia.
"Basically, it only takes two clicks"
Back into the great hall, where the leaves of the maple tree still shimmer in the light. "It is always very moving and touching for me to be in the memory room," writes Mandy. Mandy is the smiling woman that can be seen all around the room. "Seeing your own life immortalized in pictures, reading the comments of dear visitors and even meeting someone and having a short chat every now and then is really always fascinating," she says.
Mandy, who doesn't want to read her last name in this newspaper, is 40 years old and unable to leave the house due to several heart conditions. For them, their mourning room is something very special. "The bond that is so important to me throughout my life can continue to exist," Mandy writes to the taz. She writes because speaking is too difficult for her. Because: Mandy will die. She is open about her diagnosis. Especially on the internet. Almost ten thousand people follow her on Instagram. They follow, comfort, think of her.
Mandy approached Farvel's team in the early stages. A lot has happened since then. Mandy's memory space is filled with pictures, personal messages, and even voice memos. Everyone can enter it and experience the memories. That Mandy can visit her own funeral room is something special. Originally, Lilli Berger and her team had the idea of ​​creating a space for the relatives of the mourners.
With VR glasses, it feels like walking through space. The noises come from different directions, conversations, for example, can only be heard if you are actually face-to-face. For many, however, the pace of technological development is overwhelming. Everything is shifting to the digital world. How should one mourn when important know-how is missing? Berger says: "There is a big barrier. People who have never been in a digital space have no idea how much potential it has."
The rooms should be particularly user-friendly due to the easy operation. "Basically, it only takes two clicks. You can visit our website and enter the rooms." VR glasses, for example, are not necessary, but make the experience more intense. Visitors can also put together an avatar, i.e. an external appearance that can, but does not have to, resemble their real self.
So will we soon only mourn digitally?
So will we only mourn in the digital world in the future? Clear answer: no. "The idea is not to create a replacement, but an additional offer. For all those who cannot come to the funeral service, who need a room afterwards where they can remember," she says. Berger would like to offer Farvel as a product for companies in the industry, such as undertakers. It is not about replacing existing traditions and mourning rituals. Berger considers particularly well-known rituals to be important. "There is support and structure in ritualized processes. As in the Lord's Prayer, which many can say." This is confirmed by Hansjörg Znoj, Professor of Clinical Psychology at the University of Bern. "Rituals are mainly used to make the loss comprehensible, to give it a form," says Znoj, who researches grief. How does the expert assess the potential of digital mourning chat rooms?
"Communication behavior has changed due to digital offers and messenger services, social media in general." Znoj believes that digital mourning rooms could become increasingly important. "However, I am a bit skeptical that these will be enough to really give comfort." In addition, studies and data are still missing in this area. "Everyone then has to decide for themselves whether the offer fits or not," he says. "Mourners are not impaired in judgment."
Having a shared retreat filled with memories gives Mandy stability
However, other digital offerings could indicate a possible future direction, says Znoj. For example, online therapy can have a very similar effect to a face-to-face session. He sees this as "an indication that digital mourning rooms could also have a helpful effect".
Having a shared retreat that is filled with good memories and feels familiar – that also gives Mandy support. Funeral speaker Mel Breese contributes to one of these memories. "I wrote a eulogy for Mandy and recorded it as an audio book," says Breese. Mandy has already listened to them.
When the time comes, the speech will be placed in their mourning room as an audio file, where anyone can play it. For anyone who wants to remember Mandy, connections that don't need physical contact, never had and never will have.
But there is this one place where everyone can come together. And where Mandy can get together with everyone. Even if she is too weak due to her illness to leave the house or reply to each one individually on Instagram.
We're talking about her room with the maple tree in the middle.