Members of the Bundestag visit Taiwan: clear rejection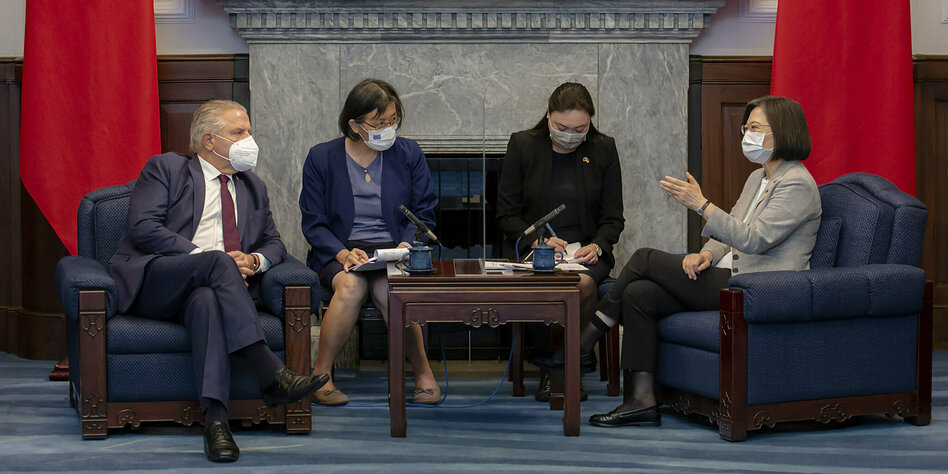 A Bundestag delegation is received by the President. The group's chairman stressed that China's threats against Taiwan are unacceptable.
TAIPEI dpa | China's threats against Taiwan cannot be accepted in the opinion of German parliamentarians. At the reception of a Bundestag delegation by Taiwan's President Tsai Ing-wen on Monday in Taipei, the chairman of the parliamentary group, Klaus-Peter Willsch, compared the situation with the procedure Russia vs Ukraine. The Bundestag has made it clear several times "that we do not consider it acceptable that you are being threatened by a neighbor," said the CDU politician to the President. Taiwan must not be forced into "unwanted cooperation" with military force. The Bundestag is "clear in its rejection".
"We noticed that not everyone likes that we are here this week," said Willsch about the protest from Beijing against the five-day visit of the six MPs to Taiwan. "But we don't care." The Bundestag decides for itself on its relations with friendly parliaments. Cooperation with Taiwan is an important part: "It will stay that way."
The MPs' visit is the first visit by a Bundestag delegation to Taiwan since the pandemic began in late 2019.
China's leadership sees the democratic island state as part of the People's Republic and firmly rejects such official contacts from other countries to Taipei. Taiwan, on the other hand, has long considered itself independent. Tensions had recently intensified.
As reaction to the visit of the Speaker of the US House of Representatives, Nancy PelosiIn early August, China had large-scale maneuvers started. The threatened conquest of the island was also practiced. The People's Liberation Army has kept up the pressure with increased deployments of warships and aircraft near Taiwan.
Taiwan's president accused China of "disturbing the regional order" with the military maneuvers. Tsai Ing-wen thanked Germany for its support during the presidency of the Group of the Seven Large Industrial Countries (G7). In the face of the "expansion of autocratism", democracies must unite to defend their democratic values. Taiwan wants to expand cooperation with Germany in order to jointly realize values ​​such as justice, peace and ecological sustainability.
The CDU politician Willsch emphasized that Taiwan's people can be proud of what they have built: "A functioning democracy, a beacon of freedom in Asia." Taiwan is living proof that "the Chinese also live in democracy and that well can shape". Added to this is the economic success: Taiwan is Germany's fifth largest trading partner in Asia. "The whole world is screaming for digitization, but how are we supposed to achieve that without the semiconductors that are produced in Taiwan," said Willsch. Germany also wants to expand cooperation in science, art and youth exchanges.