Little space in the church asylum: It is getting cramped in the church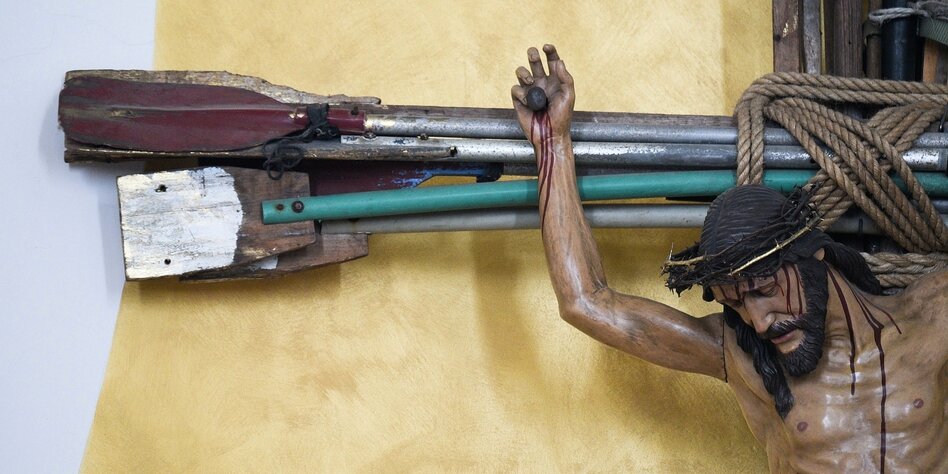 Sanctuary is a last resort for hardship cases. A young mother was threatened with deportation. She was lucky, a Munich church took her in.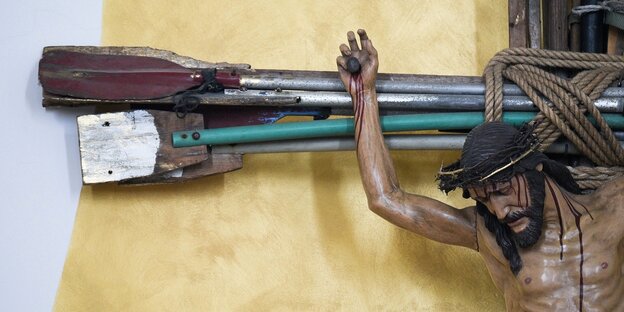 Munich | taz | The Himmelfahrtskirche in Munich-Sendling is a low-rise building, built from rubble after the war, just a few minutes' walk south of the Theresienwiese. While the Oktoberfest is happening there, Amirah Diallo*, 25, from Sierra Leone, is sitting in a room on the ground floor of the parish with her daughter Aisha, six months. As a child Diallo was genitally mutilated, as a young woman she was threatened with forced marriage. That's why she's here, she says. Diallo lives in a church asylum, otherwise she would have been deported long ago.
The last statistics for Church Asylum in Germany dates from April 2022. 594 people, including 121 children, were in church asylum, almost all of them so-called Dublin cases. They should not be deported to their country of origin, but to the EU state in which they entered the country and seek asylum there. But they often push them further. The church asylum is a last resort for hardship cases who are lucky enough to find an open congregation.
Diallo survived Ebola in 2014, her mother died of the infection. Diallo becomes a nurse and graduates in 2019. A year later, her uncle wanted to sell her to a local politician, she says. Diallo left Sierra Leone alone in March 2020. In November 2020 she managed to cross from Morocco to Spain. After a month she is allowed to leave the camp there. She continues by train to Saxony. "You said there is work in Germany for those who have been trained," says Diallo.
Shortly after her arrival in Saxony, she meets the father of her child. He also comes from Sierra Leone, has been rejected as an asylum seeker and has been tolerated. He has lived in Chemnitz since 2015, works as a nurse and has a small apartment. The two grow closer and Diallo requests to stay there. But in December 2020 she will be transferred to an asylum home in Deggendorf, Bavaria. The man always comes to visit for three days at the end of the month.
Authorities cut social benefits to zero
In February 2021, Diallo's application for asylum was rejected. Spain is responsible. The German authorities are asking the country to take back Diallo as a Dublin case. She should apply for asylum there. "But they sent me back to Sierra Leone," says Diallo.
A month later, Spain agrees. From now on, Germany has six months to deport them there. Unless she goes underground. The period is then extended to 18 months.
Diallo continues to meet the man from Chemnitz. She gets pregnant. In July 2021, when she is considered to be in hiding, the authorities cut her social benefits to zero. Shortly before the due date, a social worker from the Bavarian Refugee Council gives her a place in the Ascension Church.
On March 7, 2022 their daughter will be born. Diallo doesn't have a passport, and the doctors at the Klinikum Rechts der Isar don't give her a birth certificate. There is a legal right to live together as a family. But because the father is only tolerated, it doesn't apply in her case. Diallo complains against it. The court found that the family could also keep in touch via smartphone.
Germany made 18,429 so-called takeover requests to other EU countries in 2021. If they agree, church asylum is practically the only remaining way to an asylum procedure in Germany. The demand for places is enormous, the supply small.
Thomas Brandt is one of three advisors to the ecumenical network Asylum in the Church of North Rhine-Westphalia, which puts people in need of protection in contact with communities. "We're completely overwhelmed," says Brandt. The conditions during his weekly consultation hours in Cologne are "absurd". Sometimes 40 people would wait up to 10 hours. "We're dreading winter," he says, because the office is so small that people have to wait in the courtyard.
There are "actually no free places in churches", says Thomas Brandt. "We have a lot of people here with a lot of fear and pressure, to whom we can make less and less promises." The war in Ukraine has exacerbated the situation. Many communities have taken in refugees from there in their rooms. "Legitimate and cool," says Brandt. "But that makes it harder for us. It would take a lot more churches."
In the Church of the Ascension, Amirah Diallo heats water, pours it into a plastic bottle and takes a can of milk powder from the shelf. The child sits on the mattress on the floor and rocks his hands. After a while, Diallo drips some milk onto her wrist. Then she gives the child the bottle.
It's difficult all alone with a baby. "You can't even take a shower in peace." She only gets help when her partner comes from Chemnitz. But he can only afford the trip once a month for a few days. "Life here is better than in the camp. But I can't get out of here," says Diallo. Three men from Syria are housed in two other rooms in the church. None of them can leave the church rooms.
Cooking offers some variety. Diallo doesn't like what the Syrians prepare, so she cooks for herself, peanut soup or yam porridge with okra pods. In the morning, the community offers guests a German course. The pastor lives upstairs and comes down every day for a chat. Her name is Stephanie Höhner, she took over the office in 2019 at the age of 33.
No social benefits
As early as 2015, the parish council decided to offer permanent places in church asylum. Unlike many other clergymen, Höhner does not have to ask for approval every time. "Widely supported" in the community, says Höhner.
Whoever is in church asylum does not get any social benefits. The community spends 600 to 700 euros a month on groceries and drugstore items for the five guests. "We also notice the inflation." A retired doctor takes on smaller examinations. From time to time there are still medical bills.
On Mondays and Thursdays, guests write shopping lists. Two volunteers shop. On Thursdays there is a joint lunch with the church workers. "European food" is then served, says Höhner. "We want to broaden the culinary horizon a bit." And the birthdays are celebrated. With cake, says Diallo. What she fears most is that her daughter will also be genitally mutilated if she has to return to Sierra Leone. "It's mandatory in my family." That's why she can't sleep.
According to the "Federal Working Group on Asylum in the Church", 372 communities offer places. For Höhner, this also means having to turn down many requests. It is not easy to find criteria for this. "We look at each individual case," she says. As a rule, inquiries from people who are threatened with deportation to Eastern Europe have a better chance. "In countries like Croatia or Hungary, not only are the reception conditions unacceptable, there is also practically no prospect of asylum."
In 2015, the Federal Office for Migration and Refugees BAMF, the Protestant and the Catholic Church reached an agreement that gave the church asylum for the first time fixed rules. She provides that every congregation church asylums reported centrally to the Bamf and justified in a so-called hardship dossier why the Bamf should reconsider the deportation. The Bamf is obliged to check. However, it now rejects almost all applications.
The pastor writes the hardship dossiers herself
Pastor Höhner writes the dossiers herself. "It doesn't need legal language," she says. In the case of Diallo, for example, she wrote that it was unreasonable to separate father, mother and daughter.
Amirah Diallo's partner received a residence permit in August. A new application for family reunification could be successful. Does she want to get married? Maybe, Diallo says. First of all, she just wants to live with him. "We need to get to know each other better before we decide that."
The deadline for the transfer to Spain expired in mid-September. Diallo can now officially apply for asylum in Germany. As soon as the corresponding message from the Bamf is there, she can leave the church and return to the camp in Deggendorf.
From a legal point of view, it is the clergymen of the congregations who personally grant sanctuary. They come into a legal gray area if the Bamf rejects the hardship application. The asylum seekers are then dependent on the municipalities continuing to grant them asylum until the transfer period has expired - as in the Diallos case. The pastors are not allowed to encourage the guests to stay - but are not obliged to put them out of the house either.
However, this is not without risk. Since 2015, a number of clergymen who granted church asylum have been convicted of aiding and abetting illegal residency, mostly in Bavaria. Almost all judgments were overturned in higher instances. There have been five investigations against Höhner so far. All have been hired. Her congregation wants to continue to offer church asylum, says the pastor.*Name changed