Lawyer on activists in Egypt: "Alaa is a political prisoner"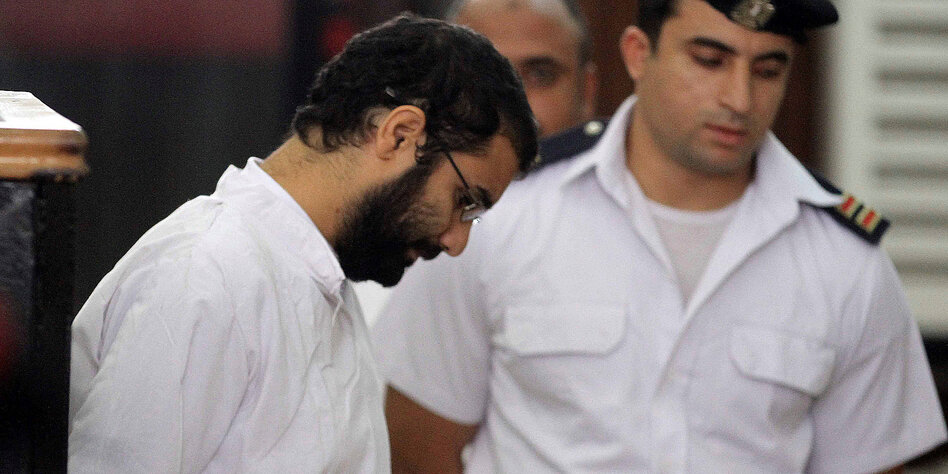 During the Cop27 all eyes were on Alaa Abdel Fattah. His lawyer on international solidarity and what's next for the activist.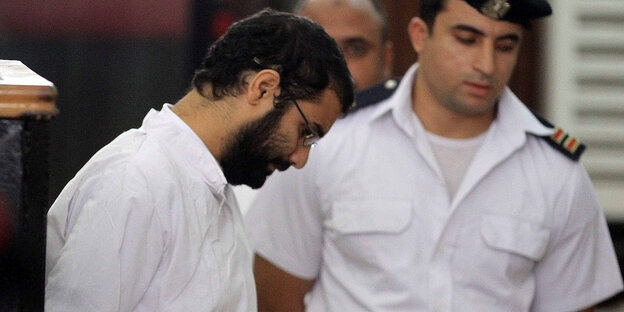 More than 1,200 political prisoners have been released in Egypt since April. The family of the well-known activist Alaa Abdel Fattah (41), who was sentenced to five years in prison in 2021 for publishing false news, is also hoping for an amnesty from President al-Sisi. Last week, on the sidelines of the climate conference in Sharm al-Sheikh, Alaa's sister Sanaa (28) again called for his release. The taz spoke to Alaa's lawyer Khaled Ali.
taz: Mr. Ali, a well-known Egyptian journalist named Alaa's sister Sanaa after hers Appearance at the Cop27 accusedto have exploited the climate conference. Does she?
Khaled Ali: No, it had been known for three months that she would attend and the United Nations had agreed. Sanaa simply exercised her rights and demanded her brother's release. Hundreds of participants from all over the world were able to show their solidarity. The global climate conference is a meeting place to talk about environmental rights, so it is based on human rights.
is a lawyer in Egypt. After the 2011 revolution, he defended many demonstrators. He ran for president in 2012 and 2018.
What is your stance on outside pressure and foreign campaigns for Alaa's release?
We can't speak of external pressure, but rather of local and international solidarity, which is great. I thank everyone for this solidarity, local and international organizations and the representatives of states who have affirmed Alaa's right to freedom. There is also one signed by almost 300,000 people worldwide Petition for the release of Alaa – so much more than what is known in the media and social networks in Egypt.
What's next for Alaa?
Since he has been sentenced to five years in prison and the sentence has been upheld, we have no choice but to appeal again to the Military Governor to have the sentence overturned, pardoned or at least reduced sentence. I will be making rolling requests until Alaa is released.
Shortly before the Cop27, the activist Ziyad al-Alami was pardoned. Why not Alaa too?
The question is addressed to the Egyptian state, not to me. I've asked the amnesty committee to nominate Alaa for pardon. That's what I wish for everyone who is imprisoned for their exercise of freedom of expression. In the case of Alaas, his aunt Ahdaf Soueif and his sister Mona Seif also applied for a pardon, but there was no response. The party alliance "Civil Democratic Movement" and various women's groups have also submitted lists of names that also contain Alaa's name. Nothing was answered.
Many people argue that Alaa was criminally convicted and cannot be pardoned.
In Egypt, any charge is considered criminal. But it is important to pay attention to the type of crime a person is accused of. Is it a criminal act like theft or murder, or something political? Alaa was convicted of spreading false news. He is a political prisoner, he has not committed any shameful crime and has the right to amnesty.
His sister Mona mentioned that Alaa, like other prisoners, had been held in custody for too long.
There are detainees who are held in custody for more than two years. When the statutory deadline expires, it is simply extended. We need a quick solution to this problem.
Alaa ended his hunger and thirst strike over the weekend. how is he now
We are worried about his health because of the long strike. He has been on a partial hunger strike for more than 200 days. He had reduced his calories to 100 calories a day. Since November 1st he has not eaten at all and since November 6th he has also stopped drinking. He is currently under medical supervision.
Does he get visitors in prison?
For some time, no one prevented Alaa's family from visiting him at set times. The last family visit was on September 24th. I have been prevented from visiting him three times since Alaa was transferred to Wadi al-Natrun prison in Alexandria governorate last year. I don't know who is responsible for this ban. There's no reason to stop me. I have all the necessary official permits. That makes me suspicious because I have the right to meet my client.