'Last Generation' protests: time for self-defense?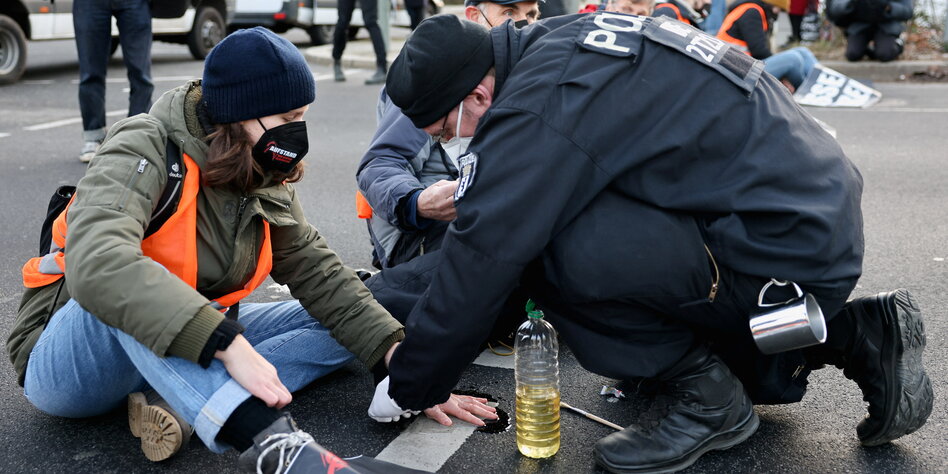 The Last Generation Uprising group causes a stir with roadblocks. The discussion about their legitimacy is in full swing.
Most of the time it's pretty simple: you walk out onto the street when it's red and you don't go down. No big deal actually. But no car can get through. What kind of group is this called the "Last Generation Insurgency" that everyone's upset about right now?
At first, the insurgents didn't have much against the commuter traffic that they blocked. They want a law against food waste. And further still a policy against the climate collapse. The name of the group also refers to this. She sees herself as part of the last generation who can still make a difference before humanity is completely doomed by the climate crisis.
Out of this urgency, the activists have chosen their form of action. They want to push so that it hurts. However, the "insurrection" is not exactly a mass movement. There are maybe one, two, three dozen per campaign. But they always come back. The police put activists in custody, release them, they come back. They started in Berlin, there are other campaigns in Hamburg, Frankfurt am Main, Stuttgart and Munich.
And suddenly a group with a double-digit number of members delivers the faces of the climate movement in Germany. It's not the time for big demos, also for infection control reasons. Fridays for Future have registered the next global climate strike for the end of March. But whether the marketplaces will fill up with school strikers every Friday like in 2019, who are demanding a future worth living for themselves, remains to be seen.
The street blockades of the "Last Generation" cause outrage, even if the police break them up fairly quickly. Videos are circulating in which drivers insult the activists and drag them off the street with their own hands in vigilantism. In one case, a hysterically screaming man even punches an activist in the face. Even in politics, the actions are not necessarily met with approval. "Unannounced demos on motorways are and will remain illegal," tweeted Federal Justice Minister Marco Buschmann (FDP).
And after Federal Environment Minister Steffi Lemke (Greens) initially called civil disobedience "absolutely legitimate" in a discussion round this week, she jumped on Buschmann on Twitter: "I'm disappointing everyone who's waiting for there to finally be a juicy coalition crackdown ' she wrote. "I agree with my colleague Marco Buschmann." Federal Minister of Agriculture Cem Özdemir (also Greens), who is ex officio responsible for questions of nutrition, already said in the taz"that road blockades harm our common goal".
Another face of the climate movement in public is currently Tadzio Müller. He no longer belongs to any specific organization, but was a co-founder of the "Ende Gelände" group and climate justice officer for the Rosa Luxemburg Foundation. Even blockages like those of the "last generation" no longer go far enough for him.
Müller recommends that the movement expand its forms of action: Destroy fossil infrastructure without endangering people. He has already called it "peaceful sabotage" in numerous interviews, in the taz, in the mirrormost recently in the "hot seat". Star TV. "Everything else has brought nothing or not enough," he argues. "And if you notice that a strategy isn't working, then it's nonsense to keep doing the same thing."
What Müller proposes is already a reality on a small scale. Anonymous let air out of SUV tires in several cities and left climate-political messages on the cars and on the online platform indy media. Shortly before, a letter of confession was published there in which anonymous people claim to have damaged excavators and other equipment for the climate on the premises of the Lusatian coal company. "Police and LKA are investigating," confirmed a company spokesman for the taz. Is this just the radicalization of a niche or are these activists driving the climate movement as pioneers?
violence against objects
If you ask Tadzio Müller whether peaceful sabotage isn't a contradiction in terms, he quickly gets angry. "Of course it's peaceful, how can you do violence to objects? They have no soul and no sense of pain," he says. "To speak of violence is absurd."
The philosopher Eva von Redecker sees things differently. The scientist, who deals with questions of property and social change, among other things, says: "I would even say that our entire way of life is based on violence against things." She cites the exploitation of nature as an example, which is far greater Violence, of course, which in many cases is also legal.
Two years ago, von Redecker's book "Revolution for Life" was published, in which she also deals with the climate movement. "Unfortunately, I would see the current discussion as a sign of the weakness of the movement," she says. "The capacity for mobilization and mass enthusiasm has been reduced, on the one hand due to the pandemic, but also due to a lack of political success, repressive measures and exhaustion in everyday neoliberal life."
A kind of will of despair sets in, which leads to the conviction that the movement must become more drastic, more militant and more effective, says von Redecker. In principle, she is not convinced that one can also be violent to combat greater violence. But: "If you think that militancy has ever been ethically justified in history, then so have these protests."
Tadzio Müller speaks of self-defense. Will this argument hold up in court? The situation is complicated: From a legal point of view, self-defense actually requires being exposed to a crime. Now one can take the cause of the climate crisis for such a thing, but provided the necessary permits it is currently legal for cars to drive and coal excavators to dig. If you ask lawyers who deal with such cases, you will learn about many legal discussions about this question.
But even if one assumes that the climate-damaging activities are simply allowed, one can still argue with an emergency. It doesn't have to be about defending against a crime. If you see someone drowning in the lake, you can steal someone else's boat to save the person. Then the question arises whether the crime was necessary to achieve the goal. Even the renowned Intergovernmental Panel on Climate Change recognizes in its scientific reports that activism is generally important for climate protection. And isn't it obvious with Fridays for Future, for example, that the movement initially only attracted so much attention because of the breach of the law, the school strikes?
This leads to the question of whether one can speak of an emergency from a climatological point of view. The Berlin professor and climate researcher Wolfgang Lucht doubts that the car blockades are the right means for the cause, but understands the frustration. "The gap between rhetoric and political action in climate policy is still unsatisfactorily large," he says.
The goal of limiting global warming to 1.5 degrees above pre-industrial levels by 2100 can only be achieved globally under very optimistic assumptions. It is hardly within reach that Germany makes its sufficient contribution to its fair CO calculated by scientists such as Lucht2– Stick to budget. The Federal Republic is dependent on an ecological haircut, i.e. on other countries doing more than their fair share in saving emissions. "But there aren't enough options anywhere for that," says Lucht. "Then the next fire wall has to be controlled at 1.6 degrees warming, and those who caused the damage would then have to pay for it."
Overall, the world is currently heading for 2.7 degrees of global warming, far more than agreed in the Paris Agreement and extremely dangerous. "What we are already seeing today is just the beginning, it will quickly worsen," warns Lucht.
So it's not just the climate movement that's becoming radicalized. It is also the climate crisis. The climate-friendly restructuring of the global economy is still missing. It must be really radical.