Lack of Muslim solidarity: flimsy excuses
It has nothing to do with Islam: that's the excuse for the Iranian regime's crimes.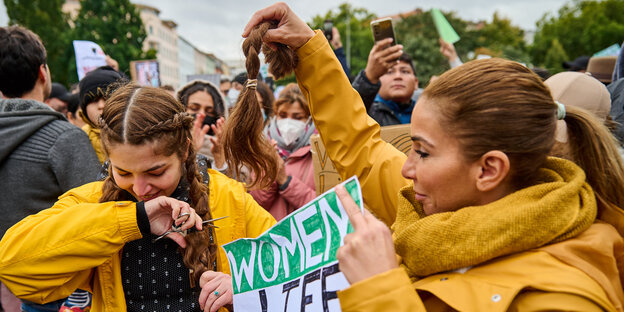 It's amazing: In East Kurdistan, Iran and Afghanistan feminists are taking to the streets at the risk of their lives, and the solidarity of many migrant people and organizations in this country is limited with those who rightly have long been loud about anti-Muslim racism and work towards it .
There are various and always flimsy reasons for this. One is that people think what is happening there has nothing to do with Islam, similar to Islamist attacks. Foreign Minister Annalena Baerbock also uses this thesis, for example in the current hour in the Bundestag on the subject of Iran after Jina (Mahsa) Amini's death. How one comes up with denying a regime that justifies every single decision with Islam exactly this remains a mystery and weakens the fight against Islamism.
For some Muslims, too, this thesis has become a defensive reflex that is so often criticized by whites when it comes to their racism. Baerbock's words in the Bundestag and elsewhere about her feminist politics cannot be taken seriously as long as her non-feminist actions, such as waving through arms exports to Saudi Arabia, speak against her.
Apparently, one must appeal to many Muslims to finally use all means available to oppose Islamism and not leave this field to the right. You have to deal with it and you can't just say it has nothing to do with me. This does not serve any anti-Muslim racism, because it is about systems and people who use Islam as a basis for the oppression of others, on a political, social and cultural level, in private and public life, also here in Germany. You have to be confident enough to see through that.
Touch your own nose
The feminist protests in countries like Iran, where women with hijabs demonstrate alongside women without headscarves, could be taken as an opportunity to examine our own Islamic-patriarchal structures more closely. Where is the solo with those who are forced to do certain things here, who have to ask their husbands for permission, who have to hide their boyfriend, who are not allowed to be queer, who experience violence? Where is the solidarity with the women and queers in the parents' home countries, where one loves to go on vacation and which also have strong feminist movements?
It can't be the case that thousands of women and queers in Islamic countries give their lives for freedom, and here one decides to persevere in an attitude of victim whose partly Islamist origin one does not question. Tangible solidarity is not only necessary, but also an opportunity for feminist movements to gain strength here and everywhere, against the right and against Islamists.