Katja Krasavice: Dieter Bohlen wanted her for DSDS at the beginning of 2022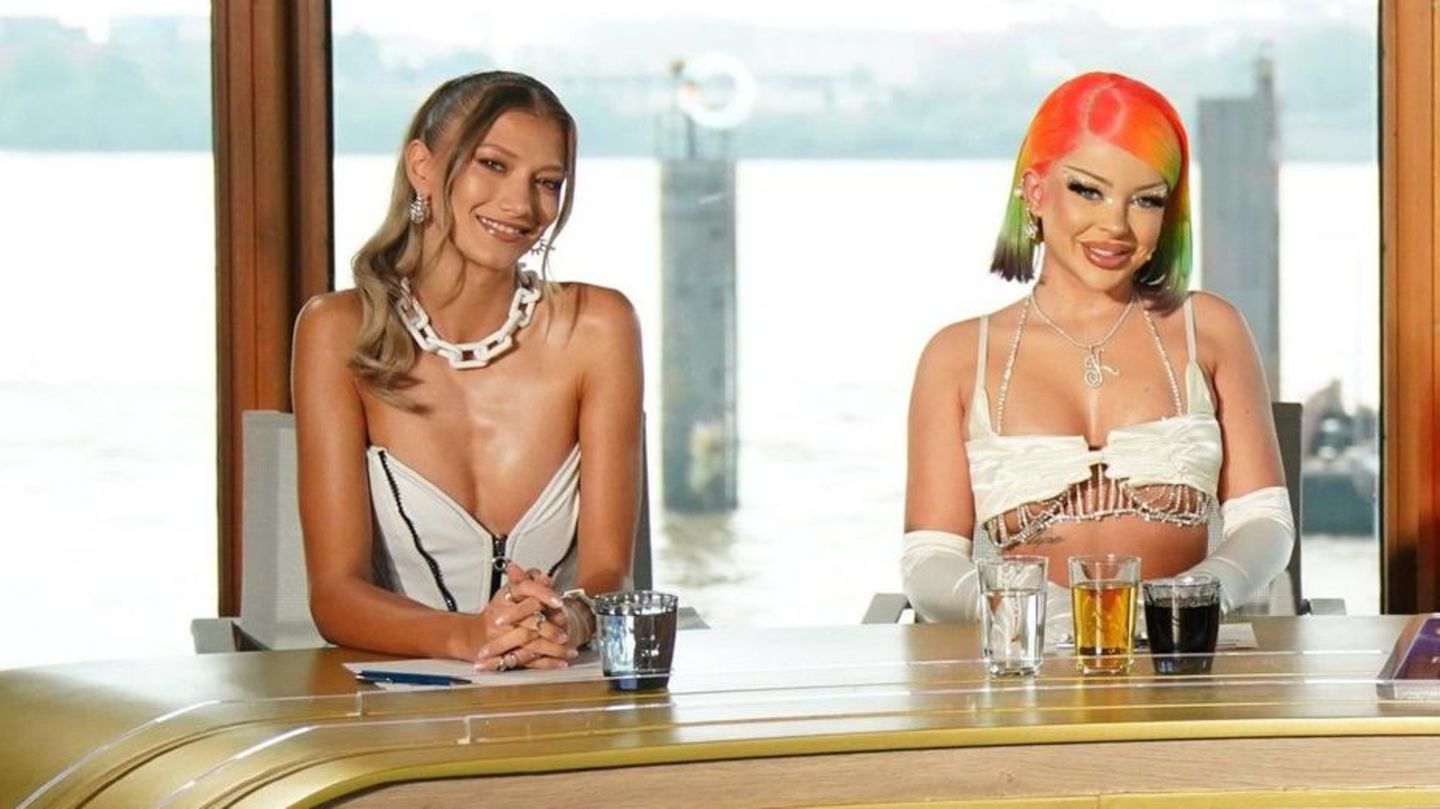 The double interview with Katja Krasavice and Leony is not just about Dieter Bohlen. The two also explain why they like to say no to candidates and how they invest their money.
The singers Leony, 25, and Katja Krasavice, 26, are new to the DSDS jury this year. They give their first joint interview to the star on January 23rd. A few days later there was a sexism scandal between Dieter Bohlen and a candidate. Katja Krasavice publishes a disstrack on TikTok and follows up with the publication of private chats. Dieter Bohlen countered in a radio interview. The fronts are so hardened that Krasavice deletes most of the answers that concern Dieter Bohlen during the authorization process. The replies to him were consistently positive. Leony, on the other hand, continues to stand behind planks.
In an interview with the star, the two also reveal why they like to say no to some candidates, what money means to them and how they want to invest and increase their money as sensibly as possible.
Katja, Leony, at DSDS sit together on the jury: did that come as a surprise to you or was it clear in the background for a long time and how did you find out about each other's participation?
Leony: I still remember the moment clearly, I was so happy: I signed the contract a week before you. And then you were in conversation and we also spoke to your team and I said the whole time: Please sign, please sign. And then at some point you posted a picture with a smiley in our WhatsApp group. There was only your signature to see. And now I am happy that we can share this experience, that we can build and support each other.
Katja: I was so happy that there was another woman by my side and even more that it was Leony. I was already talking about participation at the beginning of 2022 when I dieter and Pietro collaborated on 'You're my heart, you're my soul'. Then Dieter said: 'Are you up for it' and I said: 'Why not?'
How difficult is it for you to tell candidates they're stuck?
Katja: Very difficult for me. People always say: 'Katja, she always says yes.' And that's true. I often say 'yes'. But I don't begrudge anyone that. But sometimes I'm even happy when someone gets a 'no' when the person wasn't that bad. Because every 'no' I've gotten in my life has made me better and more motivated. And when I now look back at my class and see the people who were always liked and who were "the cool ones", they ended up not being that successful in life. And that's because they don't work on themselves, they rest. And I don't like it when people rest on their laurels. You can also see that with DSDS: If you praise someone too often, they rest on it, that's not good. That's why you should see a 'no' as a good thing. People are afraid of cancellations, but cancellations are actually some of the most important things. All of us artists have received rejections. Any of the big ones stars got rejections. Everyone.
Leony: Actually, I always want to be nice to everyone and give everyone a chance. But the jury's job is to judge people. I've already turned a blind eye in the casting. If someone wasn't 100% perfect in the casting, that doesn't mean he or she can't work on themselves. Often there is just something and Katja and I were often teased because we said: 'Yes, we see something and there is something there.' But often it's just like that. It's not perfect yet, but there's something that touched me, that I liked. Then I would like to give them another chance instead of saying in the first round: 'Nope, it was nothing'. Especially when they are still super young.
Katja: People always said to me: 'It won't work, don't do it.' That's why I like people to work on and who just keep getting better and better. That's more interesting too. That's way more awesome than seeing someone perfect all the time. A superstar isn't just born, a superstar grows with the years and grows with the successes. I'm glad that we're on the jury and that we represent the new generation and bring a bit of wind into it
Leony: You saw it in a blatant way. People who were perhaps not that strong in the casting, but who we still let go, later surprised us so blatantly in the recalls that we…
Katya: Yes!
Leony: That you were flashed much more. They accepted our tips and feedback and made something out of it. The effect is so awesome when someone goes from kind of 5 percent to 80 percent all at once.
Leony, what do you think about Dieter Bohlen?
Leony: For me, Dieter is a legend and always has been. German television culture changed because of him, German music culture changed because of him, and I don't just mean Germany. He is one of the few German artists who have really made it abroad and not many have managed that. There are people who love Dieter. There are people who hate Dieter. But you can't deny his success. And where he is now, he is for a reason. And if it were different, it might not be there either. In any case, I have respect for everything he has achieved in his life.
Dieter Bohlen recently joked that you would need so long in the mask. What did you say to him?
Leony: That is also logical. Dieter just puts a bit of foundation and powder on it, of course it's faster with short hair and not a complete face with make-up. We have to put make-up on a whole face and get up earlier for it. We take our time and are still punctual.
Katja, you are currently looking for a plot of land for your villa. How difficult is the search?
Katja: I would like to have a water plot. I already have some villas and plots, but this time I'm looking for something to live with my family. That we can all have a nice life there together. But so far there hasn't been anything that's the way I'd like it to be. I just have so many wishes. I often think to myself, the perfect piece of land or the perfect house will come. A realtor will call me. But of course I'm also very stressed because the prices keep going up. And of course I'm already looking in price ranges where I would never have thought in my life that I would even look at something like that. In the past I would have been happy if I had had €1000 for myself. That's why I'm very grateful and very flashed when I realize what a blatant villa I'm actually looking at right now.
So did Dieter Bohlen also advise investing in land?
Katja: No, I know that myself, I already have real estate and I've been after it for years because I know that it's very important. Dieter and I talked a lot about valuable metals and what's cool about them, for example.
Leony, is it the same with you, that you are already looking in that sector?
Leony: That starts of course –
Katja: We even talked about it recently.
Leony: Yes, that's right, exactly. Let me put it this way: the more success you have, the more financially stable you are. But just letting the money sour in the account is the stupidest thing you can do. That's why I talk to a lot of people about it and look at things and somehow try to invest the money wisely. It will definitely happen this year that I invest my money wisely and wisely and don't throw it away for any junk. There are enough examples of people who had a short success and thirty years later they are bankrupt and have nothing. And of course I don't want that. I learned from my parents to be frugal. They were normal earners, good middle class, and they also say: You have to do something clever with your money and of course they are right.
Katja, on your birthday you gave away money to your fans on Instagram. What is your attitude towards money?
Katja: For me, money is the freedom that one can achieve in this world. That's just the way it is. This world is made of money and you need money to do anything you want to do and I am thankful that I have money. But I also know that once I didn't have any money. That's why it's very important to me that I don't just look at myself, but also at my community. To me, that's perhaps even more important than investing itself. Because if I wouldn't help them, then who would? These are the people who make me successful. They stand behind me, they buy my things and give me financial support.
And Leony, how did you feel when suddenly large numbers appeared on your account? What was the first thing you bought?
Leony: My first expensive thing was an expensive bag. But not to go flexing with it. I didn't want to present them at all. I even hid my bag whenever I took photos. People shouldn't think, 'Oh look, now she has a bit of success and then something like that.' But I was just proud that I can now afford something like this myself with my own money, which I've worked hard to earn. And just like Katja says: Money isn't the most important thing, but it's nice to have it. It makes life easier and you are free and don't have to think about money all day long and whether I can afford something or not or whether I have to turn down the heating now. I can now simply donate and do good without it hurting me financially. And as you said, Katja: without fans, without people who would listen to my music, I wouldn't be where I am now. And that's why I think it's important to give something back.
Read part 2 of the double interview on Tuesday.