Kaili between austerity and corruption: Trojan Horse – in Brussels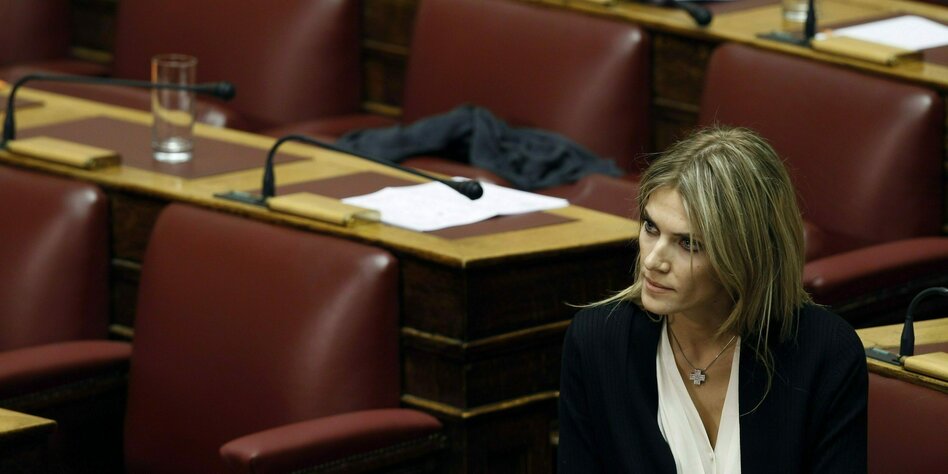 The whole of Greece has only been talking about one woman since Friday: Eva Kaili from Pasok. Their alleged offenses cause outrage and anger.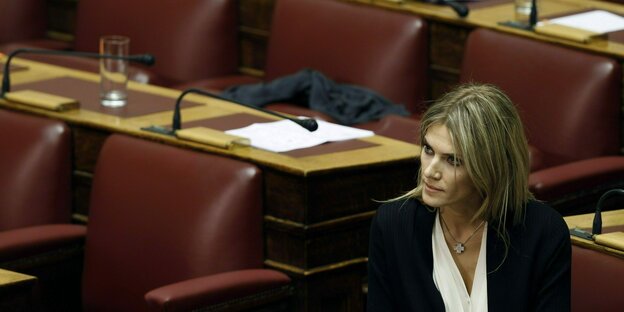 ATHENS taz | For Eva Kaili things have only gone up steeply so far. The now 44-year-old grew up in Thessaloniki in middle-class circumstances. She studied architecture, later international studies at the University of Piraeus. At the age of 14 she joined the socialist Pasok youth, at 24 she was the youngest city councilor in her native city of Thessaloniki.
In 2004, at the age of just 26, she formally made it into the Greek Parliament as a Pasok candidate in the first constituency of Thessaloniki. But the then Pasok boss Georgios Papandreou thwarted her plans. He activated his candidacy in Kaili's constituency to get into Parliament – instead of Kaili. In 2007 she managed to get into parliament, and in 2009 she was re-elected. She couldn't pull off a little revenge on Papandreou; in his capacity as prime minister, she initially refused to vote in a vote of confidence in parliament, but then backed down at the last minute.
Kaili's domestic career was over, especially since Papandreou's successor at the head of the party, Evangelos Venizelos, did to her in the spring 2012 elections exactly what Papandreou had done to her in 2004: he activated his candidacy in Kaili's home constituency. Out of necessity, she worked in an Athens research institute for gender equality. Not enough for the ambitious Greek.
Social benefits "to lazybones"
For Kaili, entering the European Parliament in 2014 was the salvation. Politically, but also financially. In 2019 she managed to get re-elected. Until 2013, she still had euro earnings in the mid five-digit range, since then they have been significantly higher, most recently at 165,472.71 euros (2020). According to her income and assets register, which she has to declare to the Athens Parliament every year, her savings grew from 70,585.61 euros (2013) to 463,197.69 euros in 2020. Of this, 393,178.18 euros are in two accounts of the Belgian KBC bank, the rest in Greek accounts. She also calls six properties her own. In 2015 she bought a 53 square meter apartment in Brussels, and in 2019 a 169.25 square meter apartment with a 40 square meter parking space in the posh Psychiko district in Athens. On top of that, she has three cars, plus shares and investment funds worth 2,429.48 euros (as of 2020). Loans and liabilities? Not a dime. An achievement in the ruined Greece.
Of all things Kaili defamed in the disastrous 10s repeatedly the most vulnerable in Greek society. With a view to the "Alliance of the Radical Left" ("Syriza"), which ruled in Athens from the beginning of 2015 to July 2019, she rumbled: "What are you doing? You transfer social benefits. To whom? To idlers! Guys who just vegetate without wanting to work!" For her scolding, she received lots of praise from top politicians in the conservative Nea Dimokratia (ND).
Pasok boss Nikos Androulakis, who was elected in December last year and, like Kaili, has been a member of the European Parliament since 2014 and who was not supported by her in his election as Pasok boss, already had the chair of the S&D group in the European Parliament, the Spaniard Iratxe, at the end of September Garcia Perez, informed that he will not nominate Kaili in the next European elections. As Androulakis said on Saturday in Athens, Kaili "publicly downplayed" the wiretapping scandal in Athens. It also undermines the work of the European Parliament's Pega-U Committee on the spread and use of spyware in the EU.
For the Pasok boss, himself a victim of the Athens wiretapping scandal, Eva Kaili is just a "Trojan horse" of the governing party ND. Already on Friday he threw Kaili upright out of the Pasok.