Judicial reform in Israel: Netanyahu presents partial compromise
Israel's government is willing to compromise in the selection of judges. But opponents of the judicial reform are sticking to their criticism.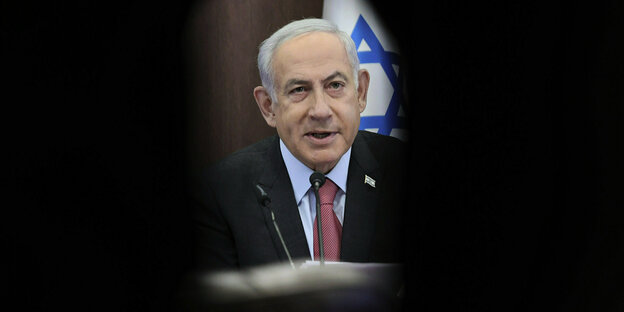 JERUSALEM rtr/dpa/taz | After more than two months of massive protests, Israeli Prime Minister Benjamin Netanyahu announced a weakening of the planned judicial reform announced. Originally, the legislative package sought by the far-right government was supposed to be ratified by April 2, when the Knesset went into parliamentary recess.
On Monday, Netanyahu and his religious-nationalist coalition partners said most projects would be shelved until the Knesset reconvened on April 30. The focus of the reform is the procedure for selecting judges.
The government wants to increase its influence and limit the powers of the Supreme Court. She justified this with the accusation that judges had interfered in politics. Critics accuse the government of wanting to restrict the independence of the judiciary.
A government statement on Monday said that the planned review of the judges in a selection panel would remain. This body should also be expanded from nine to eleven members, as was originally the case. In the original draft law, it was to include three cabinet ministers, two members of the governing coalition and two government-elected public figures.
This would have given the government a majority of seven to four votes. As amended, the body will consist of three cabinet ministers, three government coalition MPs, three judges and two opposition MPs. That could mean a slimmer government majority of six to five. In addition, the amended draft provides that no more than two Supreme Court justices can be appointed by regular votes at any given session of the Knesset.
Opposition leader Jair Lapid and representatives of the protest movement leaned the proposal on Monday. It does not change the fundamental thrust of judicial reform and the government's planned influence on the Supreme Court.
Netanyahu and Biden on the phone
On Saturday, Israelis protested against the planned reform for the eleventh weekend in a row. They accuse the government of conservatives, religious fundamentalists and right-wing nationalists of endangering the democratic control of ministers by the courts. Therefore, the future of democracy is at stake. President Isaac Herzog has called for the reform to be postponed.
US President Joe Biden also called on Netanyahu to compromise on judicial reform on Sunday and offered his help. Democratic principles have always been and must remain the hallmark of US-Israeli relations, Biden said in a phone call with Netanyahu, according to the White House.
Fundamental changes need the broadest possible public support. The president offered support for ongoing efforts to reach a compromise on proposed judicial reform, it said.