Judgment on recording working hours: time clock for health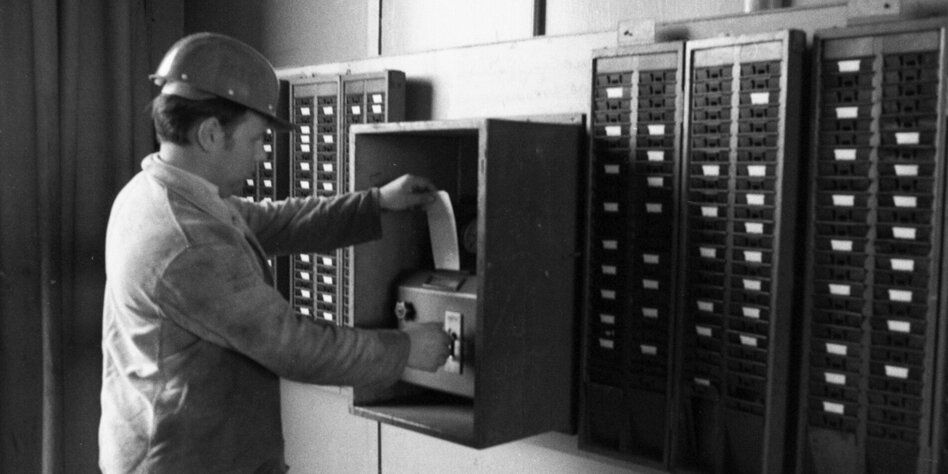 The obligation to record working hours would help employees. Too much overtime makes you sick.
I received the request for this text outside of my working hours. A quick phone call, a little research on the internet and a look at my appointment calendar – another hour of my day off has passed. I am not writing these lines as part of my editorial service. Getting the brief introduction down on paper – it doesn't take long.
On Tuesday, the Federal Labor Court (BAG) decided that it is an obligation in Germany for recording working hours. This is not surprising, as this has officially existed since the European Court of Justice (ECJ)'s finding, dubbed the "Time Clock Ruling", in May 2019. It stipulated that all EU member states must set up a "reliable and accessible system" with which they record the working hours of employees. This is intended to ensure rest periods and limited maximum working hours and to strengthen health protection. However, the implementation in Germany has so far been dawdling. It is stipulated by law that overtime and Sunday work must be documented. That doesn't happen everywhere either. Often due to a lack of controls.
Of course, in some professional fields and companies there is an exact recording of working hours. According to the judgment of the BAG, the focus is more on those professions in which these do not exist and in which the stress level and the risk of burnout are particularly high. This includes, for example, (free) social work or the start-up scene. The promise of many hip young companies: work when and where you want. Flexibility. Freedom. Including the freedom to self-exploit.
More than three years is in the national design of the ECJ judgment nothing happens. This is fatal. The political excuses that argue that there is no timeframe for implementation and that the question of "how" is unclear border on the refusal to work. The grand coalition and the current federal government have only made vague announcements so far. The coalition agreement of the traffic light government states that "in dialogue with social partners" it should be examined "what need for adjustment in view of the case law of the European Court of Justice to the Labor Court". Is it even more ambiguous?
In this respect, the landmark judgment of the Federal Labor Court is to be welcomed. Now the legislature must act. Federal Minister of Labor Hubertus Heil (SPD) at least announced that he would submit proposals for the implementation of the judgement. However, he directly emphasized that it should be as "unbureaucratic" as possible. As recently as February of this year, the FDP, with reference to poor feasibility, prevented a stricter regulation on recording working hours from being passed in the law on the increased minimum wage on October 1st.
180,000 times diagnosed burnout
Of course, there are also employees who fear the verdict. You think of bureaucracy, paperwork, and the time clock triggers an uncomfortable feeling of control for many. You think of the boss who sees that you shut down the computer ten minutes earlier. Doesn't this judgment mean even more pressure at work?
But in very few professions do people stare at the hand of the clock ticking painfully slowly. Instead, they often do "something just after work", or the doctor skips her lunch break because the emergency room was full. It is not for nothing that the topic of burnout is omnipresent. According to AOK statistics, around 180,000 employees with statutory health insurance were affected by burnout in Germany in 2020. Mental illnesses are now one of the main reasons for sick days. It is well known that the corona pandemic has not brought any improvements in this regard.
As the biggest problem child on the subject Workload applies to the healthcare sector. Overtime and constantly filling in on days off are the order of the day in many clinics and nursing homes. Week-long strikes, like such as the one successfully completed in July at the university hospitals in North Rhine-Westphaliado not aim for better pay, but for more occupational safety.
Nobody would deny that the statutory rest periods for truck drivers make sense. A tired person behind the wheel is a danger to himself and many others. Why shouldn't the same approach – ensuring health – also apply to the midwife, the educator and the programmer?
Critics of the recording of working hours fear that freedom for employees could be lost. That there is more control instead of trust-based working hours – and that this could also make the home office, which is now common in many industries, more difficult.
The employer side, however, deliberately shifts the discourse when it emphasizes it. The DGB chair Anja Piel sees a "ghost debate". Because creating the legal framework in which different working models are taken into account is an overdue task for the government. Even in the home office and with trust-based working hours, employers can comply with the prescribed occupational safety and health regulations by developing a suitable model for this – in cooperation with the works council, if available. A simple Excel spreadsheet might be enough. Electronic time recording, as is already in use, could be implemented more quickly in many companies.
It is also argued that employees can "cheat" their employers out of working hours. However, the figures from the Federal Statistical Office of 893 million unpaid overtime hours in Germany in 2021 contradict this assumption.
In particular, people who enjoy their job or are very ambitious work longer hours and do not write down all overtime. Self-exploitation thus becomes the norm, work is considered to create identity, and the boundaries between private interests and work become blurred. With a working time record, overtime can be claimed more easily.
Young professionals are particularly susceptible to self-exploitation: They are at risk of working too much due to false ambition or ignorance of their own labor rights. Keeping an eye on your own health is a learning process. "Voluntary overtime" is favored by fixed-term employment contracts, pressure to perform by supervisors or colleagues. People strive for praise, they absolutely want to be considered "resilient". And it's actually hopelessly overworked.
Most people only notice that the workload is too high when physical exhaustion has already set in. The judgment of the Federal Labor Court can be an occasion to talk more about health in everyday work. And about the responsibility of employers.