Joe Biden reaches milestone no one wants to celebrate. Neither does the President himself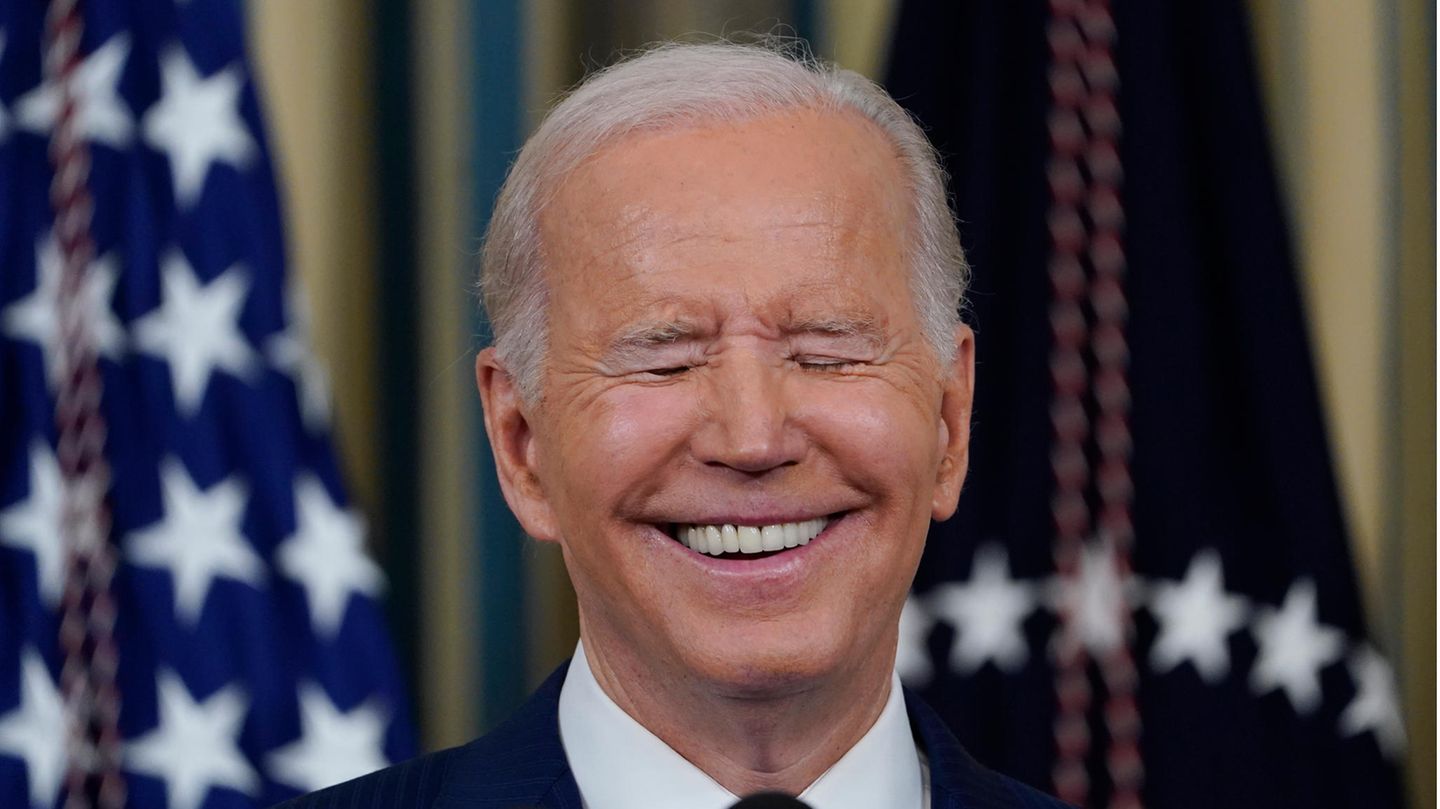 Joe Biden is celebrating his 80th birthday, which only puts his Democrats in a party mood to a limited extent. The US President is making his party wait: will he do it again or not? And should he?
Then maybe only humor will help, that's how it is Ronald Reagan held. Even the then oldest incumbent president in US history, who left office in 1989 at the age of 77, was repeatedly interpreted as a sore point. The sprightly Republican was not able to withdraw from the discussion, but with jovial self-mockery he often took away the fire shortage that had been conjured up – and possibly even turned an election campaign that he thought was lost in his favor.
Now considered legendary Reagan's response in a televised debate against Walter Mondale, in which he assured his opponent – ​​after being asked about his age of 73 at the time – that he would not exploit his opponent's "youth and inexperience" for political purposes. Even Mondale, 56, had to laugh heartily. Reagan's predicament Polls jumpedthe Democrats were spectacularly duped in the 1984 presidential election.
Now Joe Biden holds the record, and the 46th President of the United States – who is celebrating his 80th birthday today – is trying to parry the repeated finger pointing to his advanced age with punch lines. "Every now and then I make a mistake", Biden joked at an appearance in May"well, once per speech."
That may not be as effective as it was with Reagan, who is his age calculated nicely here and there in relation to antiquitybut testifies to a certain composure and conviction of the pragmatist Bidens, who understands the results as a resilient counter-argument.
"Look at me, Mr. President", he already said in August 2020 Turning to Donald Trump, who then as now questioned his fitness – and in the years that followed watched as Biden pushed through several huge investment packages, swept up the shambles left by Trump and most recently one Remarkable success in the congressional elections import.
Can Joe Biden still do it?

Unlike Reagan, however, Biden will not be able to avoid the discussion about his age – the Republicans, who are showing remarkable zeal to the supposedly "doddering" (Ron DeSantis) and "diminished" (Marco Rubio) work off presidents and pounce on every rhetorical lapse that Biden regularly throws at them.
There are also many among the Democrats who are not sure whether Biden is the right one front runner in the race for the 2024 White House. His Poll ratings are still lousy for all achievementsgiven its meager popularity ratings, three-quarters (75 percent) of the electorate voted in one in July CNN poll for a candidate other than Biden, so many Democrats avoided appearing with the president in the midterm elections.
And then there was age. If Biden is actually aiming for a second term, the usual health check for US presidents is already in place a "stiff gait" and general "wear and tear" is attested, he would leave office at age 86. It would again be a first in US history – which is apparently associated with great uncertainty,
71 percent of Democratic voters considered him "mentally fit and able to deal with challenges", revealed a recent poll by Reuters and Ipsos, but 46 percent expressed doubts as to whether he would be up to the challenge of running for office in 2024. the "New York Times" even spoke to ten experts on aging "to paint a picture of what the next six years might look like for a person the president's age," the newspaper writes.
And last but not least, that was the question "Wall Street Journal" in an opinion piece on whether an elderly Biden could still face aggressive autocrats like China's President Xi Jinping with enough bite. The newspaper delivered the answer between the lines: "If I were only 80 years old," the newspaper quoted former US President Jimmy Carter at the age of 94, "I don't think I could take on the tasks that I do experienced as President."
Democrats are waiting for their President

biden has given the prospect of a decision at the beginning of the year as to whether he will compete again. "My intention is to run again," he said. "But I have great respect for fate. And this is ultimately a family decision."
But time is pressing, that hasty advances from Donald Trump and telling wait and see from Ron DeSantis put the Democrats under pressure to choose candidates – and sometimes worried: "I wish he was 30 years younger, 20 years younger, 10 years younger. But it is what it is," said Democratic MP David Trone, 67, to CNN. When asked if Biden was the right candidate for 2024, Trone said, "I think it would be better if we had someone with a little more momentum." But if Biden runs again, he will support him – other Democrats put it in a similarly reserved way.
If not Joe, then who? In the starting blocks there are some very high-profile candidates to choose from (which you can see here), but none of them want to compete against Biden. The party is waiting for its president, who wants to celebrate his milestone birthday with a brunch with the family, according to his spokeswomanand probably doesn't want to acknowledge the milestone himself.
"Someone said my birthday is coming up" he said recently. "And I said, 'No, that has to be someone else'." When asked what 80-year-old Biden would say to 50-year-old Biden, he replied, "That I'm still 50!" And added that he "couldn't even say that number", 80.
Gregory Magarian, a constitutional lawyer at Washington University in St. Louis, says Biden is now considering the candidate question. "But the reality is he has to think about what his energy and ability will be like six years from now if he were at the end of a second term." The job requires a high level of energy and perspicacity. "US President being is certainly one of the toughest jobs in the world." And certainly also at 80.
Incidentally, Reagan celebrated his birthday with a big reception at the Beverly Hilton Hotel, as the "Los Angeles Times" reported at the time, and is said to have blown out the candles on his birthday cake so enthusiastically that icing flew onto the lapel of his tuxedo. "If only I had thought about such things years ago, I would have been twice as good at pictures," he said. Reagan said he didn't want to give a speech. "I'm guessing you've heard a thing or two over the years anyway."
Sources: "time", "politico", "Los Angeles Times", AP News, "New York Post", ABC News, "FiveThirtyEight", CNN, Reuters, "New York Times", "Wall Street Journal", "Washington Post", White Housewith footage from the DPA news agency