Joe Biden presents US budget proposal: 6.8 trillion pledges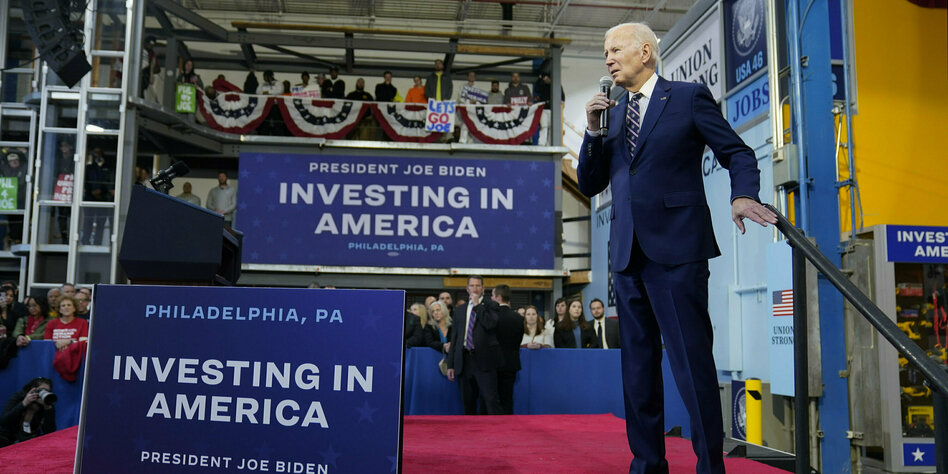 US President Joe Biden presents an annual budget with significantly better social benefits. It won't go through – but there are elections in 2024.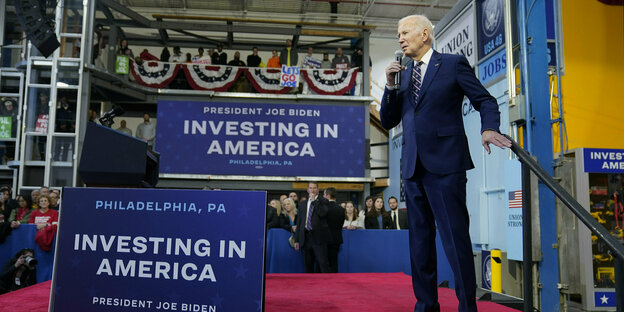 NEW YORK taz | In front of a room full of trade unionists in Philadelphia, US President Joe Biden presented his draft budget for the coming year on Thursday. 2024 will be an election year. The US President's budget shows that. He positions himself as the diametrical alternative to the Republicans. Includes better benefits for middle-class parents, the elderly and the disabled, sick pay and lower drug costs.
Biden also earmarked funds for the transition to green technologies and border security, increased penalties for labor law violations, and a massive increase in the military budget from $817 billion now to $842 billion in the future.
The total cost of Biden's 2023-24 budget is $6.8 trillion. That means an increase of 0.6 trillion in relation to the current budget.
Nevertheless, the US President wants to reduce US debt by three trillion dollars over the next ten years. Biden's tax increases for those who were his predecessors should make this possible Donald Trump with his tax reform had gifted: people with annual incomes over $400,000, corporations and speculators.
Republicans oppose it but have no proposal
Households with assets over $100 million should pay a minimum tax of 25 percent. Corporate tax is to be raised from the current 7.8 to 28 percent. The taxes on foreign earnings of multinational corporations are to rise from 10.5 to 21 percent. And if companies buy back shares, they should pay four percent tax instead of the current rate.
Without the Republican Party, which has a majority in the House of Representatives, Biden cannot push through his budget. "No new taxes" had the Speaker of the House of Representatives, Kevin McCarthyannounced before Biden's speech: "In phases of weak economic growth", tax increases would be harmful and lead to a recession.
On Thursday, Biden set bait for McCarthy. "I'm always ready to talk to him," said the US President, "he just has to show me his budget." In doing so, he confronts the Republicans with their own dilemma. You want to save but don't know where. They assure that they do not want to cut social security or medical care for the old and poor. That leaves them with cuts that would be unpopular, such as stopping Biden's child support or his plan to offer preschool to all children, or eliminating food and housing assistance for the poor. Most Republicans want to spend even more on the military than Biden. However, the radical right wing of the party wants to cut military aid to Ukraine.
The current economic situation has Biden's back. Twelve million new jobs have been created during his presidency so far. The country currently has an official unemployment rate of just 3.5 percent. Thousands of new small businesses have been set up since the pandemic. And while inflation is high, consumer prices have fallen slightly after several rate hikes by the central bank.
Against this background, it is only a matter of time before the 80-year-old Biden presidential candidacy announced for re-election in 2024. The draft budget plays an important role in preparing for this.