Italy before the elections: The pseudo-woman understander
Right-wing extremist Giorgia Meloni could become Italy's first female prime minister. But the situation of women would deteriorate.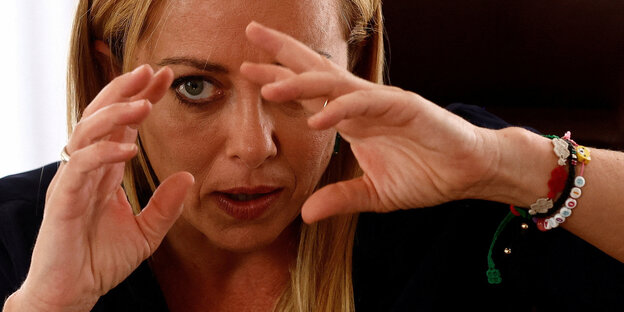 Feminists have long awaited her, the first woman prime minister in Italy, the first woman to head a country where patriarchy is still deeply rooted. And now, in all likelihood, it's here: Giorgia Meloni, 45 years oldin politics since her youth, leader of a far-right party called Brothers of Italy (Fratelli d'Italia), which still carries the neo-fascist flame in its logo.
If the current polls are confirmed, the first head of government could not come from the ranks of the Social Democrats or the moderate Conservatives, but of all things from a post-fascist party. Whereupon a debate flared up in Italy: Are the right more feminist than the left?
Admittedly, the Italian Social Democrats have overslept a lot in recent years. You underestimated Meloni, even as a woman, and didn't prioritize diversity. Laura Boldrini, former President of the Chamber of Deputiesonce said of her party, the Partito Democratico: "The currents crush the protagonists and prevent change."
And yet the question of whether the parties in the right-wing coalition are more feminist than the others is wrong. Focusing exclusively on the number of women reduces feminism to a simple calculation. The presence of women at the top has an important function in initiating change and breaking down stubborn prejudices, but feminism is not primarily about seizing power, but about changing society in the interests of women and the disadvantaged. So the question should be: Will election favorite Giorgia Meloni stand up for women's rights? No, she won't.
Giorgia Meloni often addresses her womanhood and even more often her motherhood. She talks about her six-year-old daughter, whose name everyone now knows, and about the worries that many women with children experience. She speaks openly of the difficulties of combining work and family and the guilt she feels when she doesn't devote enough time to her daughter during the election campaign. She posts the cupcakes she bakes for the children's birthday party on social media and explains to a women's magazine that if she becomes prime minister, she will definitely not give up her role as a mother, because "women always organize themselves".
One would now like to reply to Meloni that it is of course not true that mothers always manage to organize themselves, and that is the problem - especially in a country like Italy, which does not sufficiently support mothers and children and fathers no care -work expected. Meloni should know that, but she knows even better that the "solidarity among moms" she propagates creates a compassion that is otherwise sought in vain in this election campaign.
Her case is very reminiscent of Marine Le Pen: she, too, uses women's issues to woo women voters, but in reality she too rejects bills that would give women more rights. And she, too, uses the feminist discourse to spread racism and homophobia and transphobia - for example by paying enormous attention to every act of violence against women committed by migrants.
Giorgia Meloni is against the women's quotas that were introduced ten years ago on supervisory boards and wants to abolish them. In the European Parliament, her party voted against the proposal to reduce the gender pay gap. And then there's the issue of abortion, which many right-wing governments are campaigning against: Meloni says she doesn't want to ban abortion, but wants to promote measures that can dissuade women from making that choice.
What these measures are, she has catholic newspaper Avvenire tells - about the establishment of a fund for unwanted pregnant women and the support of abortion opponents and their counseling centers.
Difficult access to RU486
In the past, Meloni has advocated scrapping the RU486 abortion pill use guidelines, introduced two years ago, which say it's legal up to the ninth week of pregnancy (instead of just seven) and no longer requires inpatient hospitalization - just like in most European countries. Italian women who become pregnant would therefore face more difficult access to abortion; this is already the case in the central Italian region of Marche, where the party sits in government.
In just a few years, Meloni has managed to make her party more presentable and socially acceptable. She has softened her anti-EU stance and has spoken out clearly in favor of NATO and arms deliveries to Ukraine, unlike her possible coalition partner Matteo Salvini of the Lega. Targeting a more moderate audience, she has carried out a restyling like Marine Le Pen, albeit one that is more appearance than reality. Italian journalists call it the metamorphosis of Giorgia Meloni, and some seem to forget (or deliberately ignore) that their party stems from the neo-fascist movement.
But can one ignore the fact that she still uses slogans used by Mussolini, such as "God, fatherland, family"? Can one ignore the fact that Meloni, during the election campaign, presents herself as the woman next door who understands women and propagates the fascist image of women as Catholic housewives and mothers? One thing is already clear: they will make Italy a worse place for women.
Francesca Polistina is an Italian journalist living in Germany. She writes for various media and mainly deals with Italian politics and society. She previously worked for a local Italian newspaper.
Leader of a far-right party called Brothers of Italy (Fratelli d'Italia)