Israel demands threat to Iran: Lapid shows toughness at UN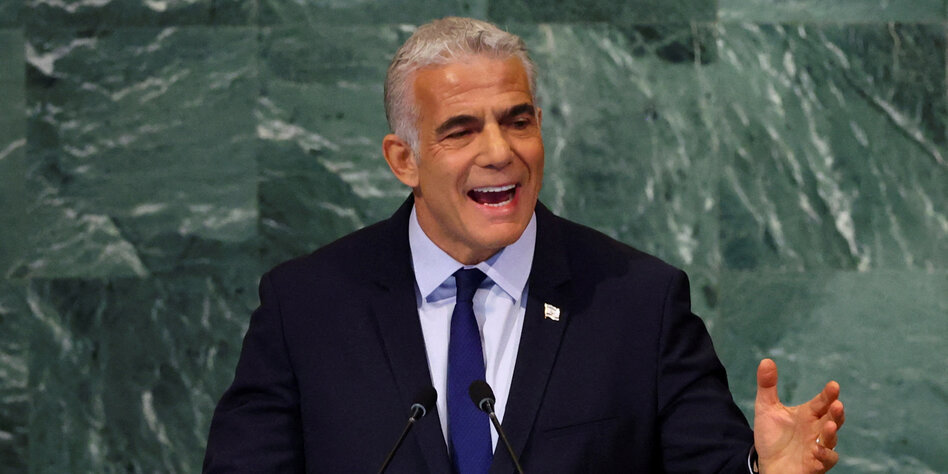 Israel's prime minister wants to make military threats to Iran if it acquires nuclear weapons. In the Middle East conflict he upholds the two-state solution.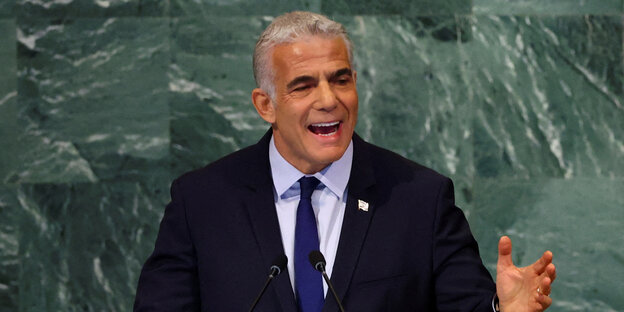 NEW YORK afp At the UN general debate, Israeli Prime Minister Jair Lapid called for a military response from the international community if Iran were to develop nuclear weapons. "Iran can only be deterred from nuclear weapons if there is a credible military threat on the table," Lapid said in his UN speech on Thursday.
With a view to the currently faltering negotiations on a revival of the international Iran nuclear agreement, Lapid said that a "longer-lasting and stronger agreement" with Tehran could only be negotiated with appropriate military deterrence. It had to be made clear that if Iran went ahead with its nuclear program, the world would respond "not just with words, but with military force."
Israel itself will "do whatever is necessary" to defend itself, Lapid said. "Iran will not get nuclear weapons."
In recent months, Israel has campaigned intensively with the USA and European countries such as Germany, France and Great Britain not to revive the nuclear agreement concluded with Iran in 2015.
Two-state solution without Hamas and Islamic Jihad
The nuclear deal with Iran was negotiated in 2015 under then US President Barack Obama with the participation of China, Russia, France, Great Britain and Germany. It should prevent Tehran from developing nuclear weapons. The so-called Joint Comprehensive Plan of Action (JCPoA) provides for Iran to limit its nuclear activities and in return benefit from an easing of international sanctions.
Under Obama's successor, Donald Trump However, the USA unilaterally withdrew from the agreement in 2018. As a result, Iran gradually no longer kept its commitments. For months in negotiations in Vienna tried to revive the agreement, but recently the negotiations had reached a dead end.
Regarding a two-state solution to the Middle East conflict, Lapid said it would be "the right thing for Israel's security, for Israel's economy and for the future of our children." A large majority of Israelis support this solution, "I'm one of them," said Lapid. Israel places "only one condition: that a future Palestinian state is peaceful."
Speaking to the Palestinians, Lapid added: "Put down your arms and prove that Hamas and Islamic Jihad will not take power in the state they want to create." Lay down your arms and there will be peace."
There has been no progress in Israeli-Palestinian peace talks since 2014.