Idar-Oberstein murder trial: prosecution demands life imprisonment
He was supposed to wear a mask and shot a gas station employee. The public prosecutor sees a particular severity of the guilt.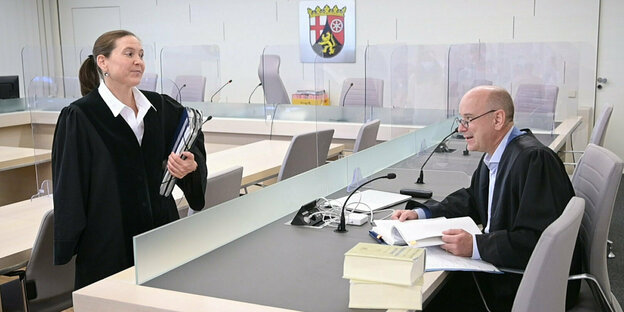 BAD KREUZNACH taz | The shooter who killed Idar Oberstein is to be sentenced to life imprisonment. That's what the prosecutor wants in the process before the district court of Bad Kreuznach. In September last year, the 50-year-old accused shot a gas station employee after a dispute about the obligation to wear a mask.
"The killing of Alexander W. was murder!" said prosecutor Nicole Frohn in her plea on Monday. The accused shot his victim insidiously and for base motives. She spoke of a blatant disproportion between the occasion and the act. "The victim was interchangeable," said Frohn, the man Alexander W. had played no role in the decision.
According to the public prosecutor's office, the crime was preceded by the radicalization of the accused. He shot his victim in the head to send a signal against the corona protection measures, which he felt burdened. The accused had to cope with his father's suicide, he certainly also suffered economically from the effects of the pandemic and refused the mask requirement. But: "Who hasn't suffered from stress?" Asked the public prosecutor Frohn.
After the fact the victim taunted
As an example, she presented voice messages from the time before the crime, in which the accused was already acting out violent fantasies against politicians whom he held responsible for the measures. "The Germans invented the gas chamber for such cases, it's a pity that they have gone out of fashion." Frohn rejected the defense's attempts to present the accused as innocent. He was fully responsible, despite the significant amounts of alcohol I had consumed before the crime. "It didn't happen in delirium," he said himself during his police interrogation.
The public prosecutor also applied for a determination of the particular gravity of the guilt. Even after the fatal shot, he mocked his victim, for example when he used the term "gas station boy". With his act he rose above the law and all expert knowledge. At the end of her plea, she quoted an audio message from the accused, which he had sent to his brother-in-law immediately after the crime. "It's a murder I bitterly regret, for which I'll probably spend the rest of my life in prison."
If the court accepts their criminal complaint, the accused will not be released, as is usual, even after serving 15 years of imprisonment. He will not be able to leave prison until retirement age at the earliest. The defense's plea is expected on Friday.