"Horrible events": Cologne has to reckon with ghost games after fan riots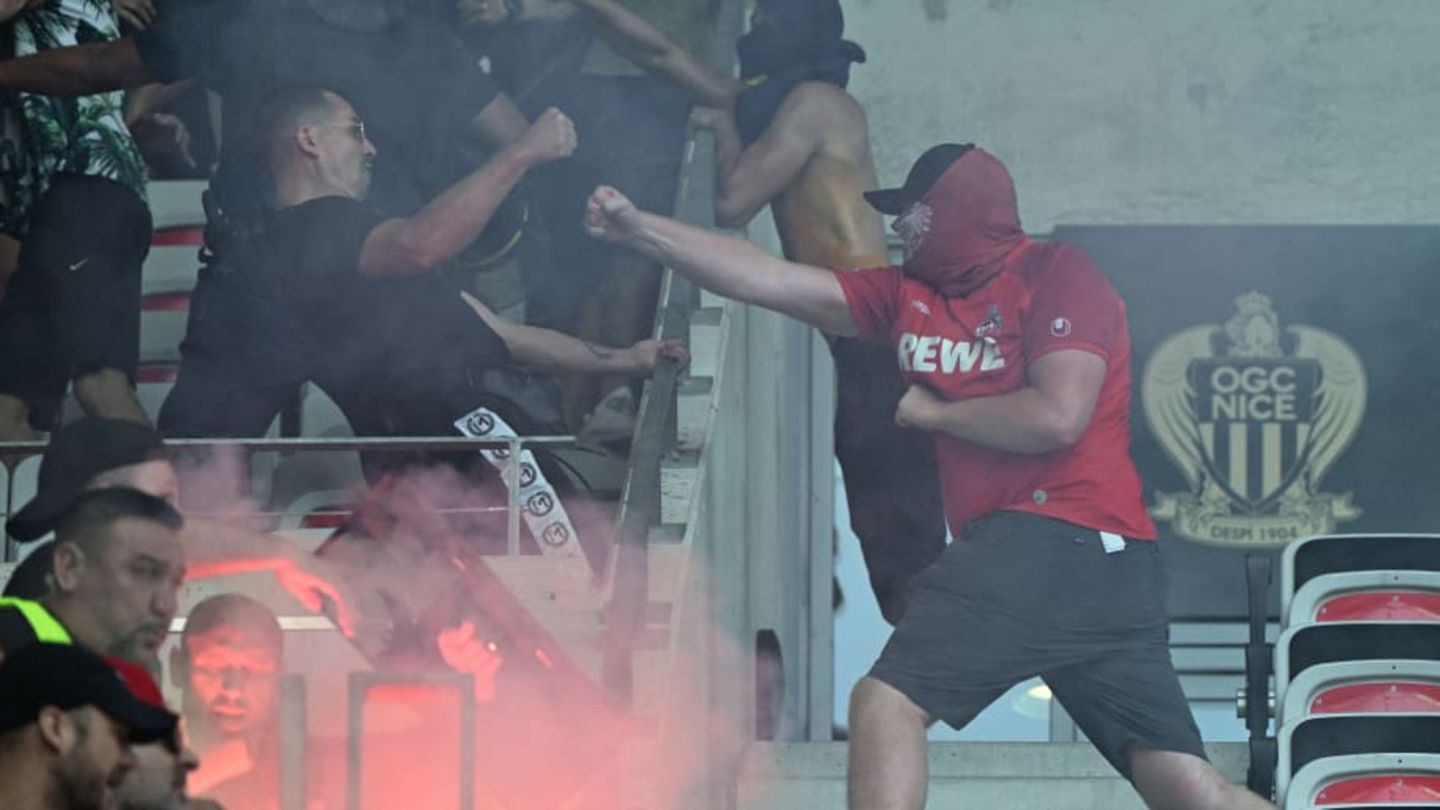 "Horrible events": Cologne has to reckon with ghost games after fan riots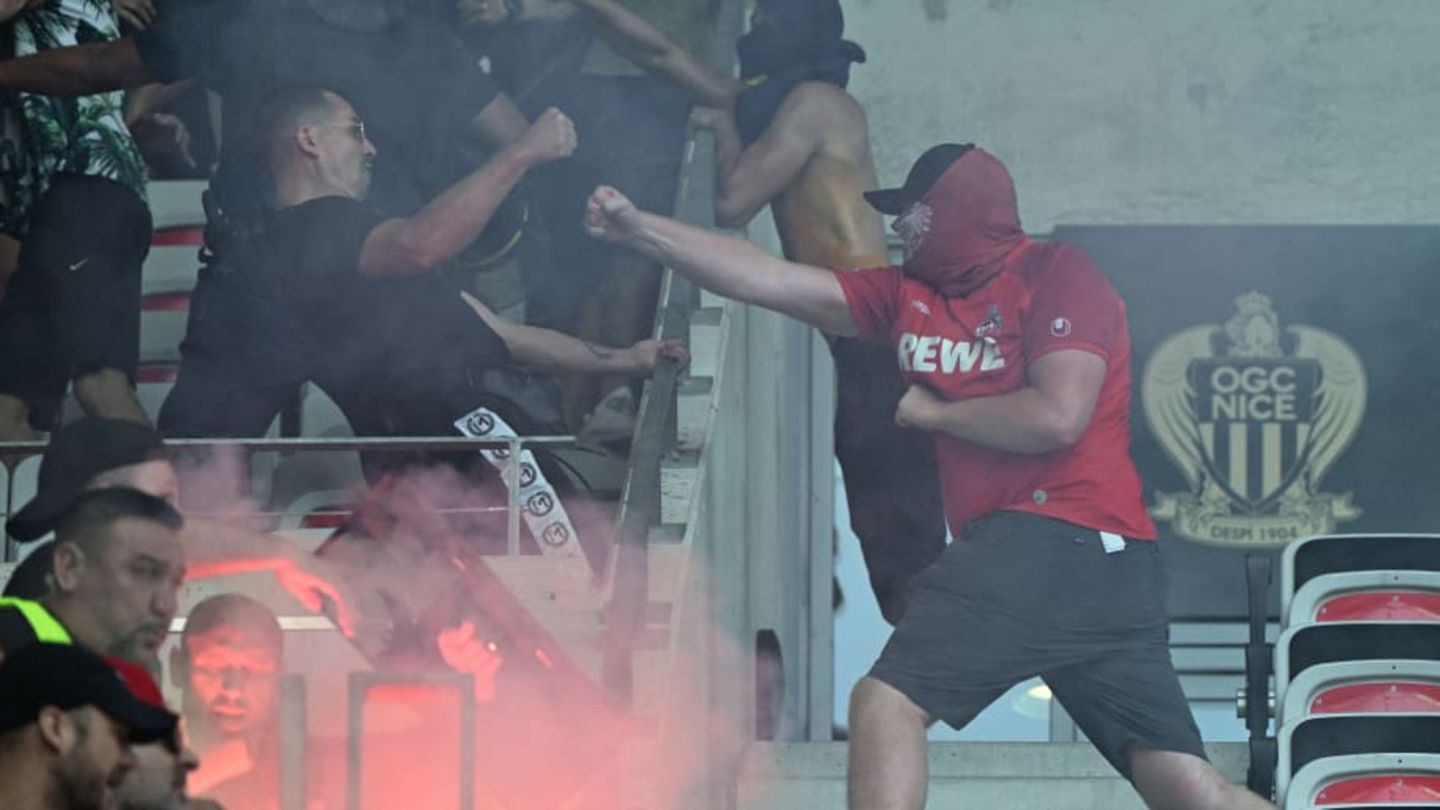 After the fan antics in Nice, 1. FC Köln must reckon with severe penalties from UEFA. Ghost games are also an issue.
The violent fan riots before the Conference League game between the 1. FC Cologne and OGC Nice overshadowed the football evening. There were numerous injuries, the game was almost canceled prematurely - and the Effzeh must expect severe consequences.
There were frighteningly terrible and violent scenes that unfolded in Nice even before the game against Cologne played. Riots and riots between the two fan groups caused numerous injuries, the necessary intervention by the police, some blood and a grandstand fall of several meters.
What could have been a relaxed away trip worth seeing, which over 10,000 Effzeh fans took part in and celebrated the return to the European Cup, is used by a few chaotic people and idiots to injure each other.
Apparently more than 30 injured: Cologne game started late

Because the riots were so big and dangerous, there was even the thought of canceling the game. A safety meeting of the Uefa had to take place to clarify the situation. In the end, the game was postponed by about an hour and pulled through. The premise: A small incident and there is a demolition.
The previous record of the French police (via sports1): 32 injured, four of whom even had to be treated in hospital. This is done by identifying the numerous perpetrators.
One person, according to media reports apparently a Frenchman who had been pushed by people from Cologne, lost his footing and fell down the upper tier of the grandstand. A fall of about five meters, which had its consequences. Meanwhile he should be loud RMC but no longer in critical condition, but regained consciousness. In numerous videos circulating on the net, it can be clearly seen how the man - possibly a PSG "fan" - is accidentally pushed and falls into the lower tier.
Cologne's President Werner Wolf showed a clear edge against the chaos (via picture): "We condemn the heinous events that have taken place leading up to tonight's game in Nice have happened on both sides, in the strongest possible terms." We will now "put all our forces into the clarification of these incidents," he emphasized.
"We're on probation": Effzeh bosses expect tough penalties from UEFA

Sports director Christian Keller was also annoyed and embarrassed as the person responsible for Effzeh. Instead of enjoying a "really good football game", "a disaster followed": [Das] really pisses me off. With anyone we identify, regardless of who is at fault, we will ensure that they do not come to a stadium for an FC game again."
Before the game, Keller explained to RTL+: "The people who did it, there aren't 100 on either side. You can only try to find each individual so that they never come back to a football stadium. I'm stunned. Chaotic is too weak a word. I don't know what people like that want here. What happened here is perverted."
According to his information, "Hooligans from Nice broke into our fan block first. Then hooligans from our fan block, who, according to my information, were mostly from Paris and disguised as Cologne fans, stormed into the Nice block."
Hector appeals to Effzeh fans – Cologne on probation

Before the game, FC captain Jonas Hector tried to calm down: "We worked our asses off last year and in the play-off games. And we would love to do that with you, so I ask you: keep your nerve , stay calm, support us as best you can."
But the problem was: 99 percent of the FC supporters who traveled with us behaved normally. And were also stunned by what some of the ultras were doing there. "We're from Cologne and you're not," echoed the fan block.
The consequences of UEFA should not be missing. The association should subsequently ensure fewer fans in the stadium. Finally, due to the events in London in 2017, Cologne was particularly in focus.
"We're on probation. If you've been conspicuous, you remember it," says Keller. Thus, the fan attacks will certainly have a noticeable impact on the Bundesliga club. the picture speculates that ghost games are certainly not unlikely as a consequence. That would hit the club, financially and in terms of public image, as well as deprive the team of the support that is so important.
Everything about 1. FC Köln in 90 minutes:

This article was originally published on 90min.com/de as "Horrible events": Cologne has to reckon with ghost games after fan riots released.
goal