Herschel Walker: Using Violence, Lies and Sex in the US Senate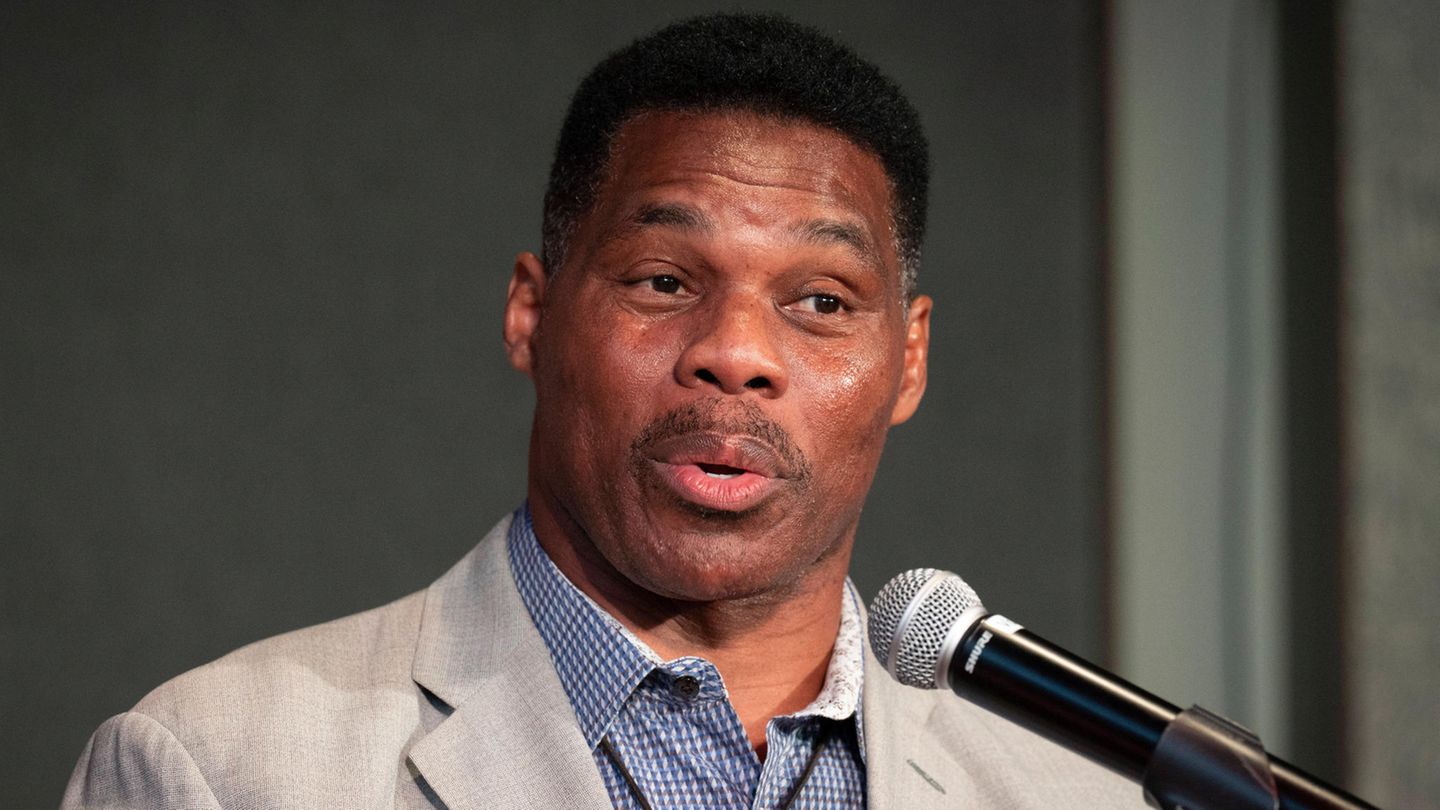 Herschel Walker claims to have been an FBI agent, speaks publicly of murderous thoughts and stumbles across numerous affairs. Who is the man who wants to run for the Republicans in the US Senate?
Whoever sees Herschel Walker does not initially think that there is a politician standing in front of him. As a former football professional, the 62-year-old can probably be described as square. There's barely an ounce of fat on the man who played in the National Football League for 12 years. Just a few years ago, Walker claimed to do up to 1,000 push-ups and 2,000 sit-ups a day. Now the ex-athlete wants to become a US Senator for the Republicans. In Georgia, the state that tipped the scales for Joe Biden in the last US election and which is still a crucial step for the majority in the US Senate.
It is not known exactly when former athlete Walker got into politics, but one man is likely to have had a major influence on him: former US President Donald Trump, with whom he has been friends since football days and with Trump's children regularly traveled to Disney World in Florida. Walker supported Trump in the 2016 presidential election, and four years later he stood by the ex-president, who in turn supported Walker's Senate candidacy.
Donald Trump supports Herschel Walker's candidacy

The fact that Trump's support is no coincidence is probably also due to Walker's attitude. Because the 62-year-old has no problem spreading Trump's fairy tale about a postponed US election. In December 2020, shortly after the election, Walker explained in an interview with "FoxNews"that he could "guarantee that Joe Biden didn't get 50 million votes." However, Biden won the election with over 81 million votes (editor's note. Trump got just over 74 million) – more than any presidential candidate ever Walker also spread Trump's lie about voter fraud, declaring on Jan. 4, 2021, two days before Trump supporters stormed the Capitol, on twitterthat America "needs a cleansing that only Donald Trump can handle". It's time to get back to "law and order and prosecute all the bad actors."
As Trump supporters stormed the Capitol, Walker tweeted disinformation, calling the attack a "Trojan horse." In a tweet he claimed that the storming of the Capitol was caused by people trying to keep voter fraud from being talked about. In another tweet, Walker suggested that people don't look like Trump supporters. He also shared a picture of Jake Angeli, now known as the "QAnon shaman" who has been convicted, and a hand with what is believed to be a tattoo of the communist hammer and sickle symbol. The accusations even went so far that the person concerned reported himself on the Internet, saying he was not a communist and the symbol was a logo from the popular computer game "Dishonored" – which the developers themselves confirmed.
In his own election campaign against the Democratic Senator Raphael Warnock, Walker seems to use every means to win the election. So reported "Washington Post" and "Atlanta Journal-Constitution" in June that Walker has boasted for years that he was an FBI agent and worked for the police force in Cobb County, Georgia. In a recent TV debate with Warnock, he prominently held a police badge up to the cameras – but spokesmen for both organizations pointed out that Walker had never worked in law enforcement. While he holds the title of honorary deputy in Cobb County and three other counties, it has no meaning or function, prosecutor Tom Morgan said "Washington Post". Walker's statements that he graduated as one of the best at the University of Georgia also turned out to be a lie. Several US media reported that Walker left university without a degree to devote himself to his football career. Only after the reports were the details changed on Walker's official campaign website.
Herschel Walker keeps making mistakes

Politically, the 62-year-old positions himself like many other Republicans, his focus is primarily on the economy. For example, he would like to make more use of fossil energy to keep the USA independent, he calls for the expansion of the Keystone Pipeline, which transports oil from western Canada to the USA. Walker claims to be a promoter of security forces and the armed forces. Showing a police badge, along with the constant references to the (non-existent) career in the police, are intended to convey a feeling of security. At the same time, Walker is committed to higher spending for the army and police – and accused his opponent Warnock of wanting to cut the budget for the police, which again turned out to be a lie. Walker is banking on inflation in his campaign, while the Democrats are placing abortion as their main issue. He wants to cut taxes, his mantra is "Georgia first".
But even when it comes to political issues, Walker's faux pas are not far removed and parallels to his friend and sponsor are inevitable donald trump known. In August 2020, Walker explained on a talk show that he had found a spray that would cure Corona. Just a few months earlier, then-US President Trump had publicly raved about injecting disinfectants into people.
And Walker is also currently in trouble on another issue. The 62-year-old has publicly opposed abortion and wants to ban it across the country, regardless of the circumstances. In early October, an ex-girlfriend accused him of paying for an abortion in 2009. As evidence, she presented a picture of a check for $700 that Walker wrote to her a few days after the abortion. Another woman spoke to the press on Wednesday and explained that Walker paid for her abortion in 1993 and personally drove her to a Dallas clinic.
He threatened women with death

Not only this episode of private life causes a stir in the USA. After the first abortion became known, Christian Walker publicly opposed his father. "He has four children by four different women and hasn't been anywhere to see just one of them grow up. He's been out having sex with other women," the 23-year-old accused his father on Twitter. According to a report by "The Daily Beast", Walker only had to admit in June that he has three other children in addition to Christian, about whom he has remained silent up to this point. His son Christian Walker followed up in early October, writing on Twitter about his father's physical violence, who likes to pretend to be a family man. "You weren't a 'family man' when you left us to fuck other women, threatened us with death and made sure we moved six times in six months to run away from your violence," reads the the tweet. He doesn't care about people who have had a bad past but have taken responsibility for it. But how dare his father lie and act as if he were an upright Christian. "You've spent a lifetime destroying other people's lives."
Christian's mother, Cindy Grossman, had also spoken of domestic violence in the past. After the divorce, Grossman reported that Herschel Walker threatened her with knives during the marriage and also put a loaded gun to her head. Walker himself blamed his dissociative identity disorder, in which different identities affect a person's behavior, for the breakup. According to a "AP"report that Walker threatened to "blow her head off" after she ended the relationship in 2012. It wasn't the first time Walker had thoughts of murder, however. During a visit by soldiers in 2019, Walker revealed that he wanted to murder a person and had already taken up arms. However, a Jesus sticker on the person's car calmed him down. Walker himself was remorseful, admitting to many instances of domestic violence.
Georgia could tip the scales for US politics. With a win, Walker could end the stalemate in the Senate. Both Democrats and Republicans currently hold 50 seats there, with Democratic Vice President Kamala Harris having the crucial additional vote. With a triumph, Walker could overturn this structure and give the Republicans the hoped-for majority.
Despite the scandals, Walker's chances are not bad. In the last polls, the 62-year-old and incumbent Senator Raphael Warnock were almost level. She explained why that is "New York Times" journalist Maya King recently in a podcast. "Herschel Walker is a demigod in the sports and cultural world of Georgia," she alluded to the politician's successes as a running back at the university. Walker won the Heisman Trophy, college football's most important individual award, in 1982 and is the last Georgia player to do so. Walker's fame is what drives Republican voters in Georgia. "They like having one of the biggest names in state history carry their party banner," King said. And so, despite all the scandals, Herschel Walker could move into the US Senate on November 8th – Donald Trump would be proud of him.
Sources: CNN (1), CNN (2), Washington Post, New York Times, Alabama Political Reporters, Yahoo, Daily Beast