Harsh verdict against Kremlin critics: Eight and a half years for Ilya Yashin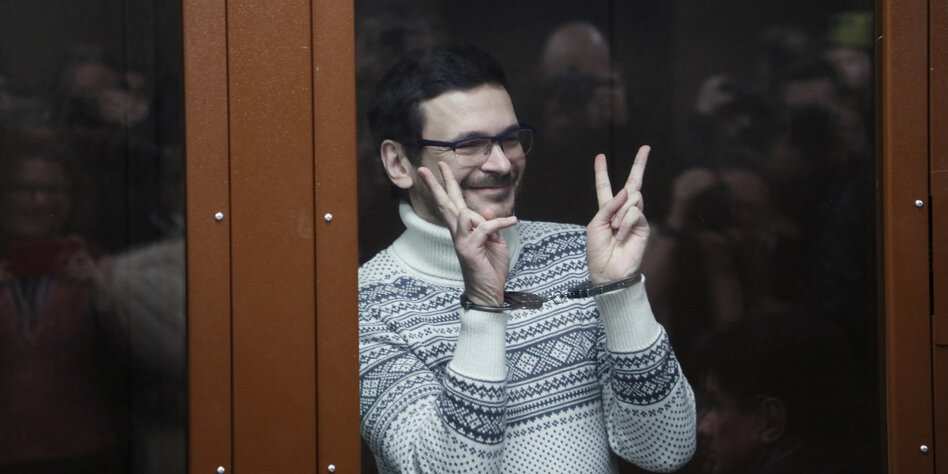 A Moscow court has convicted opposition figure Ilya Yashin for reporting on the Russian atrocities in Bucha, Ukraine.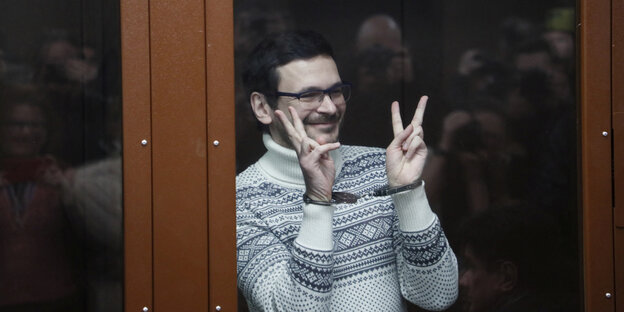 MOSCOW taz | The trial of the alleged crime of the Russian opposition politician Ilya Yashin proceeds as the Russian judicial system is. Messy and completely opaque. The meetings keep changing. The negotiation rooms are changed. There are bomb threats, the courthouse is being evacuated. Yashin is brought and taken away again, his supporters hold out in the snow in northern Moscow.
Finally, the judge frantically read the transcript for an hour and said: "Yashin's guilt has been fully proven." Because of "false testimonies" about Bucha, the Ukrainian city where mass graves, executed civilians and torture chambers were found after the Russian army left , the 39-year-old Moscow ex-local deputy has to go to the penal colony for eight and a half years, half a year less than the public prosecutor's office had demanded.
The verdict against Yashin is also a verdict on how the wartime atrocities committed by the Russian army in Ukraine can be thought about and reported on in Russia: Not at all. "Russia is not at war in Ukraine," says judge Oxana Goryunova, confirming prosecutors' statements that Yashin, out of "political disgust," created a "real threat of spreading a negative image of the Russian army." Meanwhile, the Muscovite is standing in the glass cage of the court in a light knitted sweater and smilingly makes a victory sign. Even after this guilty verdict, the politician is undauntedly optimistic. Russia will be free and happy.
In April, Ilya Yashin reported on his YouTube channel about the murders of civilians in Bucha that had become known shortly before. He reported on the atrocities in a journalistic manner, presented the versions of the UN, of Ukraine, including those of the Russian Defense Ministry, which to this day says that it was actors who played dead people along the streets of Bucha. Russia does not want to accept crimes committed by its own army and continues to spread the myth that Russia is "liberating" Ukraine from "Nazis".
Yashin had long expected imprisonment
As early as 2012, Yashin repeatedly warned that Putin's displeasure with Ukraine would not lead to anything good. At that time he had, on the side of Alexei Navalny and Boris Nemtsov, led weeks of street protests in Moscow. Hundreds of thousands of people had come again and again to demonstrate against the obviously rigged parliamentary elections of 2011. "Russia without Putin," they chanted loudly. Putin resumed the post of president in May 2012, and the repression of those who were dissatisfied became tougher immediately afterwards.
Nemtsov was murdered on a bridge within sight of the Kremlin in 2015, and Navalny was poisoned with the nerve agent Novichok in 2020. He survived the attack and returned to Russia in 2021, where he has been in penal colonies ever since. He is now not even allowed to write letters to his family. Yashin is also an unbroken one.
"Right after February 24, when Russia invaded Ukraine, I went to the dentist. Nobody in prison takes care of your teeth," he said in an interview shortly before his arrest this summer. He's been on hold for years, only more since February, he said. A kind of expectation that each day could be his last in freedom. "I'm afraid of prison, of course, but I never wanted to leave my country."
Many opposition Russians have left Russia since February at the latest. Yashin was also repeatedly hinted that he should disappear. He calls the arrests of his fellow campaigners an "invitation to emigrate", the prison sentence of his colleague Alexei Gorinov, who was also sentenced to seven years in prison in July for "discrediting the Russian army".
As Yashin emphasized years before, and as he says today, he acts according to the motto: "Do what is necessary and come what comes." Yashin always said that his imprisonment would end, but his self-respect would remain again. With Friday's Kafkaesque verdict, Russia's dissidents have lost a steadfast man who always saw his mission as telling the truth.