Handball World Cup: German hopes rest on playmaker Juri Knorr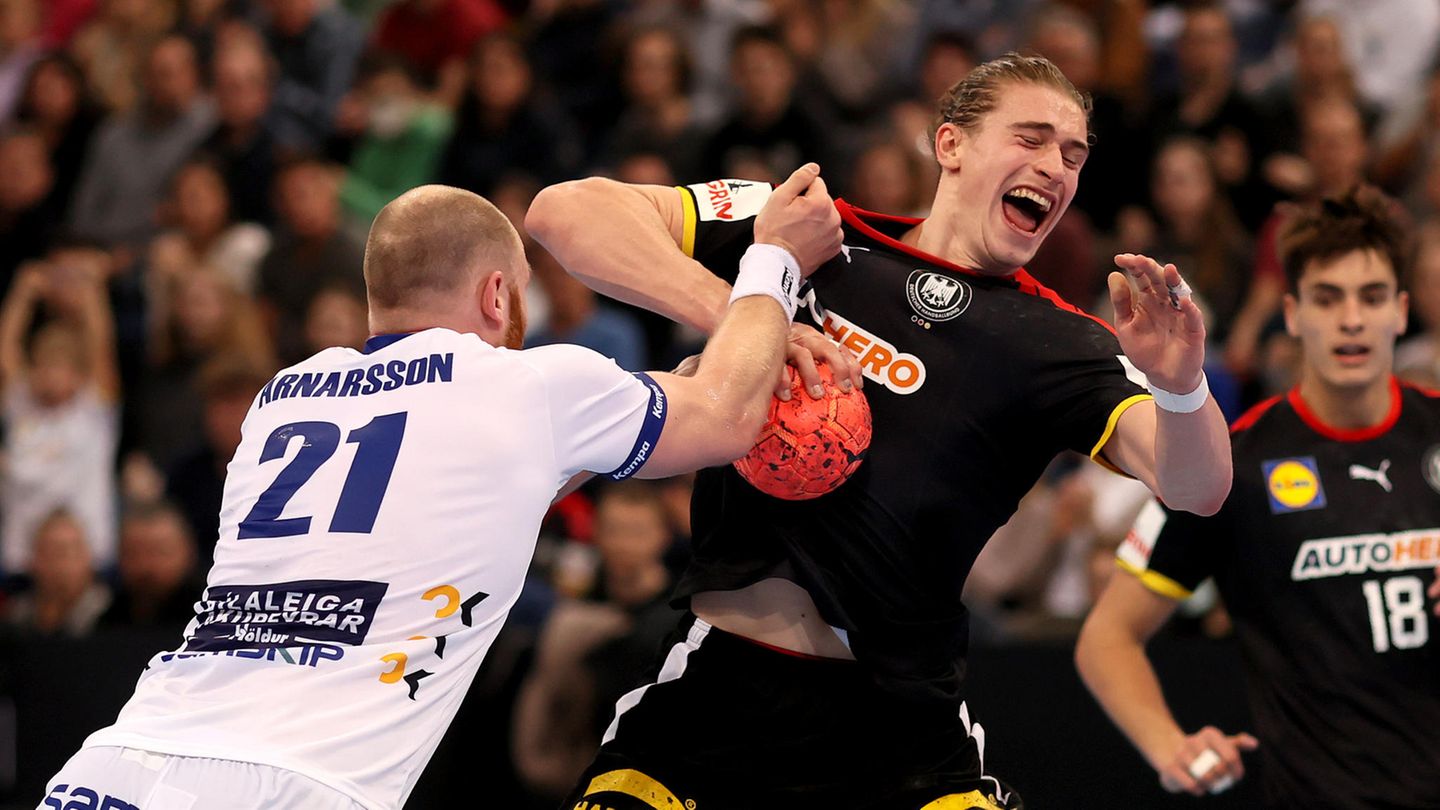 Who needs football and Qatar? Old school sports fans prefer to watch the Handball World Cup these days. Even if it has never been enough to make a big hit: The German team is fun. And thanks to playmaker Juri Knorr, something might work this year.
Punctually every year in January, she dives in on the handball wave Germany. It starts small, with the German national team's first game in a major tournament. World Cup or European Championship, which take place punctually at the beginning of the year in rotation.
And it builds up with every additional tournament game. Suddenly, people who don't usually have much to do with handball are sitting in front of the television and realizing how fascinating it actually is Sports is. Dynamic, exciting, fast-paced. Full of tactical moves and trick throws that seem to defy physics. In addition, athletes who treat each other fairly, despite their toughness, say what's up in interviews and come across as approachable and cross-sympathetic.
It could all be so nice with German handball – if, yes, if the national team hadn't run out of breath on their way to the top in recent years. In the crucial games that failed DHB-Team last too often the nerves. The last title came in 2016 at the European Championships in Poland, in the past two years it was enough for 7th place (EM) and 12th place (WM).
Handball World Championship starts in Sweden and Poland

Now there is another World Cup coming up, in Poland and Sweden (11th to 29th January) – and the DHB team is preparing to become a TV favorite again. The opponents in the preliminary round are Qatar (Friday, January 13, 6 p.m.), Serbia (Sunday, January 15, 6 p.m.) and Algeria (Tuesday, January 17, 6 p.m.).
After seven meager tournament appearances, there are no snappy slogans and no pithy declarations of war. The aim is to consistently bring the performance to the plate. "It would be nice if we could give the fans a medal. But we're not in a position to say that as a goal because we're not among the favourites. We can't dream, we have to be realistic," says national coach Alfred Gislason , 63, at the start of the tournament.
The Icelander took over the post in 2020 from the hapless Christian Prokop. The title collector (including three Champions League victories) was the dream solution of the German Handball Federation (DHB) to form a title candidate from the squad up to the home European Championship. The moderate performance in the past two years has not yet affected his reputation, as both tournaments were affected by the corona pandemic. But slowly Gislason should start to deliver.
The last two tough tests in the preparation against Iceland have shown what is possible, but also what could threaten. As so often, the potential of the German team was recognizable, but there were always inexplicable dropouts, hectic shots and slight ball losses. After all: In particular, the first seven with goalkeeper Andreas Wolff, line runner and captain Johannes Golla, center man Juri Knorr, wingers Lukas Mertens and Patrick Groetzki and backcourt players Julian Köster and Kai Häffner now seem to be stable in the tournament.
Behind it, however, there are a few gaps, as Gislason himself admits: "The first suit is in place. The second is not yet." It remains to be seen whether the trainer fox not only wants to stimulate the ambition of his backbenchers, who, like Paul Drux and Jannik Kohlbacher, are all among the pillars of their clubs in the Bundesliga.
Playmaker Juri Knorr is the German hope

In the days of the World Cup, the attention of German handball fans should focus on one in particular: Juri Knorr, just 22 years old and the great hope of the team. At the age of 20, the son of former national player Thomas Knorr made his debut in the national team, in 2021 he was at the World Cup in Egypt and at the Olympics in Tokyo.
On a good day, the Rhein-Neckar-Löwen playmaker can make the difference. Knorr is a self-confident, instinctive handball player, but his game often fluctuates between genius and madness. Surprising throws, cheeky allusions to the circle, courageous one-on-one duels – Knorr's repertoire is enormous. His error rate sometimes, however, too. Then he plays erratically, unfocused, sometimes makes the wrong decisions.
Like in the first game against Iceland, where coach Gislason criticized him harshly on TV: "He's playing a great game, but only for forty minutes." Most recently, a lot of lack of concentration melted a six-goal lead and led to an unfortunate 31:30 defeat, as the Germans had suffered so often in games against big handball nations. Knorr "made a lot of mistakes," Gislason complained, mistakes that can be "incredibly expensive," especially at a World Cup.
Mistakes that can be expensive

The one so scolded already knows that. "I don't know why it is, but the discussions surrounding me have been with me since my youth. It was sometimes up and down. I was cheered and then criticized again," says Knorr.
Especially in the past year, the discussion about him made waves because he voluntarily gave up the European Championships as he was not vaccinated. Knorr was irritated, felt hurt and judged unfairly. This year his vaccination status does not matter. Those who have recovered and those who have been tested can also take part in the World Cup.
The positive: Knorr now seems to be able to withstand the criticism and the pressure. In the second game he started as if the day before's coaching scolding had never happened and showed his potential for a full 60 minutes. With 13 goals, he was Germany's most accurate shooter, converted eight seven meters and at times played into a real flow.
A performance that the Germans also want to call up in Poland and Sweden in the next few days. Juri Knorr has already said what is important: "We have to be a team – and not just on paper, but also on the record. That will be our job." The national coach should also sign that. Gislason does not want to give a specific placement as a goal: "I hope that at the end of January we can say that we played a really good tournament and that we can be proud of our performance regardless of the placement."
Sources: DPA, Southgerman newspaper, FAS