Gun laws in the US: "We demand change"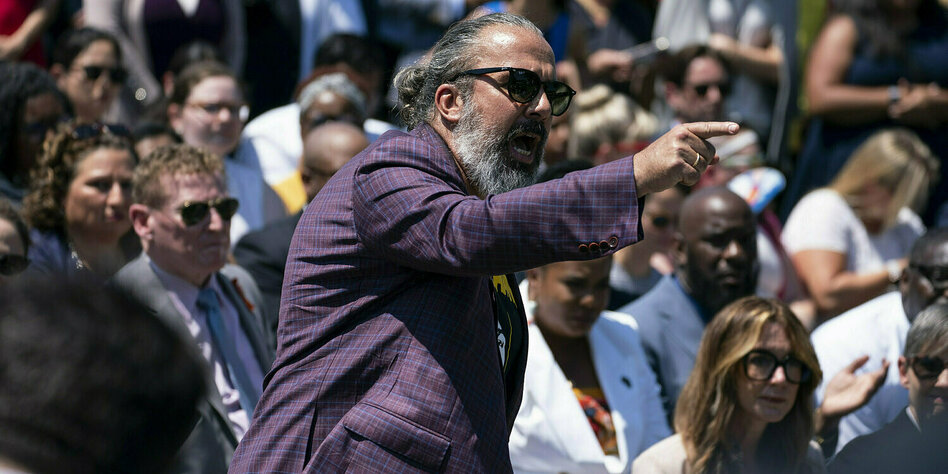 The US President had invited hundreds of survivors of gun massacres. "You have to do more," lamented the father of one boy who was killed.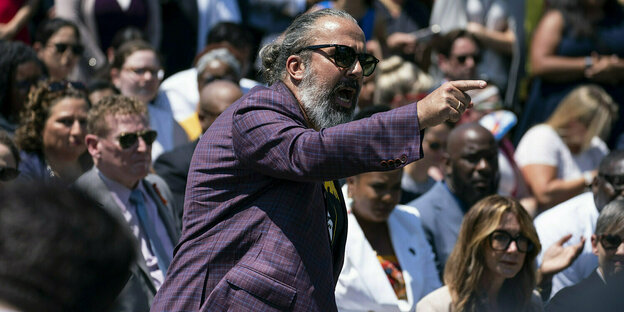 NEW YORK taz | "There is nothing to celebrate," said Manuel Oliver in an interview with CNN on Monday morning. A few hours later, the father of Joaquin, who was murdered in a school massacre in Parkland, Florida in February 2018, interrupted a speech by Joe Biden in the garden of the White House.
While the US President hailed legislation introducing some new gun controls as "real progress," the father interjected, "Not nearly enough. You need to do more!" His t-shirt sported a picture of his dead son and the caption, "We demand change!"
Biden had invited hundreds of survivors and families of victims of the gunshots to the ceremony. He wanted to celebrate the new law that came into force at the end of June. In his speech, the President praised the "cooperation of both parties". He spoke of a "mountain that had started to move".
In fact, after nearly three decades of deadlock in the US, the law is the first legislative reform on firearms control that Congress has been able to pull together. But it falls far short of what firearms opponents were hoping for.
No ban on semi-automatic weapons
It only provides for stricter screening of gun buyers under the age of 21, opens the way for firearms to be taken away from potentially dangerous individuals and introduces new penalties for illegal firearms dealings. It is also increasing funding for mental health services and anti-violence programs in schools.
But the law does not ban semi-automatic assault weapons or require background checks on all firearms transactions.
The law was preceded by two major massacres in May. On May 14, a teenager shot dead ten people in a supermarket in Buffalo, New York. A few days later, another young man murdered one Elementary school in the small Texas town of Uvalde 19 children and two teachers. Both perpetrators also used AR-15 assault weapons.
While the US public was once again shocked, President Biden called on Congress to ban semi-automatic rifles and tighten background checks. Both demands are capable of winning a majority in the USA. They have been formulated by firearms opponents for years.
Eleven million assault rifles in private US hands
Most politicians in the Democratic Party, as well as a majority of the US population, support it. Even a majority of private firearm owners understand this. But implementation in Congress regularly fails due to resistance from almost all Republicans and a few Democrats.
Unlike his predecessors, Biden managed to get a majority in Congress for a shrink version of the law he wanted. But he himself admits that much more is needed.
Several US presidents have tried to phase out semi-automatic assault rifles. In 1994, Bill Clinton signed legislation to that effect. But it was limited to ten years. The weapons, which were originally developed for military combat situations, have been allowed to be sold again in the USA since 2004.
According to estimates by the TV broadcaster CBS, well over eleven million of these assault weapons are now in the hands of private individuals in the country. Industry and its various lobbying organizations, particularly influential on the political right, defend the ownership of these and other firearms as a fundamental right.
The majority conservative staffed Supreme Court supports her in it. In June, it declared a law in New York state unconstitutional because it imposes strict rules on the concealed carrying of firearms.
More than 120 firearms per 100 US citizens
The US has the most privately armed population on the planet. Since there is no complete record of firearms, the total number in civilian hands can only be estimated. In 2018, the Geneva, Switzerland-based research institute Small Guns Survey found that there were 393 million firearms in US homes. Even then, there were more than 120 firearms for every 100 inhabitants. Since then, firearm sales in the United States have continued to increase.
The number of firearm victims in the United States also climbs to new heights every year. According to the US health authority CDC, a total of 30,000 people died from gun violence (including suicides) in 2010. In 2018 there were already 38,000.
At his ceremony for the new law, the US President promised that he would continue to advocate for a ban on assault weapons. He accused the Republicans of "ruthlessness". Meanwhile, the murdered boy's father, who no longer wants to wait for reform, was ushered out of the White House garden.