Gifts for cyclists: Twelve creative ideas that are fun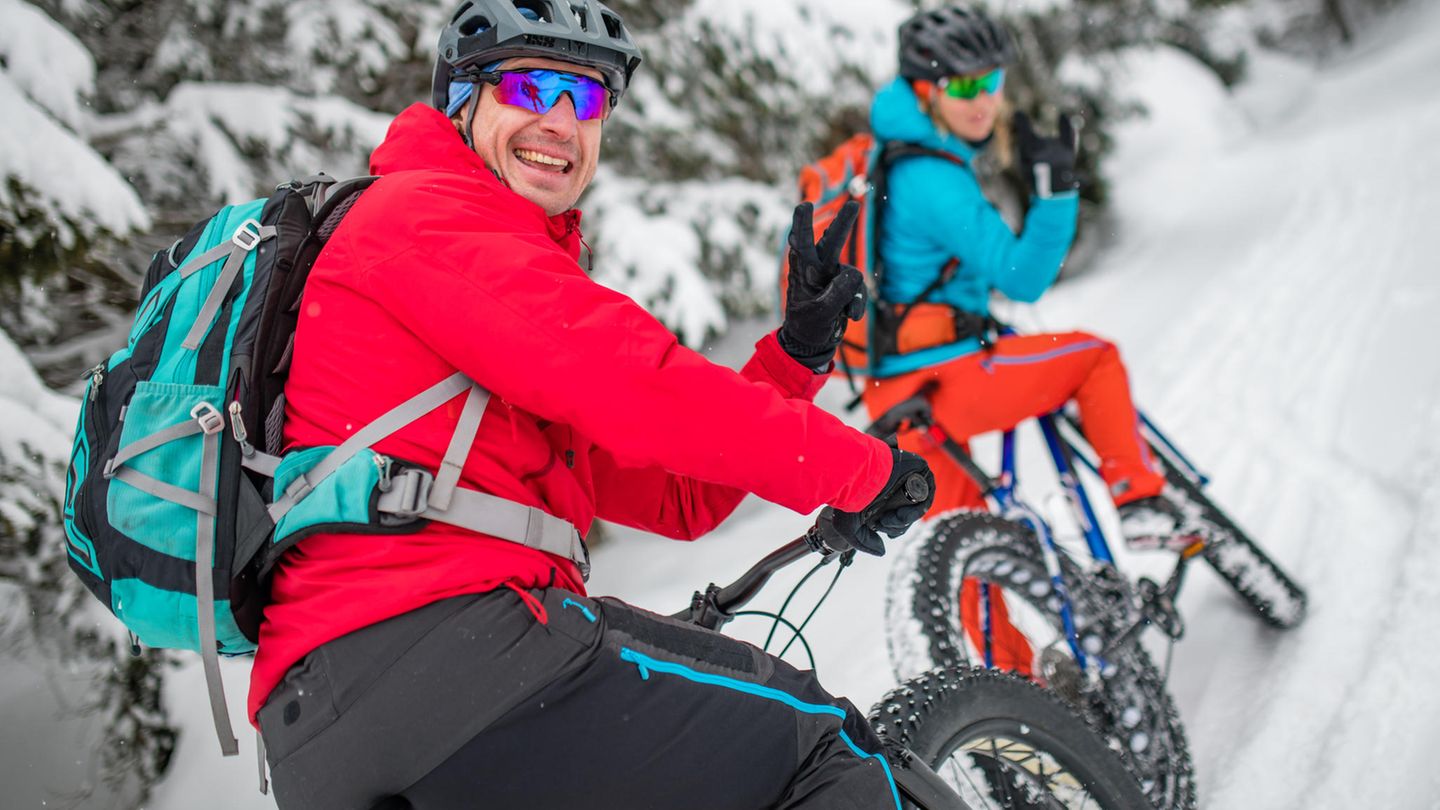 Hardly any other hobby has more equipment than cycling. In the long run, that can cost money. But the next birthday will definitely come. A dozen gift tips for everyone who lives and loves cycling.
To go biking apart from walking, is the healthiest, cheapest and, above all, most environmentally friendly way of getting from A to B (with a few exceptions when it comes to the popular e-bikes). Most children learn it before they can read and write. Later, students cycle to the university and the bike is also a popular option for many people for the way to work. Even in old age, when walking becomes more difficult, a bike makes one way or the other easier and shorter. And last but not least, the bicycle is one of the most popular pieces of sports equipment. Racing bike, mountain bike, BMX, gravel or e-bike – the variety is great. The bicycle accompanies millions of people worldwide throughout their lives.
And because many bikes are used in wind and weather, they have to be looked after and cared for. And a bit of comfort is also welcome in one place or another. The next birthday is guaranteed and if you don't have a brilliant idea yet, you could find it in the following. For big and small. For old and young. Twelve gift ideas for everyone who loves cycling.
helmet bag

The helmet bag is a useful gadget, especially for short distances and the daily ride to work. Who likes to go shopping with a bicycle helmet? But somehow you don't want to hang the head protection on the handlebars either. So why not in the helmet bag stow? Or better: Hide the helmet in the helmet bag? The idea is simple: put the helmet on the saddle, put the helmet bag over it, pull the safety rope, pull the bike lock through the loops, done. Smart: The helmet bag has two sewn-in carrying handles and can therefore also be used as a small bag.
Lezyne Drive Pro mini pump

A flat tire is every cyclist's nightmare. And yet it gets to everyone at some point. Then it takes revenge when the repair kit is lying in the drawer at home. And even if you have the breakdown kit with you, the tube doesn't blow itself up again. The Lezyne Pocket Drive Pro mini pump is only 14 centimeters long, weighs just under 80 grams and therefore fits in any bike bag. With the neo-metallic alloy, it also looks good. Small disadvantage: If you need more than one home delivery service, you should plan some time for pumping, because due to the short stroke distance, 100 or more pump strokes are necessary to prepare the tube for further driving.
deuter tool pocket

This practical little gadget is also of little weight. The Deuter tool pocket was made from 100% recycled polyamide according to the manufacturer. In the four pockets and two zipped pockets as well as the closable tool bag there is space for everything that is important in the event of a breakdown. Mini pump, tire levers, inner tube, multi-tool and adhesive pads fit comfortably into the small pouch, which weighs less than a bar of chocolate when empty. Overall, a practical companion for longer bike tours. A flick of the wrist and the most important gadgets for small repairs or breakdowns are ready.
Lonely Planet Photo Book "Legendary Bike Tours in Germany"

The authors have 40 bike tours between the Alps and the sea in the book Legendary bike tours in Germany collected. In the third part of the "Lonely Planet" series, the authors and their readers cycle all over Germany. Legendary cycling adventures such as a 600-kilometer tour along the German-Polish border are illustrated in large format. From the edge of the Alps to the Waterkant, from the dyke to the mountains, everything is there. For racing bike fans, off-road freaks and pleasure cyclists. There are practical tips for every tour that make planning easier. A classic Lonely Planet. And the perfect gift for friends and families planning a cycling holiday in summer 2023.
Anyone who has already explored Germany by bike should take a look at Lonely Planet Photo Book "Legendary Bike Tours in Europe" throw.
Rie:sel Design Mudguards "rit:ze"

A real eye-catcher are the extravagant "mudguards" from rie:sel Design. For almost ten years, the Dresdeners have been designing products that make Germany's cycle paths more colourful. In addition to funky frame protection foils, there are above all shrill mudguards, which are clamped between the struts under the saddle in no time at all without tools. The colorfully printed mud catchers weigh only 17 grams, are washable and are made from recycled materials in Germany. They are called "pink wood gorilla", "sticker bomb", "girl bella" or "finch fairy girl". Shrill gadget that every biker is happy about.
Shokz OpenRun sports headphones

If you stuff the buds in your ears while cycling, you live dangerously. With many in-ear headphones, thanks to noise canceling, even at low volume, you isolate yourself from traffic to such an extent that dangerous situations are inevitable. By the way, listening to music on the bike is not forbidden. At least not if acoustic signals such as sirens or ringing can still be heard through the headphones. All this is possible with the still relatively new bone conduction technology. headphones like that Shokz OpenRun sit not in the ear, but on the cheekbones. From there, the sound vibrations are transmitted to the inner ear. The ear itself is free and open to everything that is important in road traffic. The sound quality is still amazing. The sports headphones from Shokz are available in different colors. Like all other current headphones, they can be connected to smartphones, tablets, etc. via Bluetooth within seconds.
Finn smartphone holder

Unlike listening to music, using the phone while cycling can result in a fine. Apart from that, very few people can react quickly to an unexpected situation when cycling with one hand. However, it is permitted to fix the smartphone to the handlebars using the cell phone holder and use it, for example, as a navigation aid. A smart and quite cheap solution for this is the Finn smartphone holder. The silicone tool does not have to be screwed, clamped or clicked into the handlebars. It is placed in the middle under the handlebar. Then you thread the corners of the smartphone into the four flexible tabs. That's it. Finn works with almost every smartphone and on almost every handlebar.
BeeMyBox lockable bike bag

At some point Aaron Holzhäuer stopped counting how many LED bike lights were stolen from him in Berlin. The young founder presented his solution to the problem he shares with many cyclists in 2022 on the Vox show "Die Höhle der Löwen". BeeMyBox is the name of the bicycle box that can be locked with a key or numerical code and is mounted on the frame with brackets. (You can read a detailed review of BeeMyBox here.) Holzhäuer has now developed his idea further and the Box with a solar power bank lid fitted. The small LED lights can not only be hidden from thieves, they can also be charged via USB at the same time. There is also space for a small multi-tool, a breakdown kit or some emergency supplies.
Sealskinz all-weather oversock

If rain or splashing water gets into your shoes, it's not just uncomfortable. You can't get the moisture out that quickly. Overshoes were invented to keep shoes (and feet) dry on the way to work or while exercising. Most are made of waterproof material such as Goretex and attach to the heel and calf with Velcro. This one is also waterproof All-weather oversocks by Sealskinz. The nylon outer shell and a membrane as an intermediate layer keep the water out. The inner lining should regulate the temperature climate. The socks are extremely flexible and can also be slipped over ordinary street shoes. Plus in terms of safety: The material reflects the light of other road users.
Urban two-wheeler pizza cutter

At first glance, cycling and the kitchen don't have much in common. Nevertheless, this one should pizza cutter in the form of a racing bike are not only well received by fans of Italian cuisine. The two stainless steel wheels (430 alloy) take on anything that looks like a pizza. Flammkuchen are of course child's play for the sleek kitchen utensil that you can easily hang on the wall next to the fridge. Because the supplied wall bracket (i.e. the bike stand) is equipped with a magnet.
On Your Bike cycling socks

Colorful socks with colorful and fun motifs have been trendy for a few years. And because cyclists also like to be flashy, these brightly colored FBike socks from On your Bike very well received as a gift. The package comes with three pairs of socks, each of which can be combined with each other. They are made of 80% cotton and 19% polyamide. There is also some elastane. From our point of view, the motifs appeal more to racing cyclists.
Lezyne multi tool

13 is not necessarily known as a lucky number. However, the 13 tools Lezyne has on his SV PRO multi-tool installed are a stroke of luck, especially for minor repairs to the bike. Seven Allen keys, three Torx bits, a Phillips head, a chain tool and a quick link. All in all, it weighs 114 grams and is so compact that it easily fits in any jersey or bicycle bag. Whether handlebars, brakes or saddle: the small, fine multi-tool from Lezyne helps.
You might also be interested in:

This article contains so-called affiliate links. Further information are available here.
js