Germany Day of the Young Union: attempt at objectivity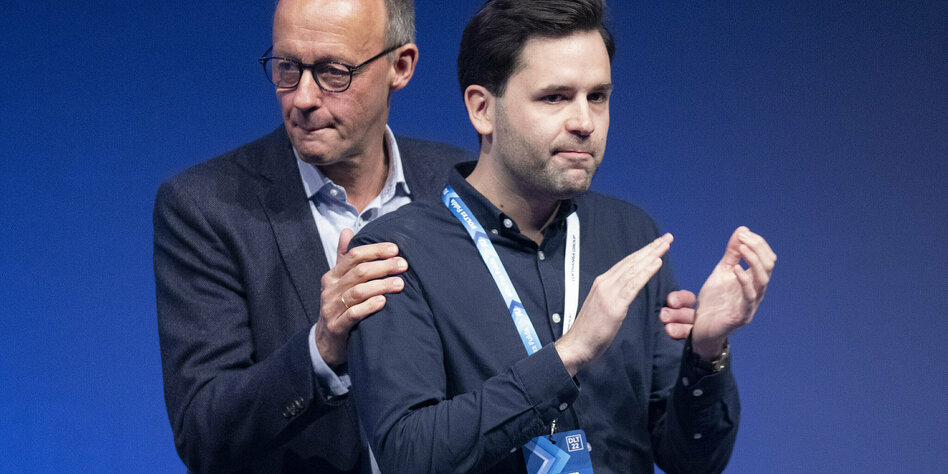 Johannes Winkel, the new head of the JU, wants to make it the Union's pioneer in climate and demographics. Merz calls for concessions to citizen money.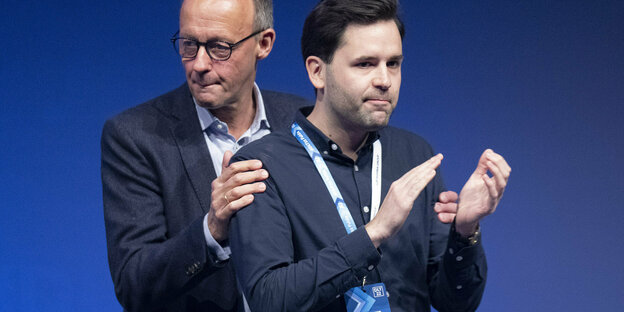 FULDA taz | Before Friedrich Merz starts his speech on Saturday morning, the new chairman of the Junge Union thanks him. That the CDU boss himself so staunchly against the citizen money plans the traffic light is correct – and an "act of persuasion". And the JU had already demanded that the Union finally become more "convicts" a year ago, after the lost federal elections. Applause in the Esperanto Hall in Fulda, where the JU meets this weekend for their annual Germany Day.
On Friday evening, the delegates elected Johannes Winkel, 31, a commercial lawyer from North Rhine-Westphalia, as their new chairman. With almost 87 percent of the votes, there was no opposing candidate. Winkel had presented himself calmly and factually in his speech – and thus very differently from his predecessor Tilman Kuban. That may be because Winkel is a completely different type than Kuban.
But it can also be understood as a conscious demarcation. Kuban is particularly known for his blustering style, with which he won the contest for the JU presidency four years ago. Winkel, on the other hand, held back from public statements before his election, mainly promoting himself internally. For four weeks he traveled all over Germany.
The JU, says Winkel in his application speech, should, under his leadership, become a pioneer on topics that are important for young people – such as climate and demographic change. He is particularly in favor of the continued use of nuclear power. On Saturday, the JU then demanded with a large majority that not only the three running nuclear power plants remain in operation, but also that three that have already been switched off should be reconnected to the grid.
When Winkel speaks, it's already after nine on Friday evening, the first beers have long been drunk, and the noise level in the hall keeps rising. When Winkel warns of the de-industrialization of Germany, there is jubilation for the first time. "Let's fight with all our might to preserve industry, production and innovation in Germany." The Union should be the first party to make Germany a climate-neutral industrial country. Winkel calls for "more migration into the labor market" and "a real family splitting", which is not a matter of course for a JU boss.
Winkel with hidden criticism of Merkel, Kuban with tears
How he feels about the ex-chancellor, who has long been fought by the JU, is not entirely clear. On the one hand, he rejects criticism from the traffic light about her time in government, but on the other hand he also says: "You don't put the energy supply in the hands of a man who has dedicated his life to the Soviet secret service. You don't hand over control of borders and migration to a man who turned Turkey from a democracy to a dictatorship." Which can only be understood as criticism of Angela Merkel.
Winkel doesn't rock the hall, but in the end there is standing applause and glitter confetti for the new chairman. "Let's go full throttle together," he then says. It was much more emotional before in passing his predecessor Kuban approached, who is now 35 years old and therefore could not run again. Kuban, who has been a member of the Bundestag for a year, was greeted with a long standing ovation – and had to fight back tears again and again.
When Merz is on stage on Saturday morning, he praises the old and congratulates the new JU chairman, and of course he criticizes Chancellor Olaf Scholz. Above all, however, he uses the opportunity to once again demand clear concessions from the traffic light. "We expect this government to take a step, and a big step towards us, if we want to find a common solution for this so-called citizen's income.
The unemployed must be reintegrated into the labor market as quickly as possible, and all available workers are needed in Germany. "That can also, that must also be accompanied by sanctions," says Merz, but there should be no grace periods. The concept of citizenship can be understood in such a way that everyone in Germany is actually entitled to it. But the message must be: "Not everyone in, but out again as quickly as possible, so that those who receive social benefits can quickly become employees again." He can be sure of the applause of the party's young generation in the Esperanto Hall.