Georgian NGO on agent law: "A strategic step backwards"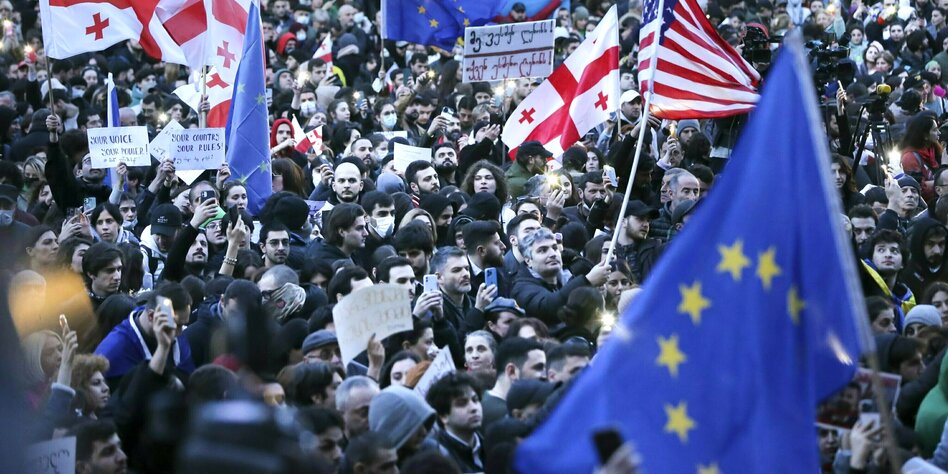 Lawyer Guram Imnadze considers the repeal of the controversial NGO law in Georgia to be a farce. The government is moving towards Russia.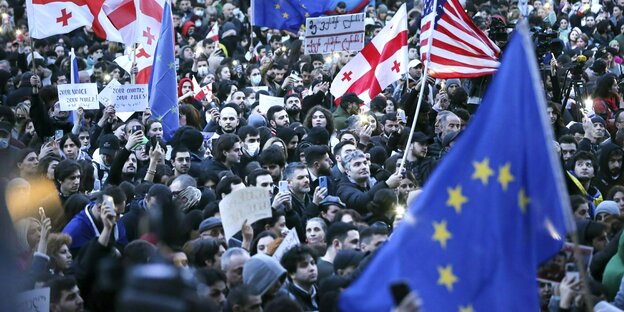 taz: Your NGO has been on the streets with thousands of others since Tuesday evening to protest against the "agent law". What would change?
Guram Imnadze: First of all, it is a clear democratic step backwards and a geopolitical shift, as it clearly goes against the pro-Western path guaranteed by the Georgian constitution. At the same time, it creates serious problems for NGOs and independent media, especially small online media. For example, the bill designates organizations like us as "foreign agents" even though we act on behalf of our population, especially vulnerable people. Actually, this bill is part of a bigger problem, a bigger campaign that started about two years ago and aims to delegitimize the civil society sector.
What do you mean?
It is said that we are against the state and against state interests, for example against the church. Georgia is quite a conservative country and our society is religious. So it works. This new draft formally legalizes the government claims. In addition, the draft contains particularly problematic changes: it grants some state institutions, such as the Ministry of Justice, access to all information stored in the organization, including personal data, including our beneficiaries. In the case of the media, information on sources could be given. A threat to freedom of information.
The 31-year-old is a Georgian human rights activist and lawyer. Since 2013 he has been working for the Social Justice Center, where he coordinates the Justice and Democracy programme.
Your NGO could no longer work at all because you receive foreign funds…
Yes, our partners are foreign actors: the US or the European Commission. We have no funds from Georgian actors or institutions. But that doesn't mean that we act solely in the interest of these donors. We only use this financial help to effectively implement our visions and principles and to help the people of Georgia.
In recent years, the government of the Georgian Dream party has not kept all its promises. Were you happy that she now wants to withdraw the bill?
The only way to withdraw the draft is to actually vote against it in a second plenary session. They have the majority, so they voted for it last Tuesday. They want to withdraw it, but at the same time they say it is necessary. So I see it as a strategic step backwards. And now they will use their propaganda tools to get their goals and aspirations through.
The pro-Russian group People Power initiated the draft. For years she has been behind an effective media strategy in Georgia. Pro-Russian billionaire Bidzina Ivanishvili, founder of the Georgian Dream, also remains influential in the country…
Exactly. Even if Parliament does not adopt this draft now, the dirty propaganda against the civil society sector and against Western partners will certainly continue. This morning we woke up to posters on the walls calling activists traitors.
About 80 percent of the population stands behind one EU accession georgia How divided is Georgian society?
Yes, she is very divided, and there are two main factors in that. First of all, the opposition parties in this country are really weak and also delegitimized. That's why the ruling Georgian Dream party still has so many voters. The second reason is that the ruling party still describes itself as pro-Western. They have not officially declared that they are changing their political course and moving towards pro-Russian politics. However, the Georgian Dream uses intelligence and propaganda to spread the narrative, for example, that the West is trying to embroil Georgia in a war against Russia in order to create a second war front. That is why support for the West has waned in our society in recent months.
In June last year, Ukraine received EU candidate status, while Georgia received only a recommendation. Was it a mistake by the EU not to take Georgia on board as an EU candidate?
Absolutely, in my opinion it would have been better if Georgia had been granted EU candidate status in June 2022, because then our government would have had less leeway for such manoeuvres. But I think it's not too late to fight for candidate status. We are doing our best and forcing our government to implement all necessary reforms to comply with all 12 recommendations of the European Commission. But we know that the government is aware that these reforms may not serve their own interests. Noticeable reforms in the judiciary or the strengthening of independent state institutions will certainly weaken the political influence of the governing parties. And they are anything but happy with this idea.
Then you will probably continue to protest?
The protest will continue because the repeal of the law has not been officially approved. In addition, more than 100 demonstrators were arrested. They must be released.
From the English Sabina Zollner