Genocide in the Bosnian War: Genocide is genocide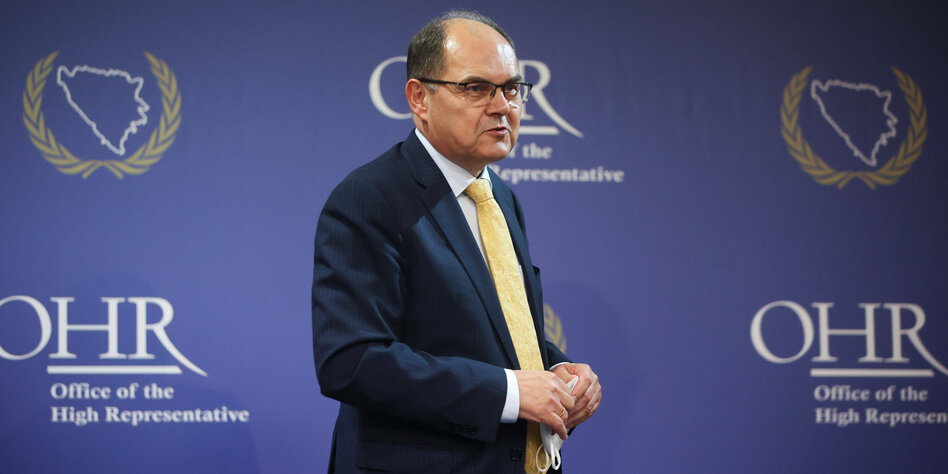 In the Balkans there is a bad culture of glorifying war crimes. The German High Representative for Bosnia is disappointed in his performance of office.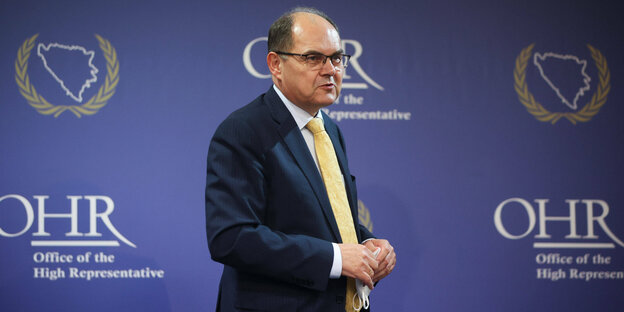 The inflationary term genocide is clearly defined in international law. Three courts have repeatedly ruled that the murder of over 8,300 Bosniaks by Serb units during the Bosnian war in Srebrenica in July 1995 was genocide. Point. The courts of the UN, the International Court of Justice (ICJ) and the Criminal Court for the Former Yugoslavia (ICC), as well as the State Court of Bosnia and Herzegovina have ruled. Serb leader Radovan Karadzic and his army chief Ratko Mladic were sentenced to life imprisonment for genocide and other perpetrators to more than 700 years.
This is a milestone in international criminal justice since the Nuremberg and Tokyo military tribunals. Nevertheless, there is a worrying lack of culture in the Balkans, especially in Bosnia, of denying and relativizing genocide and other war crimes. War criminals released from prison are welcomed like heroes, especially in Belgrade, but also in Zagreb. There is a downright glorification of war criminals, which is sometimes even promoted by political and state authorities.
Karadzic's successor, Serb leader Milorad Dodik, has integrated genocide denial into his main political repertoire. He publicly courts war criminals, for example on January 9, 2022, when he invited the Serbian officer Vinko Pandurevic, who had been convicted by the Hague war crimes tribunal for his participation in the Srebrenica genocide, to the 30th anniversary of the founding of the Serb-dominated part of Bosnia, the Republika Srpska. The Srebrenica killer stood behind President Dodik at the military parade banned by the Bosnian constitutional court. The High Representative of the international community for Bosnia and former German Minister of Agriculture, Christian Smith, neither condemned Pandurevic's participation nor banned the unconstitutional assembly, although this is one of his main tasks.
Schmidt has dashed hopes of cracking down on Serbian and Croatian nationalists
A year later, on March 9 of this year, the now highly controversial Schmidt described the genocide of Srebrenica as a "genocide-style situation" according to those present at a Balkan forum in Budapest. Really? International law does not recognize a "genocidal situation" or a "genocidal-style situation". The victims should be able to expect an immediate apology for such rhetorical gaffes, which, as expected, was not forthcoming. Why? Because Bosnia in Germany interests few who make decisions. As a result, Schmidt has been able to swing from one scandal to the next for 18 months in office. Only the Viennese "Standard" reported on the recent outage in German-speaking countries.
Germany's former UN representative, Ambassador Hanns Schumacher, criticized Schmidt's "unfortunate rhetorical exercise" which added to his "weak administration". Perhaps one should take note of the opinion of former German diplomats in Berlin. Schumacher and many others have been calling for Schmidt's dismissal for some time. Schmidt's insensitive faux pas is reminiscent of the tormented words of some political and diplomatic participants who in 1994 relativized the genocide in Rwanda as genocidal excesses in order not to have to intervene. Even before Schmidt's statements, the Society for Threatened Peoples called on the chairman of the Bundestag's Foreign Affairs Committee, Michael Roth, to influence Schmidt or replace him.
Schmidt has dashed all hopes of cracking down on Serb and Croatian nationalists who shy away from the existence of multi-ethnic Bosnia. Although Schmidt has the power and means to act against her, he does not. On the contrary: he regularly issues carte blanche to the destructive rulers of Serbia and Croatia, certifying that they have a moderating influence Bosnia to have.
These assumptions are unrealistic. Without the support of Belgrade and Zagreb, their governors in Bosnia would have to dress warmly. Schmidt's words are disturbing, an immediate apology would have been the minimum. This has been part of the political culture and reason of state in Germany for many decades, as has the recognition of the singularity of the Holocaust, and should therefore also apply to Germans serving abroad. As early as the 1980s, Germany had an unspeakable dispute among historians, triggered by the crude theses of Ernst Nolte, who, viewed in a nutshell, portrayed Auschwitz as a reaction to the Soviet gulag system. There can be no debate as to what genocide was. This will result in relativization, even unintentionally.
To the retraumatization of survivors Preventing this requires the utmost sensitivity, especially from politicians. It must be reserved for the courts to qualify as genocide. Genocide is and remains genocide and in no way "genocidal". It doesn't matter whether it was perpetrated by Germans on Jews, by Hutu on Tutsi or by Serbs on Bosniaks. The haunting words of Menachem Rosensaft of the World Jewish Congress should raise concern: "It is absurd and offensive to even suggest that one genocide or crime against humanity is more heinous than another.
All victims of such atrocities deserve the dignity and respect of having their agony and suffering recognized and remembered. Elie Wiesel taught that the Holocaust was a unique and unique Jewish event (…). In the same way, the Srebrenica genocide was a singular and uniquely Bosniak event."