General elections in Italy: what to vote and if so, how many?
A new parliament will be elected in Italy on Sunday. Our German-Italian author lives in Berlin and asks: Is it even worth voting?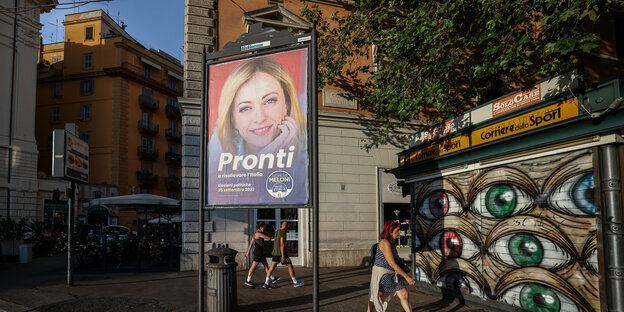 Another thick envelope is in the mailbox. Sender: Italian Consulate General. I open it and place the contents on the kitchen table. A blue and a gray sheet, a yellow and a white envelope. I unfold one of the sheets and read "Salvini, Berlusconi, Meloni" on a green-white-red background and would like to pack everything up again.
I am half Italian and have dual citizenship. This means I can vote in both Germany and Italy. I'm holding the sheet with the colorful logos of the various parties in my hand and I'm overwhelmed. Who should I vote for? Should I even vote even though I don't live in Italy? At this moment, when my Italianness makes itself felt in the form of election documents, I realize how little I know about Italian politics - maybe even about Italy itself.
I've always liked being a citizen of two countries. Funny, because I never had any real advantages from it. But something stirs in me when I fill out a form and can write German-Italian for "nationality". Certainly also because in 25 years I have almost never had bad experiences with my Italian identity in Germany. It's my aunts and uncles who tell me about other times.
My "nonno", my Italian grandfather, came to Baden-Württemberg from the Sicilian countryside as a guest worker in the 1950s. My grandmother followed him – with nine children. The youngest of them was my father. I was born and raised in Germany and wasn't able to speak Italian fluently until I was 18.
After graduating from high school, I did voluntary service in Italy to change that. In the language course, the teacher warned me and other course participants about the Lega Nord, as the right-wing populist Lega was still called at the time. I couldn't really classify the party at that point, let alone guess that it would be part of the government in a few years.
Try to understand Italian politics
It's not as if I've never tried to follow Italian politics. I keep making a fresh start. Individual names stick in my head, which I reel off when I am asked about politics in my father's country of origin: Berlusconi, Renzi, Conte, Draghi, Salvini, Meloni. Embarrassingly, I can only say more to those who are in the public eye because of their scandals and impossible statements.
I ask around my family. Most kept their Italian citizenship or – like me – have dual passports. In the Whatsapp group with my cousins, I ask: "Who wants to talk to me about the elections in Italy?" The enthusiasm is limited. A cousin writes that she sees herself as an outsider who cannot say much about it.
"No to the trio infernale Meloni, Salvini and Berlusconi," writes my cousin Giuseppe. We're on the phone. He says that he has been interested in what is going on politically in Italy for several years. The tax relief packages announced by the right-wing conservative trio are empty promises. "I definitely vote," he says. My aunt also writes that she has already voted. Nevertheless, she says: "Gina, we also have difficulties. We don't follow Italian politics that much."
That makes me think. Is what my cousin, my aunt and I feel political displeasure? The seemingly constant change of government in Italy overwhelms me. The Draghi cabinet was the 69th since 1945. For comparison: the Scholz cabinet is the 24th since Adenauer.
I'm starting to read more articles on the Italian elections, see what people write who have been keeping an eye on developments in Italy for a long time. When I read about the encouragement that the fascist Giorgia Meloni receives, my throat tightens. The forecasts clearly see them ahead. "This year I'm voting!" I decide.
Will my vote make the difference? Probably not. Nevertheless, I feel the need to take part in the democratic process and not begrudge Meloni the overwhelming election victory.
Italians living abroad were not allowed to vote
To clear up any remaining uncertainties, I call an expert. Edith Pichler was born in Italy and researches at the University of Potsdam on the topics of migration policy and intercultural coexistence. "For a long time, Italians living abroad weren't even allowed to vote," she says. The fear of electoral manipulation was too great.
Not without reason, as the case of Nicola di Girolamo shows. After his election as a senator in 2008, electoral fraud was suspected by the Calabrian mafia organization 'Ndrangheta. She is said to have bought blank ballots from migrant Italians in the Stuttgart area and filled them out in favor of di Girolamo.
The right to vote for Italians living abroad goes back to the politician Mirko Tremaglia, explains Edith Pichler. Tremaglia was a member of the neo-fascist party Movimento Sociale Italiano and later in its successor parties. From 2001 to 2006 he was Minister for Italians in the World under Silvio Berlusconi. Changing the law was one of his greatest achievements.
Since 2001, Italians living abroad have been allowed to elect twelve members to the Chamber of Deputies and six senators. With the constitutional referendum in 2020 to reduce the size of parliament, there are only eight MPs and four senators. I have a fascist to thank for allowing me to vote against fascists.
Complicated voting documents
"But the turnout of Italians abroad is very low," says Pichler. Just under 30 percent took part in the last parliamentary election in 2018. The high number of invalid votes is striking: According to the Italian Ministry of the Interior, eleven percent of the votes cast by Italians abroad were invalid four years ago.
Looking at my election documents, I'm not surprised. A letter is enclosed that explains in precise steps what to do, but even after reading it several times I'm still unsure where exactly I should put my cross.
Only after an Italian friend explains to me in a two-minute voice memo that I have to put the cross on the party symbol and write the surnames of the deputies on the line next to it, does everything become clear.
Edith Pichler addresses another problem: "German-Italians are not present in German politics." Although the migrant Italians are allowed to vote in the Italian elections like my father and his siblings, they can vote in Germany beyond the local elections or even to be able to stand as a candidate themselves, they need German citizenship.
Since 2002, Italians have been able to naturalize without losing their Italian citizenship, explains Pichler. To do this, they have to live in Germany for at least eight years, pay 255 euros, show that they are not receiving any social benefits and pass a naturalization test.
Many Italians did not take this step. "Some wonder why they should make the effort if they don't have any other disadvantages here in Germany," says Pichler. Especially among guest workers there is an attitude: Why should I pay money to become a citizen in the country for which I have done so much?
final doubts
"It's also a certain question of dignity," says the scientist. "The guest worker generation missed out on becoming politically active," she adds. But there are also exceptions. Especially in areas like Wolfsburg and Saarbrücken, where many guest workers arrived, Italians became involved in trade unions and the SPD.
Finally, the week before the deadline, I fold up the completed ballot papers and put them in the small white envelope, and then put that in the larger yellow envelope with the ballot paper.
As I walk to the mailbox, my last doubts surface again. Am I participating in an election that is not my election? The faces of Meloni, Berlusconi and Salvini appear in my mind's eye. I think of refugees and those seeking protection who, on the orders of Matteo Salvini, had to wait for days on a ship in the port of Catania.
I am thinking of the corrupt Silvio Berlusconi who knowingly encouraged prostitution of minors. I think of Giorgia Meloni and her claim in a 1996 interview that Fascist leader Benito Mussolini was a "good politician". The doubts evaporate and my envelope falls through the letterbox slot.