Fire in the Reutlingen facility: suspected murder after a nursing home fire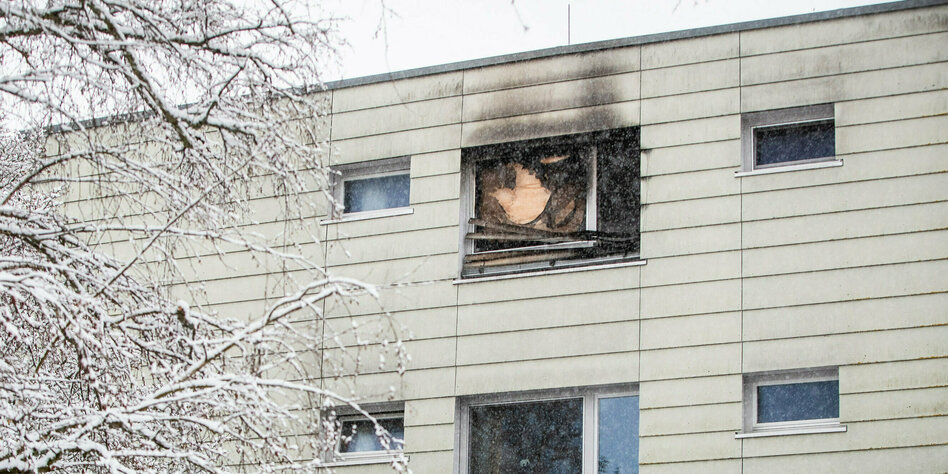 The public prosecutor is investigating a resident of the care facility where three people died on Tuesday evening. Patient protectors demand better fire protection.
REUTLINGEN/DORTMUND epd/dpa | After the fire in a social-psychiatric nursing home in Reutlingen, in which three people died on Tuesday, the Tübingen public prosecutor's office is investigating on suspicion of murder. According to the police on Wednesday, the focus is on a 57-year-old resident who was seriously injured in the fire.
According to previous investigations, the fire broke out on Tuesday around 7.40 p.m. on the upper floor of the house in the suspect's room. Further forensic investigations continued. Nothing is known about a possible motive for the woman, who has a mental illness. The 57-year-old, who was seriously injured in the fire herself, is currently not responsive and is being treated in a special clinic.
According to police, the three dead were a 53-year-old woman and two men aged 73 and 88. According to the rescue workers, they died from smoke inhalation.
The Patient Protection Foundation complained about the security situation in the facilities after the fire. Nationwide it was more than 140 times in the past year Elderly and care facilities burned, said the board of directors of the foundation in Dortmund, Eugen Brysch, on Wednesday of the German Press Agency. 16 residents were killed.
"This shows very clearly how bad it is in this country in terms of preventive fire protection," he continued. He is convinced that independent extinguishing systems should become the legal standard in the 13,000 German nursing homes.
"This technology reacts to heat or smoke and thus fights incipient fires at an early stage," said Brysch. The fire in Reutlingen also raised the question of why the firefighters stood in front of closed doors. The patient advocate emphasized that when fire alarm systems are switched on, it is standard for a master key to be stored in the automatically opened key safe.
Updated on 01/18/2023 at 3:05 p.m. i.e. R