Film about momentous lynching: will for appreciation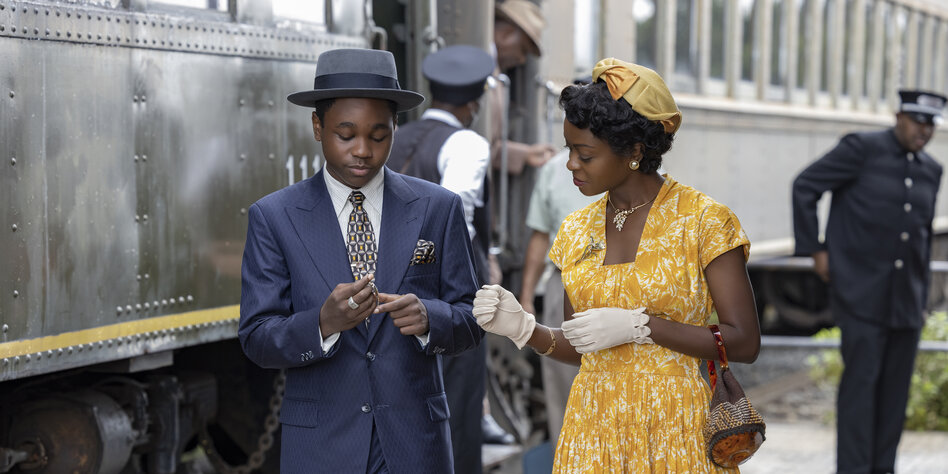 American civil rights movement: Chinonye Chukwu recounts the murder of Emmett Till in "Till: The Fight for Truth".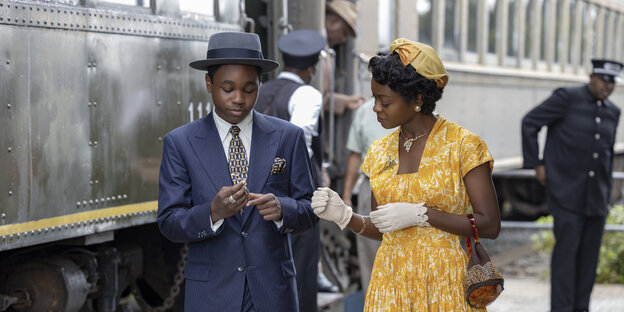 Its history is only known to a few in this country. World-famous artists such as James Baldwin, Toni Morrison and Bob Dylan processed his shocking fate in numerous novels, plays and songs. Most people, at least in Germany, are not familiar with his mother's unwavering commitment. Her courage is of central importance for the civil rights movement in the USA.
Director-co-writer Chinonye Chukwu's greatest credit may lie in changing that. In making the names of Emmett and Mamie Till known to even more people, maybe even finding a place in the collective memory. For that reason alone, "Till – The Fight for Truth" is an important film worth seeing.
All the more so because the Nigerian-American filmmaker Chukwu shows a special sensitivity, at least at the beginning, when telling about the brutal lynching of Emmett Till in August 1955. Before it comes to action, the drama takes the space to characterize both the 14-year-old boy and his mother in detail, to introduce them to their life situation in Chicago.
In the opening sequence, they drive into town together to get some supplies for his visit to Mississippi. In the car they listen to music and joke together, a cloud of tenderness surrounds the two. At least Mom's light-heartedness is gone when a department store employee only points out to her – as the only black customer – the range in the basement without being asked.
constant discrimination
Chinonye Chukwu uses the first scenes of her second feature film after "Clemency" to underline that life in the north of the USA is also constantly characterized by racial discrimination and that potentially threatening things lurk even in inconspicuous situations. "Till – Kampf um Justice" maintains this constant tension, never letting its audience become optimistic or gain hope.
Mamie tries to make it clear to her son that the situation in the south of the country is incomparably different, that different rules apply to black people there. "When you're there, make yourself small," she appeals to him. Duck your head, keep your feet still—that's actually cruel advice, especially when it comes from a mother. It becomes one of the heartbreaking kinds when it turns out to be justified, even necessary for survival.
In Money, the small town where Emmett wants to visit relatives at the suggestion of his grandmother Alma (an unrecognizable Whoopi Goldberg), the Jim Crow laws and thus racial segregation prevailed until the Civil Rights Act (1964) like everywhere in the southern states .
With a particularly effective moment, Chinonye Chukwu emphasizes the bizarre proportions this division of the United States sometimes takes on. As the train Emmett is traveling on passes the Mason-Dixon Line, a conductor taps him on the shoulder. Like the other black passengers, Emmett then gets up to transfer to a rear compartment.
Chukwu deliberately does not illustrate the torture
But that doesn't dampen his euphoria. The ever-present danger doesn't seem to get through to Emmett in his youthful exuberant manner, as the film interprets it. In a grocery store, the momentous encounter with the white saleswoman Carolyn Bryant (Haley Bennett) takes place. In his innocence he tries to have a conversation with her, flirting a bit. He answers her wordless dismay with a whistle.
A little later, armed men will bang on Emmett's uncle's door at night, force their way in and drag the boy out of his bed. Chinonye Chukwu deliberately does not depict the torture he is subjected to. Neither did the murder that followed. What Till shows audiences instead is what Mamie Till wanted the world to see back then: her son's battered body, previously thrown into the Tallahatchie River by his killers and now almost impossible to shove recognize is.
Bloated and with purplish-bluish skin, he lies on the funeral home's dissection table as the camera follows the mother's gaze from her swollen feet to her completely deformed face. Teeth are missing, a bullet pierced his skull.
Having the corpse photographed in this terrifying condition by the press and then laid out in an open coffin is intended to show the public the drastic consequences of racial hatred. In fact, the resulting images can soon be seen on the front page, and tens of thousands come to the funeral service.
Human weakness is hidden
That thoughtful balance of sensitivity and boldness that Chinonye Chukwu's staging shows up to this point, especially around the violence against Emmett, unfortunately becomes increasingly unbalanced from the point at which the film turns solely to the mother's perspective. In the palpable will to be a biopic that is as Oscar-worthy as possible, "Till – Kampf um die Truth" presents its protagonist exclusively as a heroine and soon loses all closeness to her.
Just as if Mamie Till's merits were diminished, if one recognized human weaknesses in her, conventionally staged scenes with brave speeches and courageous speeches push the personal tragedy into the background. Composer Abel Korzeniowski's exuberant score ("Nocturnal Animals")which mainly consists of dramatic string music, calls for emotionality in its bombast rather than creating it.
Even the trial for which Mamie travels to Mississippi becomes a rather formulaic court drama in "Till – Kampf um die Truth", well-known images meet wooden, forced dialogues. The trial is an extraordinary farce:
A sheriff claims the body is probably not Emmett's and the trial is just a high-profile coup; an attempt is made to cast doubt on the mother's credibility by accusing her of an allegedly erratic lifestyle – and a jury made up of only whites prevents a conviction from being reached.
Assassination fueled the civil rights movement
Above all, it is the knowledge that the events are based on true events and Danielle Deadwyler's rousing acting that give the polished-looking second half of the film a certain vehemence and urgency.
It seems as if the filmmaker's awareness of the significance of what she is telling has ultimately become a creative obstacle. Unfortunately, the screenplay, written alongside Chinonye Chukwu by Keith Beauchamp and Michael Reilly, only hints at that meaning.
Only the final text panels convey the effect of Emmett Till's murder and Mamie Till's commitment on the civil rights movement and how long it took – 67 years – until the USA finally made lynching a criminal offense in 2022 with the "Emmett Till Antilynching Act". explained.
This makes "Till – The Fight for Truth" a film that is characterized above all by the story it tells and its accusatory potential against hate and systemic racism, which is still relevant today. Less because how he tells this story. The template-like appreciation only partially does justice to Mamie Till's individual legacy.