Family reunification in Lower Saxony: "I feel like I was born here"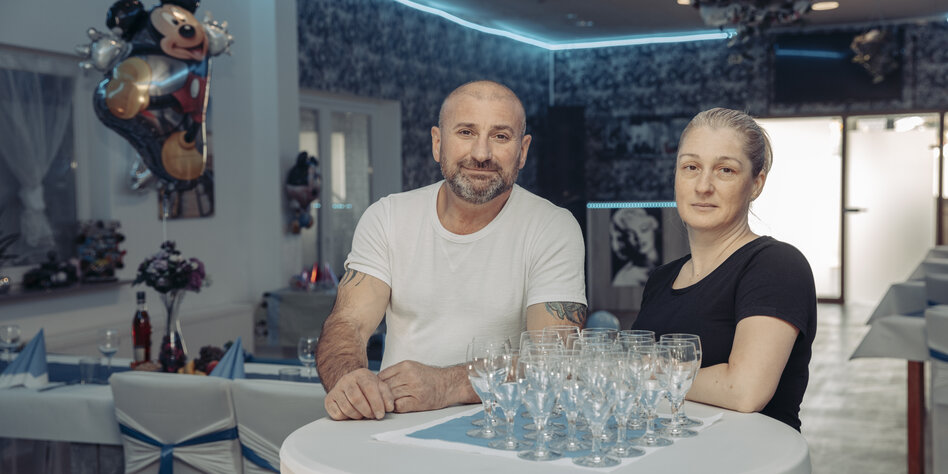 Huge slaughterhouses bring Romanians to western Lower Saxony. Radu Remus is one of those who stay – despite the tough working conditions.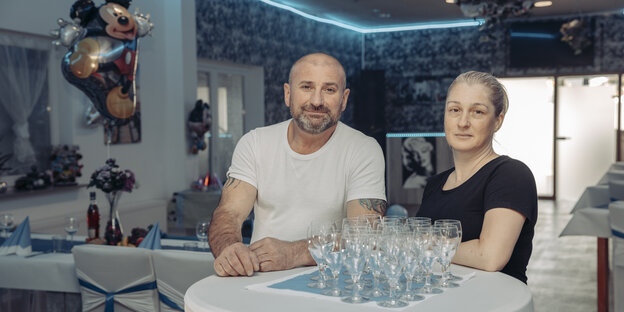 QUAKENBRUCK taz | 2,500 pigs come in per shift, 5,000 hams come out. With the chord you determine the speed yourself, in the dismantling line it is the tape. "I didn't expect the work to be so difficult," says Radu Remus. But he doesn't want to complain. He received 2,000 euros a month when he left Târgu Mureș in Transylvania for Quakenbrück in western Lower Saxony in 2011. In Romania you didn't even earn a quarter. Remus was Temporary worker in the meat factory, shared a collective shelter with a dozen other Romanians. "It was worth it, absolutely," says Remus today.
What counts for him is what is left at the end: money for a small house in the mountains in Romania, "for vacation, for retirement". And the restaurant here in Lower Saxony. "That was his dream," says Maria, his daughter.
Maria is also his wife's name, so maybe it was logical to call the restaurant that. On a September afternoon, Remus is sitting with Maria and Maria and his son at the table in the guest room, in a former carpet shop, right on the B 68 federal road, halfway between Oldenburg and Osnabrück. Everything here is dove gray and lime green, lounge-like, freshly painted. It's only open on weekends. On the other days, Remus drives other Romanians to their shift at the meat factory in a minibus. His wife works in a meat factory, as do her sister and thousands of other Romanians in the region.
Around 50 percent of Quakenbrück's residents now have a migration background, twice the national average. There are around 5,500 foreigners for every 14,000 inhabitants, Romanians being the largest group. There are so many that Remus was able to convince the Romanian embassy to set up a ballot box for the 2019 presidential election and the 2020 parliamentary election in Quakenbrücker town hall. 3,000 Romanians cast their votes, Remus sold Ćevapčići and beans with meat.
Third year
When he started at the meat factory in 2011, he only made the trip to Romania in the summer when his daughter was on vacation. When he comes to Romania for vacation in the third year, there are packed bags in the hallway at home, the couple says.
"Do we have visitors?" he asks.
"We'll come with you," says his wife. "Or I'll get a divorce."
"I don't have an apartment there," says Remus. "No problem," says Maria, his wife.
They are selling their apartment in Târgu Mureș. The family arrives in Quakenbrück on August 13, 2013. None of them speak German. They move into the collective accommodation that the meat company has rented for its workers. The other slaughterhouse workers move together, so the family has two rooms. "That was the hardest time," remembers Maria, the daughter. "There were some pretty weird guys there."
Many nationalities
Around 90 different nationalities live in Quakenbrück today, the mayor is of Turkish origin. The city's history of migration is exemplary for the entire region. come after the war Displaced people from Silesia, East Prussia, Pomerania, the Sudetenland. 7,000 residents become 8,000.
The village disco of the 90s divided: Fridays "only Russians", Saturdays "only Germans"
In Quakenbrück once stood Europe's largest bicycle factory, a factory for conveyor systems, one for pipeline pipes, one for pudding powder, one for car seats. The industry wantedguest worker", from the 1960s Greeks, Yugoslavs, Turks and Portuguese came. The population increases to 10,000.
In the 1990s, large numbers of late repatriates moved to western Lower Saxony. Baptist communities open, a Russian supermarket, the village disco divides up the weekends: "only Russians" on Fridays, "only Germans" on Saturdays. 13,000 inhabitants.
The sandy soils here are not very suitable for agriculture, which is why the region has been living off it for decades intensive fattening. Nowhere is there such a density of large stables as here. They pollute the environment enormously – and attracted the giants of the meat industry: TonniesDanish Crown, Kemper – within a radius of 10 kilometers from Quakenbrück alone there are three large cutting companies with over 4,000 employees.
As with asparagus
Most of the workers there are Romanians, as is the case with asparagus, which is produced in the region's manure-flooded fields in similar quantities to the meat of turkeys, chickens and pigs in the stables and slaughterhouses.
That's why men like Radu Remus came to Lower Saxony in the noughties. Agencies placed them with temporary employment agencies, and there was still no minimum wage. They brought their families with them, today over 14,000 people live in the community and there are Romanian supermarkets.
The meat mills are notorious for this, especially exploit migrant workersadvice centers can sing a song about the tricks they use to try to circumvent the minimum wage.
Didn't that bother Remus? The hard work that no German wants to do? He's thinking. Yes, the work is difficult, he then says. Especially in the refrigerated area or when you have to work more than ten hours. "Many are satisfied, many are not."
"It's like that everywhere," says Maria, his wife. He nods. And yet Remus soon chooses to do other things. He learns German, saves for the restaurant. In 2017 the family can take it over. "It wasn't supposed to be a Romanian restaurant," says Remus. "We cook everything, not just Romanian." But most of those who celebrate here are Romanians.
No chance for the AfD
The family lives in an apartment above the restaurant. The homeowner has other properties, Remus works for him as a caretaker. Before the opening, there was seldom vacation, and if there was, then in Germany. "Europa-Park, for example, we saw a lot of things here," says Maria, his wife. After the opening there is no vacation for two years. All money goes to the restaurant, every day there is something to do.
A better life, a better future, economic security. "Everyone comes here for that," says Remus. "I dreamed of Germany. If abroad, then here."
How so? In Romania, he had worked for the Real supermarket chain. In the camp, "everything had to be right, everything accurate". The name of the manager was Jürgen, and he showed him that. "He had a good system, he was well organized, I learned a lot." When Remus was here, he liked it, the area, the people. "Helpful, nice, no matter where you went," says Maria, his wife.
"We've built a new Romania here," says Remus. He feels "as if he was born here". There is a Romanian pastor in nearby Vechta. They go there once a week. In summer they organize a "Festival Traditional Romanesc" with a costume parade. Remus has musicians and dancers come from Transylvania and sells Ćevapčići. Are you missing anything? Maria shakes her head. "The parents. The family," says Remus.
The need for workers in the meat factories is so great that more and more Romanians are moving to the area. There are hardly any vacant apartments, the meat companies are desperately looking for accommodation for the newly arriving workers. The joint municipality finances an "office for official affairs" that helps those arriving with the paperwork.
The enormous immigration is essentially accepted. "The AfD doesn't stand a chance with us, we're proud of that," that's what you hear from CDU members here. The AfD got 7.8 percent in the 2021 federal election in the joint municipality – slightly more than in Lower Saxony overall, slightly less than the West German average.
At the beginning of September, the children applied for a German passport. Remus and his wife plan to do the same soon. The two still have 20 years to go until they retire. Her son got married and runs a hairdressing salon nearby. "The children stay here, they want to live here," says Remus. "Let's see, maybe we'll stay here too."