Exhibition on Building with Stock: Against Demolition
Why flatten and rebuild despite immense emissions? The Architecture Museum in Frankfurt shows how much better building with inventory is.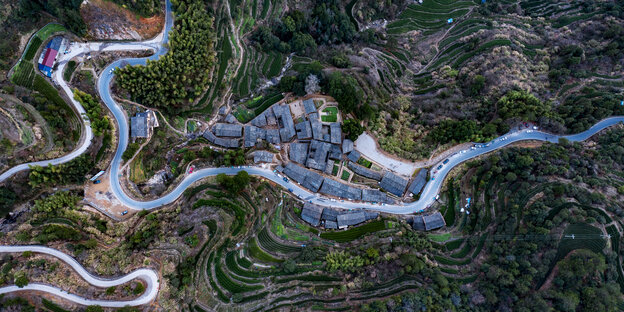 The punch line comes with the first step in the exhibition. Because "Nothing new. Better building with inventory" is not only a plea for an alternative to demolition, but is also presented at a location that will in all probability be history in three years. The former Telekom site in Frankfurt's Ostend, built by the Neckermann mail order company between 1951 and 1954, is to make way for a new building.
By then, the organizing architecture museum will have moved out of its interim quarters. Together with a large number of other tenants from creative people and craftsmen to app developers, who show what diverse qualities the building actually still offers.
Demolition is a pressing problem. Just this Monday, a broad coalition of architecture and research called on the Federal Building Minister Klara Geywitz in an open letter to temporarily stop building demolitions and to make the necessary changes to the currently valid regulations. According to a UN study from April 2022, 40 percent of all global greenhouse gas emissions are due to the construction and building sector. A multiple of all global air traffic. In any case, this fact has been taken up in the media much less prominently in recent years than the question of how often people should be allowed to visit their families abroad by plane.
Construction is a major driver of emissions, while new issuance is only part of the problem. Added to this is the gigantic need for raw materials and other resources for new buildings, the sealing of additional areas, and the disposal of waste through building demolition. Or the so-called gray energy, an indirect energy bundled in the existing building, which was used, among other things, for its construction and which is often neglected in the overall assessment.
A sub-complex concept of sustainability is partly also the basis of ordinances and funding guidelines, which rate an energy-efficient new building better than an existing building because they only consider the use phase. Outdated funding guidelines and building regulations meet massive economic constraints and perhaps sometimes simply the inability to deal with the challenges of existing building structures.
Women renovate demolished row houses in Baltimore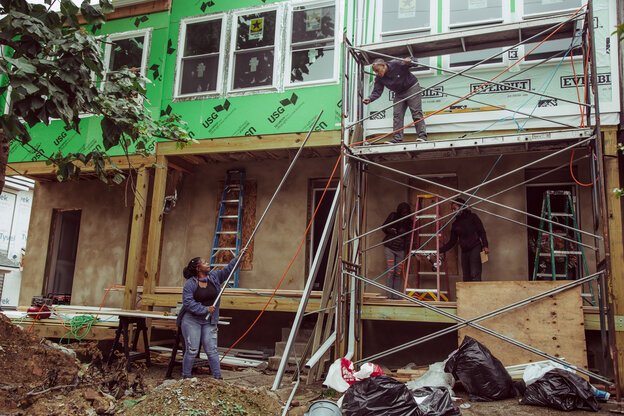 "Nothing new, better building with inventory" is now countering this mixture of projects that work creatively with existing building fabric - and whose contribution to sustainability is just one of several notable aspects. The curatorial team of Jonas Malzahn, Katharina Böttger and Mathias Schnell has brought together two dozen examples from all over the world for the show: conversions, extensions, further construction and demolition, reactivation, redesign.
From large-scale projects such as the experimental, cooperative transformation of the Chinese mountain village of Shangtian into a tourist attraction from whose income everyone benefits, to small-scale architecture – a meeting place for children and young people in Wiesbaden, created from an old signal box and built with old wood from the region. All projects could be realized without a gigantic budget, which is noted as well as precise key figures for the property and floor area.
One is amazed by an example from Baltimore, USA, where the "Black Women Build" initiative trains black women in various manual disciplines in order to have vacant terraced houses that are threatened with demolition renovated. The houses, which have been renovated according to monument protection guidelines, for low living and energy costs, can then be purchased by the women themselves - cost point for the entire project with ten houses: just over 1.2 million euros.
The numerous additions and extensions that bring more living space and quality of life to the cities with almost or no additional space requirement appear to be just as pragmatically thought out and cleverly executed. This is the case in the large French housing estate Cité du Grand Parc. Their residents could stay in their homes, during a renovation program through conservatories and balconies more lightair and space into the apartments.
From Berlin, the former commercial area and monument ExRotaprint is mentioned, in which today, after extensive renovation with selective extensions, there are rental units for studios, offices, workshops and production for different uses. Although the House of Statistics on Alexanderplatz is far from being completely renovated and redesigned, it appears in the exhibition as an example of an open planning process that involves urban society and clearly runs counter to the current market logic.
A longing for "healing"?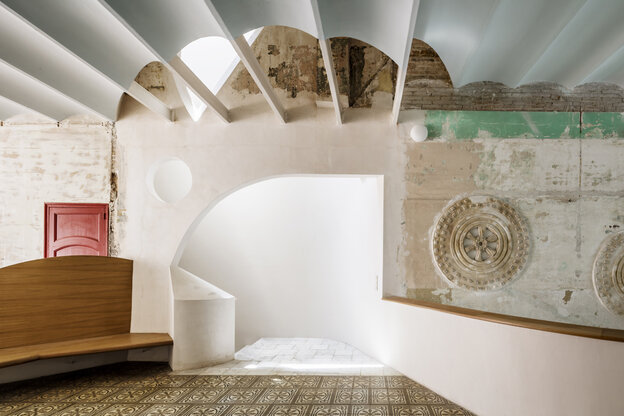 Building in stock usually requires significantly more ingenuity from everyone involved. This also makes the results aesthetically interesting. Like the Sala Beckett in Barcelona, ​​to name a particularly magnificent example: Built in 1926 according to plans by Josep Masdeu, the building is now used again as a theater and drama school. The Spanish office Flores & Prats Arquitectes first stored the original design elements and then selectively integrated them into the new interior design. The facade with its high recognition value was retained.
It's not possible, this thought comes up in all the examples in the exhibition, as does the art world's persistent longing for "healing" - no matter how skeptical this term may be - for repairs, patches, working with what is already there as an equivalent to the principle of building with stock?
The exhibition makes no secret of the fact that a demolition is usually less complicated, as it depicts the challenges and ambivalences of the topic in the first place.
City politics, local initiatives, involved residents, committed architects' offices can be actors who contribute to the success. Inventories of current architecture in Frankfurt anchor the show in the regional, video stations with expert interviews generally invite you to get into more depth. "The prospects are terrific!" says Elisabeth Endres, Professor of Building Climate and Energy in Architecture at the Technical University of Braunschweig, despite all the odds. After all, we would have an incredible number of building stocks. She advises not to let yourself be driven too much by the funding agencies and not only on energy efficiency, but also on the stock as a resource.
In this respect, the title of the exhibition is deliberately a bit understated - because there is something new to discover here, often in contrast to myriads of listlessly designed investment construction projects, at every nook and cranny.