Exhibition in the Schwules Museum Berlin: The little that remains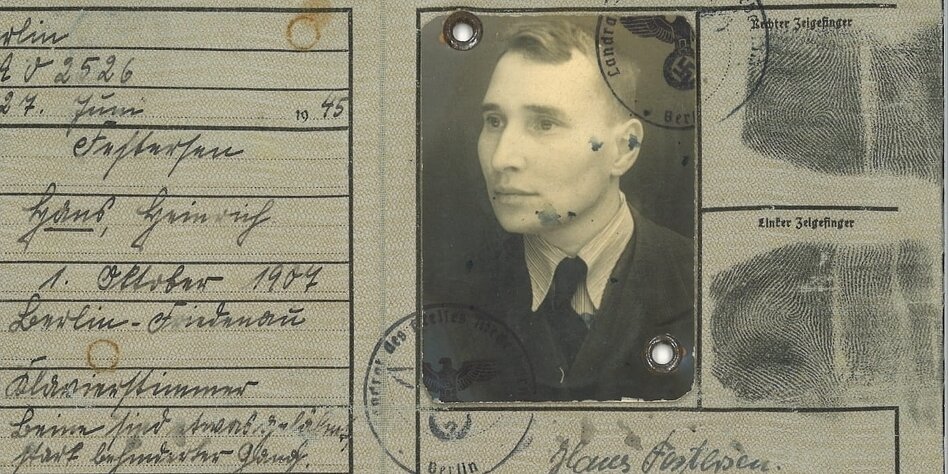 As a gay man with a disability, Hans Heinrich Festersen was murdered in the "Third Reich". An exhibition is now dedicated to his story.
A queer man with a physical disability. That was Hans Heinrich Festersen. His bad luck: He lived during the "Third Reich". And during this time, such "non-normality" was not allowed to exist. On September 8, 1943, the Nazis murdered him during the "Ploetzensee Bloody Nights" - a mass execution in the Berlin-Ploetzensee penal institution. A few documents of his life have survived from Festersen. This is one of the few reconstructable intersectional stories of this time. They are currently being shown in the Schwules Museum in Berlin-Mitte and are a reminder of how far people can go - and that the stigmatization of "non-conformist" life has still not been overcome.
There are a few sheets of paper covered in cursive; Letters to his sister from prison, some photos, an ID card. They got there by accident a few years ago through a museum archivist who went to an art pottery exhibition out of personal interest. There he was approached by Peter Festersen, who - as it turned out - was Hans Heinrich Festersen's nephew. His father, Peter's grandfather, was a well-known craftsman with his own pottery workshop in the north of Schöneberg at the beginning of the 20th century, and his works were just being shown. For decades Peter had kept the letters that his mother Ruth Festersen - Hans Heinrich's sister - had received from her brother while in prison. Now he felt that the Gay Museum was a suitable place to take care of this heritage.
The letters lay in the archive for a long time, until the museum decided to exhibit them "Queering the Crip, Cripping the Queer" about the intersection of homosexuality and disability - the first international of its kind. Intersectionality has now arrived in the discourse. And Festersen's story fits in perfectly.
Hans Heinrich Festersen was born on October 1, 1907 in Berlin. His mother was Jewish, the father of said art potters. Cerebral palsy as a result of a premature birth meant that he was partially paralyzed on his legs and needed walking aids. Festersen learned piano tuning. He had a sister who was two years his junior: Ruth, who according to the letters was probably one of his few close confidants: "Of course I am grateful to God that he gave me such a loving sister in you, who is always by my side in all my life situations", he wrote to her in April 1943.
From 1931 Festersen lived in the Lobetal institutions near Bernau. Here the homeless and the long-term unemployed received accommodation, food and work. From the 1930s it was primarily a refuge for people who were singled out from the National Socialist community: gays, people with disabilities, those who deviated from the norm. A haven in the middle of Nazi Germany. Many residents made no secret of their homosexuality, love affairs among themselves were known, and that one resident liked to wear women's clothes. This was not welcomed within the institution. It is true that people in Lobetal distanced themselves from Nazi politics and referred to Christian values. However, the local deacon repeatedly criticized "sick friendships" among men. Employees of the institution finally denounced Festersen and three other inmates because of "moral offences".
persecution of people with disabilities
On October 12, 1942, the police took her to the Plötzensee penal institution. On July 13, 1943, the Berlin Special Court sentenced her to death and had her hanged on the night of September 7th. Festersen was 35 years old. Charge: Violation of the "Habitual Crimes Act". Violating Section 175 (which was not fully repealed until 1994) alone would not have been enough. It said at the time: "A man who commits fornication with another man or allows himself to be fornicated by another man shall be punished with imprisonment." Convicts often had to continue serving their sentences in the 1950s.
Since September 2, the documents have been in the first exhibition room of the museum, in a small display case. With two photos showing Festersen as a blond, curly-haired boy with his sister and mother. Next to it is his ID card from the Nazi era, with him as a young man. A small contemporary document in the middle of the room dedicated to the dark side of the history of queerness and disability, the room to "Vernichtung", which is dedicated to the black angle. They had to during the Nazi regime the so-called "asocial" wear. They included social fringe groups such as people with disabilities or those who showed performance and adjustment deficits. With his semi-paralysis in his legs, Festersen belongs to another persecuted group in addition to his homosexuality: people with disabilities. Here we know of over 200,000 murdered people, over 400,000 forced sterilizations. The best known is probably Action T4, the systematic mass murder of over 70,000 people with disabilities from 1940 to 1941.
Festersen was a "habitual criminal" for the Nazis. The handwritten letters to his sister show a loving person with a great bond to "Peterchen", his nephew, who would later keep these letters. It's always about prison conditions; Food (sometimes jam at Easter), his health (his legs hurt again), stamps and money. Waiting and hoping: "Hopefully we will see each other soon," he wrote after four months in prison. At the end of the letters there is also a poem to Peter.
But between all the everyday things, there is always a reflection on one's own situation. "You can't deny me a certain right to live." He wrote half a year before his murder. The Nazi regime and the vast majority of society saw things differently. There were few people who unsuccessfully resisted. Most probably Pastor Braune, head of the institutions in Lobetal. He turned to the judiciary with a plea for clemency. She refused, and years later the pastor concluded: "All the influence, accusations and measures on our part remained ineffective, because the people concerned were without any insight and believed that it was their right to live like this."
A life in a showcase
Festersen's letters show that he had a certain conviction that he was inferior. He writes about his thoughts of getting married: "Since I can no longer make any great demands myself, I thought of a slightly physically disabled classmate." Some arrested people tried to escape the death sentence by the last resort: "voluntary" castration . "He said that emasculation was out of the question for the time being, and if so, then only because of my sexual drive," Festersen writes about a conversation with the responsible prison doctor. After all, his disability was not hereditary.
At the end of the day, all that is left of Hans Heinrich Festersen is his ID card, photos and the handwritten letters. A few pieces of clothing, 33.25 Reichsmarks and a pocket watch. That was the inheritance that his sister could collect until November 30th, 1943. "You can obtain a death certificate upon application to the registry office in Berlin-Charlottenburg," it says on the probate form. That's it. A little memory, a brief summary of life, which today stands in a small showcase. That is more than is known about the approximately 70,000 other "repeat criminals and asocials" who were murdered. Or about the 15,000 gays who were deported to the concentration camps, more than half of whom died there. It is more than is left of the many other queer people with disabilities that the Nazi regime had sterilized and killed.