EU Reactions to Sham Referendums: New EU Sanctions Against Russia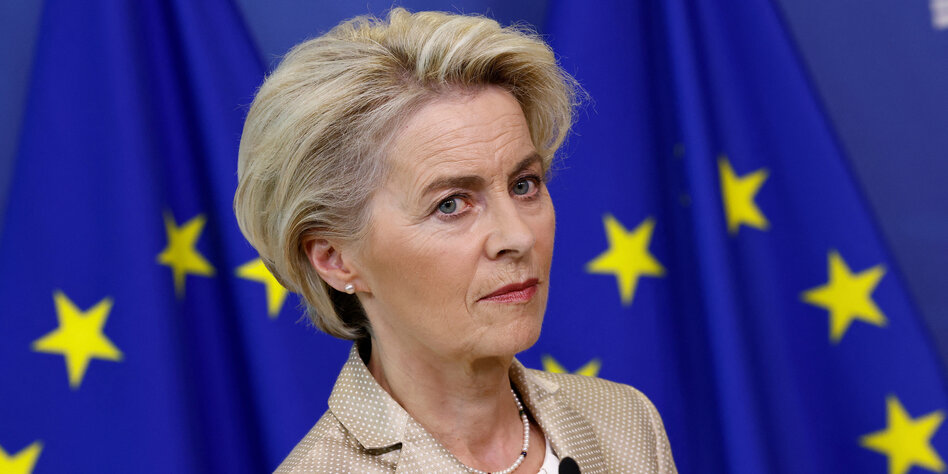 Brussels is reacting with new sanctions to the "sham referendums" orchestrated by the Kremlin in the occupied territories of Ukraine. The oil price cap is coming.
BRUSSELS taz | In response to the mock referendums The EU Commission has proposed new sanctions against Russia in the occupied territories of Ukraine. As expected, this includes a price cap on Russian oil. The Brussels authority also wants to curtail trade and introduce a ban on EU citizens holding top positions in Russian state-owned companies. The most prominent example is the former German chancellor Gerhard Schröder.
The votes orchestrated by the Kremlin are "an illegal attempt to seize land and change borders by force," said EU Commission President Ursula von der Leyen in Brussels on Wednesday. "We are determined to make the Kremlin pay for this escalation," she said. "Our sanctions have hit Russia hard," emphasized the German politician.
Apparently not tough enough, however: the eighth package of sanctions is now intended to increase the pressure on Kremlin chief Vladimir Putin. However, it contains few surprises. The price cap on oil has been discussed in the EU for weeks. The G7 group of major industrialized countries has also had the upper limit for Russian oil exports on its agenda for a long time.
The EU Commission now wants to create the legal basis for this. However, von der Leyen did not reveal how the price cap should work. Restrictions on the transport of Russian oil to third countries such as India are under discussion. The oil tankers, which often come from Greece or Cyprus, are apparently to be forced via the insurance companies to only deliver "cheap" oil.
It is unclear what price level the EU considers appropriate. The determination could be difficult because the 27 EU countries have not even been able to agree on a price cap for Russian gas. The only thing that is clear is that in December there will be a European oil embargo comes into force, which was issued not least at the request of Germany. However, it contains numerous exceptions.
Import ban on Russian diamonds
The information on trade restrictions is also very vague. It is about a volume of 7 billion euros, said von der Leyen. Among other things, an import ban on Russian diamonds is under discussion. However, this would hit Belgium hard – in Antwerp, thousands of jobs depend on the gemstone trade. It is unclear whether the Belgian government will agree to this.
The sanctions must be decided unanimously – by all 27 EU countries. However, Hungary has already announced that it no longer supports the EU course. The government in Budapest even wants to let the existing sanctions expire. It is also unclear how Italy will behave. The new Italian government majority is also supported by parties close to Putin and who reject sanctions as counterproductive.