Escape from the Ukraine: math lessons in exile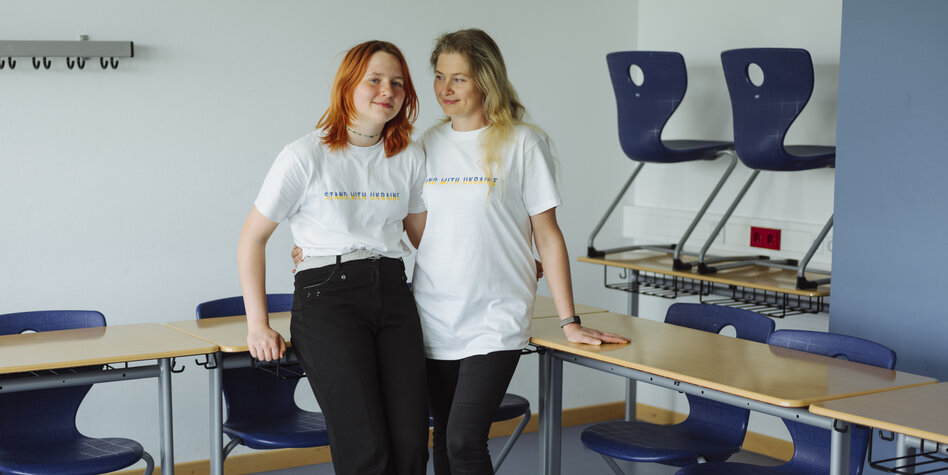 Thousands of teachers are missing for Ukrainian students. The federal states therefore use refugee colleagues in welcome classes.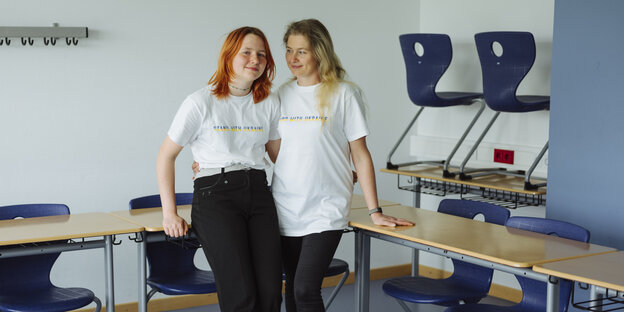 BERLIN taz | Thursday afternoon at the Otto-Nagel-Gymnasium in Berlin-Biesdorf. Olga Ishchenko has just come from class. She has been teaching mathematics to fourteen Ukrainian students since mid-April. Also in the class is her 14-year-old daughter Tanya, with whom Ishchenko came to Germany from her hometown of Dnipro, Ukraine's fourth-largest city, at the beginning of March.
In one of the classrooms, the teacher talks about her escape, her arrival in Berlin and the Bureaucracy when registering as a refugee. She speaks in a calm voice, her blue eyes wandering to the window and to her daughter, who is translating the conversation into English. Ishchenko speaks no German and only broken English. For a permanent position as a teacher, however, the school administration requires a very good knowledge of German. That's why the 42-year-old has so far been working without a permanent contract and without a clear perspective of how things will continue after the end of the school year.
Olga Ishchenko is one of several hundred teachers who fled Ukraine and are now teaching in schools in Germany. Only some of the federal states keep statistics on how many there are exactly. Others differentiate according to language skills, not country of origin. It is of interest to anyone who can speak Ukrainian or Russian and can support the refugees in their education.
Because the need is great in the already overburdened school system: The President of the Conference of Ministers of Education, Karin Prien (CDU), assumes that up to 400,000 students from Ukraine in schools to be taught in Germany. 24,000 additional teachers would be needed for this, Prien told the editorial network Germany in April.
Native language level is required in Berlin
In order for the teachers to be assigned to welcome classes quickly, the conditions for employment should be as simple as possible: instead of certificates of good conduct or training, self-declarations should suffice, as important documents are often lost during the flight or cannot be requested. Other requirements, such as language skills, are determined individually by the countries.
That's why there are different rules across the country. Saxony, for example, offers applicants the opportunity to learn German alongside their work and to submit proof later. Until the end of the 2022 school year, Schleswig-Holstein will only hire Ukrainians who have completed their teaching degree. Basic knowledge of German is also required, explains Minister of Education Prien. In Berlin, on the other hand, Ukrainian applicants must be able to prove German language skills at C1 level – i.e. almost native speaker level – for lessons in the language of origin at B1 level. According to a spokesman, only around 30 of the more than 300 teachers who, according to the Senate administration in Berlin, applied to teach in welcome classes were hired by mid-April.
For this reason, Olga Ishchenko cannot be employed directly at the Berlin grammar school either. She owes her job as a teacher to a bureaucratic bridge: the organization Schlaufuchs Berlin, which supports schools with remedial courses and holiday programs, among other things, has agreed an honorary contract with her. The money for this comes from a Corona budget that the Senate Department has made available to the schools. They can use it to pay for organizations like Schlaufuchs Berlin and employ Ukrainian teachers as additional teachers. However, the Corona money expires at the end of December, whether there will be further funds after that is unclear.
Online tutoring for Ukrainian students
Ishchenko's contract initially lasts until the summer holidays. She receives a flat rate of 20 euros per lesson, plus social benefits and a housing benefit that she intends to apply for as soon as she and her daughter have found an apartment. So far they have lived with Ishshenko's brother, who has been living in Berlin with his family for eight years.
In addition to the two math lessons per week, Ishchenko continues to give online tutoring for her Ukrainian students. Some of these are still in the country, as are Ishchenko's husband and her son. Teaching her isn't easy because she doesn't know what the students have experienced, she says. But studying is a good distraction: "When you do math, you don't think about anything else. It takes up your time and your mind, it's a good thing to focus on and take your mind off the violence."
Ishchenko hardly ever talks about the war at school – with his colleagues because of the language barrier, with the students out of concern: "We don't know what happened to the children at home, whether someone close to them died is whether they were captured, and so on. These are issues of such urgency that they can only be addressed in the presence of specialists."
Daria Savchenko, a Ukrainian teacher from a suburb of Kyiv, experiences something similar. Because she herself is not sure how much she is allowed to say about her job according to her contract, she does not want to appear in the newspaper with her real name. Savchenko has been teaching mathematics and computer science at a secondary school in Saxony since mid-April. The 41-year-old says she became aware of the job at an information event at an integration center and applied directly to the school. Most recently, she worked at the university in Ukraine. For the application, she had her diplomas translated and certified; she did not have to submit proof of language proficiency, says Savchenko.
Difficult to talk to the children about the war
She has been teaching in the welcome class since the end of April. "What is happening in Ukraine is not widely talked about. We all arrived at about the same time and know why." She doesn't trust herself to talk specifically to the children about the war either, she says that psychological help is needed for that. "But of course the whole thing connects us, we all have the same fate."
Having the same fate now also means finding your way in the foreign language. "None of the children can speak German either. That's how you feel tied together," she says and laughs, "we're all equally bad at German." She experiences a strong sense of community at school and a lot of willingness to help – both from other children and from the Ukrainians*: "In my class are children of different ages. They might never have become friends in a normal school, but here they bond and help each other. The lessons are much more open as a result."
Daria Savchenko says that some of the children who come from western Ukraine are already considering returning with their families. Pupils from the final classes, on the other hand, wanted to stay. "It is difficult to get a job in Ukraine. They have better chances here than at home." She does not yet know whether she will continue to teach in Germany. Her contract at the school initially runs until the end of the school year in July.
It is also unclear for Olga Ishchenko in Berlin whether she will continue to teach at the Otto-Nagel-Gymnasium in the next school year. The German lessons there are to be increased so that the Ukrainian students can take part in regular classes as soon as possible without any problems. They would then no longer need the math lessons according to the Ukrainian curriculum.
Like many of her exiled compatriots, Ishchenko wants to return to Ukraine as soon as it is safe there and there is no longer any threat of humanitarian catastrophe, she says. "It is very difficult to make plans for the future. In fact, I would like to be with my family in Ukraine every day, every hour, every minute." If there was a possibility of being employed at the school in the long term, it would stay – as long as the contract conditions were right and no knowledge of German was required.