Entertainer Denice Bourbon: Like a popping cork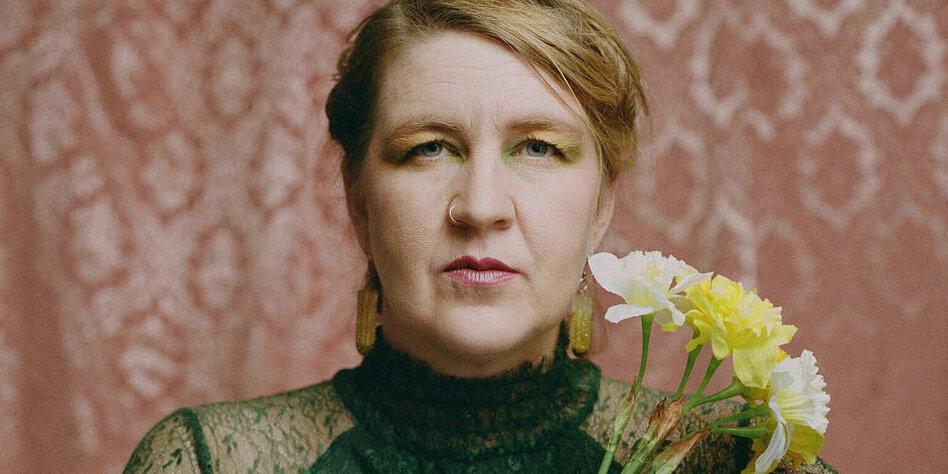 Denice Bourbon is a lesbian and funny. The Swede lives in Vienna and brings glamor and euphoria to a chronically bad-tempered city.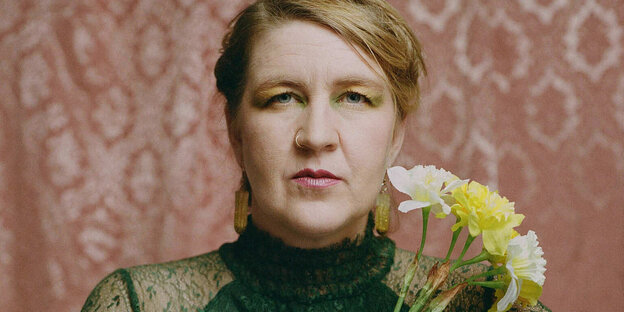 At first glance, the most famous Swede in Vienna does not represent what one thinks of Swedes: reserved people in Bullerbü Naturidylle who value simple design. Denice Bourbon may be tall and blond, but her heels click, a cloud of perfume and a roar of laughter make her noticeable from afar. Shortly thereafter, she hugs you and yells "Omg! Hi! Ich liebe dich! I love your little shirt!"
Wherever Denice shows up, the atmosphere of an exalted party is created, into which she cordially integrates everyone present like a popping champagne cork as a human being. She is a glamorous original of Viennese nightlife and brings euphoria to this chronically bad-tempered city. And she's a lesbian. "Lesbian! I'm a lesbian!" she keeps calling out in her shows, which is very important to her. When we occasionally have performances together (as "Legends of Entertainment" with Christiane Rösinger) backstage, Christiane and I would be mistaken for lesbians rather than Denice, wearing lipstick in a glittery dress. I grew up with the fact that as a left-wing straight woman you just don't appear too feminine, that you don't value nail polish, make-up and high heels, and I only learned from the queers that feminine performance is no less feminist. Today it's no longer unusual to dress up in left-wing clubs, the subculture has become more queer.
Denice has always been a femme. She grew up in a desolate prefabricated housing estate in a small industrial town between Stockholm and Gothenburg in the late 1980s. There were factories, forests and a big highway right through the city. "Children were regularly run over there, that was quite normal in the 80s," she says. Denice is actually Finnish and moved to Sweden as a child of Finnish guest workers. Her mother processed parts for welding robots on the assembly line and became blind in old age. "We Finns are the poor guest workers in Sweden. There was a large community of Finnish migrant workers. In the settlement were Finns, people from ex-Yugoslavia and Syrian families. Trains passed through all the time, but never stopped. The only place to go out was the gas station."
Even as a nine-year-old, she walked through the neighborhood wearing feather boas, handbags and heels. She obsessively collected music magazines, her idol was Madonna. With other children she formed a band: Zodiac. "I thought a name with a Z would be good, then it would be easier to find us in the record shops. I even made a record when I was ten." When she was sixteen, she moved to the next bigger city. She became punk. "I was in underground feminist action groups that were always making a ruckus. For example, we waited on the street for clients, a friend dressed up in a wig. If someone stopped, we smashed the windows with these emergency hammers from the bus and sprayed the car. Sometimes we threw tampons in the window that we had soaked in rotten milk. The guys were in shock." Today she doesn't like these actions anymore. "We thought we were liberating women, but we actually endangered them." The story of how she and her radical feminist gang robbed a porn video store with Coke bottles will be told in her first solo show this spring. The Sweden that Denice is talking about is the one with the aggressive binge drinking and the one with the highest gun crime in the EU.
First as a housewife
Malmö is considered a hub for organized crime and gang crime, and she later moved there and fell in love with a Viennese woman. Within a short time both were beaten up, Denice's nose was broken and her friend's jaw was broken. A good reason to move away. Berlin followed for a few months and because soon they didn't even have money for anything to eat, they went on to Vienna, where her friend at least had family. Here she lived as a housewife. "It was totally absurd for the authorities that as a Swede in Austria you were receiving social benefits. You didn't question anything. You were a good foreigner. The money was literally thrown at me." Working was out of the question for her. "I thought to myself, I can't do anything but sing." She looked for a connection in the lesbian community through newspaper advertisements. "Queer didn't exist back then." And soon she founded the band Bonanza Jellybean with new acquaintances. "We played lesbian country and wore flannel shirts, which went down well. Vienna was even more bland back then, but I felt at home straight away. I was always too extroverted for Sweden. In Vienna everyone was lazy, had a sense of humor and just nagged around."
At a Bonanza Jellybean performance, a guy accidentally spilled Whiskey-Coke over the mixer, prompting Denice Bourbon to try to save the show with jokes. "That's how I realized that I could do something else," she says. Because she now spent most of the time talking at the concerts, the band members kicked her out of the project. "I was also unreliable and always drunk." But queer organizers had long since discovered her as an entertainer and booked her as a presenter, she became part of a burlesque show in which she artistically undressed on stage and wrote for the feminist magazine attacks the column "Lesbennest". In her mid-30s, she wrote her first biography, Cheers! Stories of a Fabulous Queer Femme in Action".
Soon everyone in the scene knew her, and her ability to make small talk never fails to impress me. While I'm hiding in the toilet after performances, she throws herself into the fans, giving hugs and being smitten with each and every person. Even when we met the filthiest guy in Baden-Württemberg in the worst nightclub in Heidelberg, who told us one horrible joke after another, she screeched with excitement and assured him that he was the funniest guy in the world. And she means that very seriously at the moment. It's a hysterical philanthropy. "I see you as the mother of the Viennese queer scene, does that name bother you?" I ask her over coffee. "No, not at all, I love that!" she laughs. She has just finished the last performance of her first play "Sodom" in the Brut Theater. A revue that tells about red Vienna in the 1920s from a queer perspective, in which the wicked, the exploration of sexuality and psychoanalysis moved into the cultural center. She herself plays the role of "Magna Marta", a huge socialist mythical creature with twenty breasts, wrapped in red fabric. Among other things, she retells the biography of Anna Freud. "I am in love educational stuff, when people come after a performance and say they've learned something."
Taking care of her community is Denice Bourbon's top priority. "Mothers have a tradition in the queer scene. I had a mother figure like that too. A 50-year-old butch lesbian who was a photographer looked after my coming out." Doesn't this role get on your nerves sometimes? "No, that's my job. I see it as my job to be there for people." While what I love best about humor is the pain threshold and the confrontational aspect, Denice has more pedagogical demands. Also in her monthly comedy show PCCC* in the Viennese cultural center WUK. The 400 tickets are reliably sold out after two hours. When she started four years ago, she had to force people to come. The show is now cult. "I wanted a stage that made sure not to make any discriminatory jokes." All numbers are discussed beforehand with a sensitivity reader. "Doesn't it get on your nerves sometimes, having to be so sensitive?" I repeat. "No, that's my claim, that's my promise to the audience. That I care. There are many other platforms, mine is PC. And politically correct doesn't mean boring."
A knack for dazzling personalities
The evenings are never boring. The PCCC* Show is a great celebration of extraordinary characters, you are part of a great coming together. Each evening there is a theme such as "Holiday" or "Fashion". Denice entertains the guests with short stand-up numbers and introduces four to six performers. "And if things are still criticized as problematic?" "Then I listen to it and don't react defiantly. People want to be heard and often they have a good point." Denice specifically approaches people she thinks are funny and talented and motivates them to go on stage. Professionals and scene favorites alternate with people who appear in front of an audience for the first time. The now award-winning cabaret artist "Malarina" or the Tiktok star "Toxic Pommes" made their debut at PCCC*. Even the unprofessional performances mostly impress with dazzling personalities, for which Denice has a knack. So tells z. B. Faris Cuchi, queer activist from Ethiopia, about growing up in a strictly Christian family, an American biologist from the Czech neighboring city of Brno introduces you to storytelling in the southern states, or "Gsindl", an artist from Iran, brings anecdotes from her everyday life as a supermarket cashier.
These are punk evenings where more exciting types than the classic comedy guys have their say. And while other stages were struggling for visitors during the pandemic, people for PCCC* are struggling for remaining tickets. "We're still considered a niche, even though we're so big now."
Next up is PCCC* in Linz before the concert of "Pisse" to see. Despite her fame, she is comparatively little asked for cooperation. Why? "I think because of the PC they think I'm super strict, but everyone who knows me knows I'm so nice. I'm so sweet and good. That's maybe the only Swedish thing about me. My good manners." She laughs so loudly that everyone in the bar turns their heads.