Elections in Bosnia and Herzegovina: piles of papers in a splinter state
General parliament, republic parliament, cantonal parliament, state presidency: voters in Bosnia and Herzegovina have to tick a few things.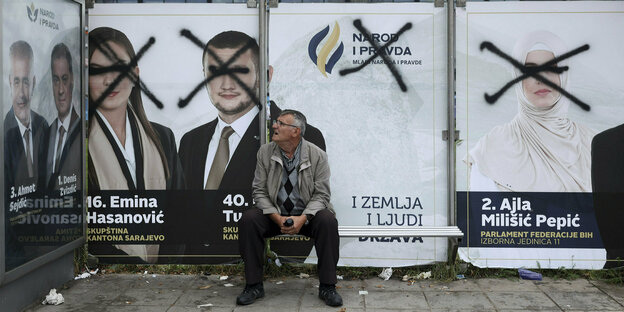 SARAJEVO taz | Of course, as usual in Sarajevo, jokes are being made about the elections. How is it possible that more people are casting their votes than the country still has inhabitants, many ask themselves. However, the secret is easy to solve.
Because more than a million inhabitants live abroad. And if they have Bosnian citizenship, they are entitled to vote. Around three million voters in the country are called upon to take part in the general elections next Sunday.
The Bosnians find a structure that most would prefer not to have. Because they have to dig through a jumble of papers in this torn country. They have to appoint the three-head state presidency for the state as a whole, they have to re-elect the state parliament, in the Serbian republic a new president and a parliament, in the second state, the Bosniak-Croatian federation, a parliament and the parliaments of the ten cantons, in which this part of the state is structured. In addition, there is the Brčko special zone with its own political structure.
While the Croatian nationalists "their" cantons within the Bosniak-Croat federation and the Serbian nationalists the Serbian-dominated state, the Republic of Srpska, and have the people living there under control and have (almost) enforced their ethno-nationalistic ideologies, things look different for the majority population. In the Bosniak-dominated areas, where more than 55 percent of the total population lives, there is a democratic process that can produce surprising results in these elections.